I don't know how, bring back my son
Mother wails as relatives console her in vain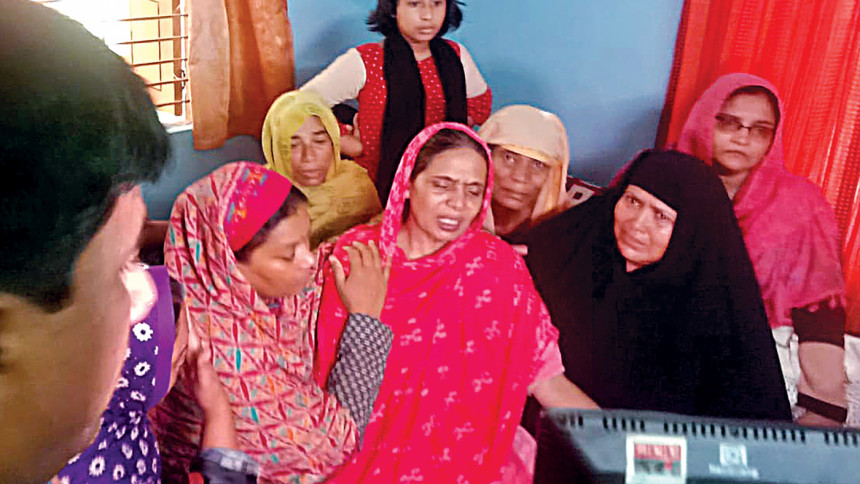 "Bring back my son alive."
This is all Rokeya Khatun could say as her relatives tried to console her in her home on Kushtia town's PTTI Road.
Grieving over the loss of her elder son Abrar Fahad alias Rabbi, 22, a second-year electrical and electronics engineering student at Bangladesh University of Engineering and Technology (Buet), Rokeya kept fainting while crying.
Abrar was beaten to death sometime between 7:00pm on Sunday and 3:00am yesterday, allegedly by Bangladesh Chhatra League men at the university's Sher-e-Bangla Hall.
He was declared dead yesterday morning by the hall's resident doctor.
"Don't try to console me, I can't bear it," Rokeya told her relatives, who have been at her home since yesterday morning.
A kindergarten teacher, she was a proud mother of two sons.
"My son was a gift from the Almighty. I have never faced any trouble raising my two sons. He [Abrar] was always first in classes," Rokeya was heard telling herself. 
"Where and how will I get my son?" she asked, sitting on a chair from which she collapsed multiple times.
Her younger son Sabbir Fahad is a higher secondary student in Dhaka College. Her husband Barkatullahh is a retired Brac official.
Rokeya was unaware of son's death until her relatives and locals started gathering in her home yesterday morning.
She said she last spoke to Abrar on the telephone around 5:00pm on Sunday.
 "He told me he reached the university hall," she said, adding that she had repeatedly called him her after 9:00pm but her calls were not received.
"I woke up for morning prayers and saw Abrar's father weeping. I asked him why he was crying. He said someone from our son's hall called him and said there was some problem and that he needed to go to Dhaka immediately."  
Abrar went to his Kushtia home on September 24 with his younger brother and had planned to stay with his parents till October 20.
"But he left on Sunday morning due to academic pressure," a relative said.
Abrar completed his primary education at Kushtia Mission School and then completed his secondary schooling from Kushtia Zilla School. He got his higher secondary degree from Notre Dame College, family sources said.
Abrar was accepted in six universities but he decided to go to Buet.
Abrar was religious since he was a child but was never involved in Shibir politics, the sources added.
"The whole family are supporters of the Awami League," said Abrar's uncle Mizanur Rahman.
Abrar's father Barkatullah lives next door to Mahbubul Alam Hanif, a lawmaker of Kushtia-3 and also the joint general secretary of the Awami League.
Barkatullah said his father Abdul Gafur was an influential AL activist in the district's Kumarkhali upazila. 
Ariful Islam, a former BCL activist and now a data-entry operator of Kushtia Islamic University, said, "With Abdul Gafur, we took part in different Awami League programmes."
Ariful is a neighbour of Abrar's grandfather Abdul Gafur.
"We only knew Abrar as a meritorious student and always engaged with studies [and was not involved in politics]," said Shariful Islam, a teacher of Kushtia Islamic University and also Abrar's neighbour.
Rateen Ullah Mridha, a friend of Abrar and a student of Kushtia Islamic University, said that though Abrar never showed any interest in politics, he told them his family had an AL background. 
When Rokeya was asked about wanting justice for her son's murder, she was silent for some time. She stopped crying and asked who would give her justice.
"I ask you all to bring my son back to me alive. I don't need justice."
Abrar's ancestral home is located in Kumarkhali upazila's Koya village in Kushtia. His father left the village and the family shifted to Kushtia town's PTTI Road around 11 years ago.