'He's feigning, can be beaten up for two more hours'
Abrar's killers said as he writhed in pain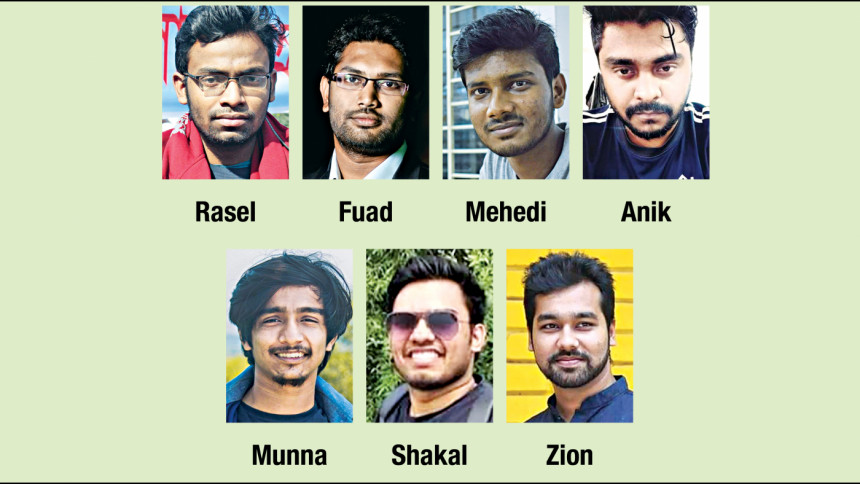 Five to six Chhatra League leaders and activists mainly led the torture of Abrar.
Of them, Anik Sarker was the most ruthless, said officials who interrogated the suspects.
The information and research affairs secretary of Buet BCL was a little drunk at the time and struck Abrar around 200 times with a cricket stump, they added.
Abrar Fahad, a second-year student of Buet, was beaten to death early Monday.
The first man to hit Abrar was Mehedi Hasan Robein, organising secretary of Buet BCL.
"After Robein started it, Anik joined him. At one stage of the relentless beating, Anik went out [of the room] but came back soon afterwards. He again struck Abrar [with a stump] who then lost consciousness," a police officer told The Daily Star.
The others who led the torture are Meftahul Islam Zion and Ifti Mosharraf Shakal, the officer said wishing anonymity.
The grisly murder at Sher-e-Bangla Hall of Buet sometime between 7:30pm Sunday and 2:30am Monday sparked widespread protests at different universities.
Investigators believe, 23 or 24 students of Bangladesh University of Engineering and Technology (Buet) were involved in the killing, police said.
RASEL CALLED THE POLICE
Receiving a call from Buet BCL General Secretary Mehedi Hasan Rasel, Chawkbazar Police Station sent a team led by a sub-inspector to Sher-e-Bangla Hall around 2:15am Monday.
Sub-inspector Delwar Hossain went to the hall with a constable and an Ansar member, expecting that a student was injured.
When he reached the hall, Rasel told him that the provost was on his way and asked him to wait in the reception room.
After waiting for around 45 minutes, Delwar called Rasel from a hall security guard's phone.
"When Rasel came, I asked what had happened. He said a Shibir man has been caught and beaten up, I wanted to go upstairs. But Rasel said there was no need [for me] to go inside," Delwar told The Daily Star.
The SI also said he asked Rasel to allow him to take the injured student to a hospital.
But Rasel told him that the student suffered minor injuries and they would take care of him once the provost arrived.
The SI said he then informed the matter to the inspector of his station and left the hall.
Around 4:00pm, Chawkbazar police received a call and were informed that a Buet student had been killed. The same team from the police station went to the hall and saw that the provost, physician, student adviser and Buet's security personnel were there.
Police sources said Rasel and other students involved in the killing actually tried to buy time to be able to destroy evidence.
Asked why police had not entered the hall despite receiving information that a student was injured, a senior officer of Lalbagh division of Dhaka Metropolitan Police said police could not enter a public university hall without the consent of its provost or at least a house tutor.
Police officials said even after Abrar's death, Rasel and Shakal seemed quite nonchalant. In the morning, they hung around the hall and smoked cigarettes while senior police officials and hall authorities had gathered at the scene.
Campus physician Masuk Elahi said he went to the hall around 3:00am after receiving phone calls from students and found Abrar dead.
"It seemed to me that Abrar had died about an hour and a half before I reached the hall," he said.
Prof Zafar Iqbal Khan, who was the hall provost, resigned yesterday. He didn't answer his phone when this correspondent called him.
TALES OF BRUTALITY
"He [Abrar] is feigning [injuries]. [He] can be beaten up for two more hours," Anik was telling others when the second-year student of Buet was left on the staircase between the ground floor and the first floor after being beaten up for hours, according to Yeamin, a student of chemical engineering.
Another attacker, Zion made a similar comment, asking his fellows to keep Abrar on the floor.
"He is pretending. Keep him here," Zion said.
Some students, who witnessed the last moments of Abrar before his agonising death, yesterday narrated the brutality of the attackers to the demonstrators in front of the Shaheed Minar on campus.
"I could not sleep for the last three nights after seeing him [Abrar] in that condition. I could not save him," Kazi Mohiuddin Alamgir, a student of electrical and electronic engineering, said on a loudspeaker.
He said he and one of his roommates were going to buy some snacks when they saw Abrar lying on the floor and groaning in pain.
"I told my roommate that he might have had epilepsy and should be rushed to ahospital," Mohiuddin said.
"But Zion was saying, 'He [Abrar] is pretending; keep him here,'" he said, bursting into tears.
"Please forgive me. I could not save him even after seeing him alive."
Many Buet students broke down in tears as Mohiuddin spoke.
Yeamin said some students of the batch-15 or older ones asked the students of batch-17 to beat Abrar up.
A student of batch-17 then started beating him up, he added.
At one stage, Yeamin heard Anik or a student of batch-15 say, "Do you know he was caught on suspicion of being a Shibir activist? Look at me [and see] how a Shibir man should be beaten up."
It could not be known whether Yeamin witnessed the torture or heard about it from someone else.
Yeamin added that Abrar seemed to have lost control over his bladder but they did not stop beating him.
Arafat, a student of civil engineering, said Abrar's body was cold when he touched him.
"His shirt was wet. He vomited twice. His trousers were completely wet. A bad smell was coming from his body and he was frothing at the mouth," he said.
ABRAR WAS GIVEN A PAINKILLER
Talking to reporters, a student, wishing not to be named, said Zion, Anik and Robein were beating Abrar.
"I have heard that he [Abrar] was pleading [for them to stop]. Then he was given a painkiller and beaten up a second time. He was tortured three times," said the student, quoting witnesses.
He also heard that one of the attackers stopped others from taking Abrar to a hospital.