India shouldn't worry about China-led One Belt One Road
Says Hasina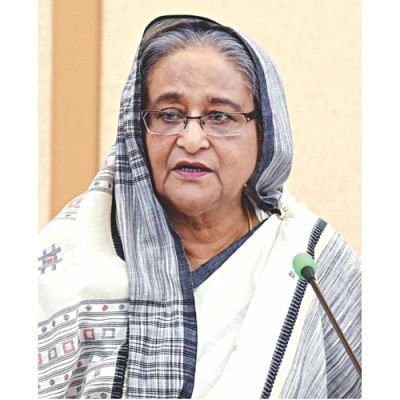 Prime Minister Sheikh Hasina has said that India should not worry about the China-led One Belt One Road (OBOR); rather it can join the initiative for the economic benefit of all countries.
"Being such a big country and big economy, India should not worry about it [OBOR]. Rather, they can also join so that all the countries can benefit economically," she said in an interview with CNN-News18 on Sunday.
"The world has become a global village. For economic development, you need connectivity. It is very, very important," she added.
Her comments came days after the Awami League formed government for a third straight term.
The PM said China, India, Bangladesh and Myanmar already signed an agreement to establish connectivity, known as Bangladesh-China-India-Myanmar Economic Corridor (BCIM-EC).
"After signing that agreement, I think there is no reason to worry about the corridor for India," Hasina said.
"Rather, I feel that trade will increase," she said, adding that all these countries would benefit from it. "So connectivity for economic development is necessary."
Hasina thinks India can discuss it. And if there is any issue to worry about, it can be solved through bilateral and multilateral discussions.
She also expressed hope that the Teesta water-sharing issue would be solved.
"It depends on India, their state government and the central government," she said.
Appreciating Indian Prime Minister Narendra Modi for his efforts, she said Modi has taken some very pragmatic steps and he supports the deal.
"But the problem lies with Didi Moni. You know that. So, I also discussed [it] with her. She agreed, but somehow, it's not materialised. But I hope that in future, it will be solved," Hasina said, in reference to West Bengal Chief Minister Mamata Banerjee. 
Asked about her expectation from the neighbouring countries on Rohingya issue, she said Rohingyas are a major issue for the country because more than 1 million of the refugee population is living in Bangladesh now.
"It is a big burden for us. And we want that this issue be solved immediately and these Rohingya people should get back to their own country.
"And India, as a big neighbour, I feel that they have a big role to play," she said. 
Hasina said India, which has good relations with the Myanmar government, can take some pragmatic initiatives, put pressure on Myanmar or discuss the matter with Naypyidaw so that the Rohingya can return to their country.
"We need India's cooperation on this issue," Hasina.
Asked if the Saarc summit may happen this year, she said it depended on how the Pakistan PM comes forward and resolves this issue and ensures a congenial atmosphere for the summit to resume.
About the criticism on the December 30 election, the prime minister said criticism is very common thing in a democratic system.
"In our country, we have press freedom. Everybody can say and discuss. International community can criticise, but they should understand the reality," she said.
"Those who criticise us and the election, they should go to the election history of this country... they should show what wrong has been done. Then we can be cautious about it in the future," she said.
This time election atmosphere was peaceful, she said.
"We have ensured peace, harmony. We have ensured food security, education and healthcare. Now people are enjoying the benefits of our government."
"We ensured people's human rights. We always value the human rights for the people."
Human rights do not mean security or safety only, it also includes people's food security, their health security, their education, their housing and wellbeing.
"A person wants a better life.  If we can do it, it means we are ensuring human rights."
Some NGOs and people are criticising, she said, adding, "As a politician, I know the criticism will be there. If you work more, you will face more criticism. That I know."