Is Huji taking over Hefajat?
Investigations find Huji linked to recent Hefajat mayhem; Huji wants change in leadership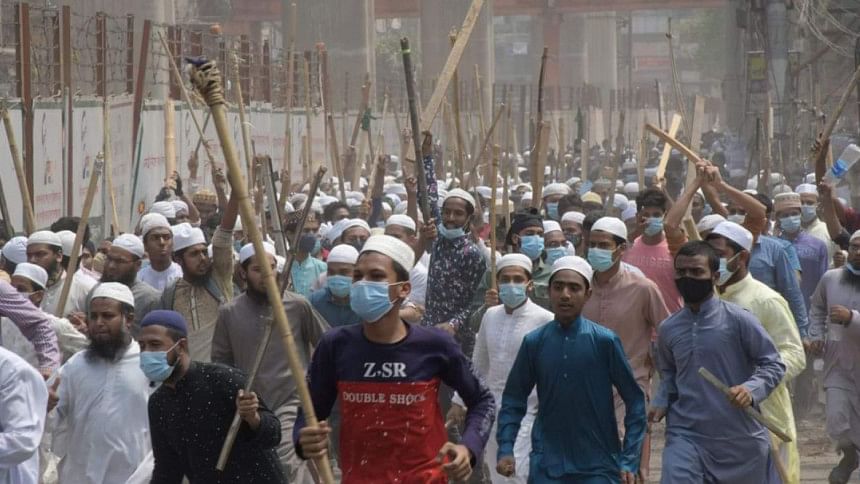 Banned militant outfit Harkat-ul-Jihad (Huji) is back, this time in the garb of Hefajat-e-Islam, according to intelligence reports of multiple agencies, including the police.
Huji was found to be involved in the three-day Hefajat mayhem that was carried out across the country from March 26 to March 28 "in protest against the visit of Indian Prime Minister Narendra Modi".
"It [the mayhem] was actually a planned activity of Huji," according to an official of an intelligence agency.
Talking to The Daily Star, several law enforcers investigating the mayhem said leaders of Huji, which was banned in 2005 following the grisly grenade attack on an Awami League rally that killed 22 people, from which Prime Minister Sheikh Hasina narrowly escaped, a year earlier, started to gather under the Hefajat umbrella. It managed to gain some control over the Qwami madrasa-based organisation recently.
The rapid transformation of Hefajat from an Islamic advocacy platform (of madrasa teachers and students) to a political pressure group since 2013 drew a lot of radical Islamists outfits like Huji, JMB and Ansar al-Islam to join Hefajat and regroup within it.
Huji started to call the Hefajat shots when a number of its leaders managed to get posts in the recently-formed central committee of Hefajat. They instigated the recent violence that left at least 17 people dead, said the investigators.
"In our investigation, we have got evidence on Hefajat's links with militant outfits. A group of Afghanistan returnees along with some Jamaat-Shibir men became tagged with the religion-based organisation [Hefajat]," Mahbub Alam, joint commissioner (Detective Branch) of Dhaka Metropolitan Police, told The Daily Star a couple of days ago.
Huji leaders are known as "Afgan fighters", officials of counterterrorism said.
The joint commissioner said this group (Afghan war returnees) alter the decision of top Hefajat leaders and it is them who mainly carry out subversive activities under the banner of Hefajat.
"We have already started identifying those [Afghanistan returnees] and will take actions against them," he also said.
During the three-day's violence, several dozens of government establishments, railway stations, police stations and outposts came under unprecedented attacks by Hefajat activists.
WHAT HUJI WANTS
Investigators said Huji is not liking the present amir of Hefajat -- Junayed Babunagari -- as he was not working as per the will of the extremist outfit.
The militant group even wants to get someone to Hefajat's top post, someone who will be able to work without any government influence and will be able to run the Hathazari madrasa -- the centre of Hefajat activities, said the investigators.
The Police Bureau of Investigation (PBI), which was given the charge of investigation into 16 cases over the three-day mayhem, said it too found that Huji men were behind the violence.
Huji is carrying out its recruitment activities under the guise of Hefajat, said a top PBI official involved in the probe.
Wishing not to be named, another high PBI official said at least one central Hefajat leader was arrested in 2013 after he was found to be a Huji operative. The arrest was made over his alleged links with a blast at a madrasa in Chattogram's Lalkhan Bazar, said the official.
According to an intelligence report obtained by The Daily Star, the 249-member Hefajat central committee, which was dissolved last night, had at least eight leaders who are either former operatives of Huji or have connections with the militant outfit.
Intelligence officials said after the death of four Hefajat men on this March 26 at Hathazari, Chattogram, it's leaders, in the face of demands from Huji operatives, negotiated with law enforcers to take the bodies without any autopsies.
Tohidul Islam, additional deputy commissioner of Counter Terrorism and Transnational Crime (CTTC) unit, said their investigation also found that a number of Huji operatives were holding posts in the Hefajat committee.
"These operatives are now trying to use the Hefajat banner to fulfill their purpose and carry out subversive activities in the country," he added.
Another intelligence report suggests that around a dozen Hefajat leaders have ties to another militant outfit -- Ansar al-Islam.
Asked about Hefajat's connections with militant groups, Anwar Hossain, deputy inspector general of police (Chattogram Range) told The Daily Star that they were trying to get an authentic picture in this regard.
Even Home Minister Asaduzzaman Khan Kamal, in a recent statement to the media, pointed fingers at Huji and Jamaat-Shibir men over the recent Hefajat mayhem.
While talking to The Daily Star before his arrest on April 12, Azizul Haq Islamabadi, central organising secretary of Hefajat, however, binned the allegation that militants groups have merged with his organisation.
"None of Hefajat leaders has anything to do with militancy. Why is the government not taking any action if it has any specific information in this regard?" he asked.
THREAT ASSESSMENT
Apart from the militant aid, Hefajat is also getting support from the BNP-Jamaat. It is now trying to be politically empowered to fulfil its agenda, according to a police intelligence report.
Inclusion of Huji operatives in Hefajat indicates that it may adopt ways to create anarchy, it said.
More than 30 Afgan returnees are still absconding and reportedly more than 100 Huji members have fought in Arakan, Myanmar.
"The outfit members may work secretly to regroup as their potential leaders are staying outside the country, like in Saudi Arabia, Pakistan, Oman and Qatar. They may provide the necessary support, including financial assistance," reads the report.
Ongoing geo-political crisis due to Rohingya influx may create a favorable condition for expansion of the group in this territory, consequently, they may gain advantage in recruiting more sympathisers and in planning subversive activities, the report says.
Moreover, political backing by a few leading parties and religious groups may reinforce Huji's current strength, the intelligence feared.
POLITICAL AFFILIATION
Hefajat has also become the centre of attention of some leaders of major political parties to materialise their petty interests.
The platform is being used to gain popularity and achieve their political goals as Hefajat has thousands of dedicated followers across the country, according to experts and sources in the intelligence agencies.
At least six political parties took part in elections alone or under the platform of the BNP-Jamaat alliance have links with Hefajat.
The inclusion of leaders of Jamiyat-a-Ulamaye Islam, a component of the 20-party alliance led by the BNP, is the prime example.
Thirty-one of its leaders made it to the 249-member committee of Hefajat. Jamiyat is registered with the Election Commission as a political party.
Eight top leaders of Khelafat Majlish, another component of the BNP-led alliance, were also included in the new committee.
At least 23 leaders of Bangladesh Khelafat Majlish, four of Islami Oikya Jote, and five of Khelafat Andolon were accommodated in the Hefajat's new committee.
Bangladesh Khelafat Majlish and Islami Oikya Jote earlier were in the BNP-led alliance and both are registered with the Election Commission as political parties.
Five Jamaat men also got into the Hefajat committee, according to competent sources.
On November 15, Junayed Babunagari was declared Hefajat ameer at the end of its council held at Darul Ulum Moinul Islam Hathazari Madrasa in Chattogram. Before the committee was announced, Junayed served Hefajat as its secretary general.
The council was held around two months after the death of Hefajat ameer Ahmed Shafi, who passed away in September.
Hefajat first appeared on the scene in 2009 by protesting a draft national women development policy that provided equal inheritance rights to women.
Things changed after the 2013 mayhem at Shapla Chattar, and the then Hefajat ameer Shah Ahmad Shafi and the AL government got closer.
But a faction of Hefajat, led by Junayed Babunagari, was totally against the outfit's "soft approach" towards the government, according to several Hefajat leaders.
Soon after the formation of the central committee, Hefajat hogged the headlines as it strongly opposed the construction of Bangabandhu's sculpture in the capital and gave anti-government statements.