Families of Teknaf 'Gunfight' Victims: The false hope of 'public hearing'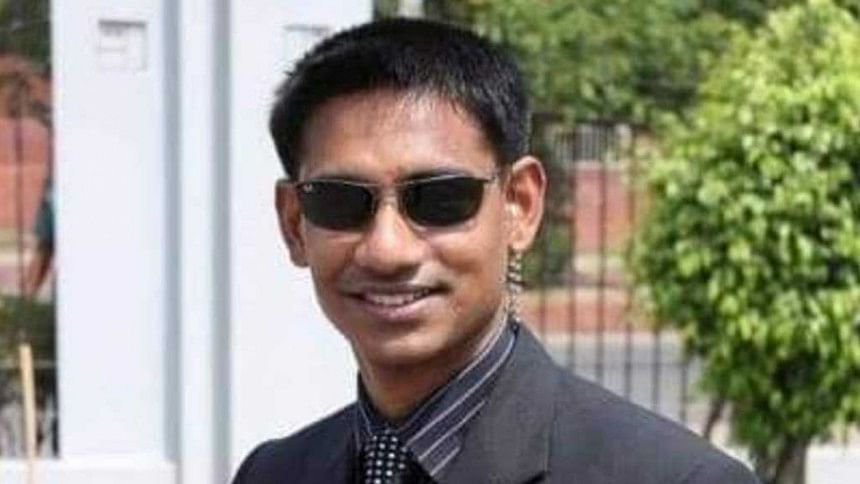 People taking turns to talk on a particular issue, placing testimonials, and administrators listening cautiously and coming up with certain commitments publicly is how a public hearing takes place.
And people in Teknaf turned up at the office of the in-charge of Rohingya Camp-23 at 10:00am yesterday expecting something like this.
But a public hearing is not what they got. At 11:25am, a high-level investigation committee, formed by the home ministry to investigate the killing of Major (retd) Sinha Rashed Khan in police firing, began a closed-door meeting at the office in Shamlapur area, only with a handful of preselected persons. The meeting continued till 4:40pm and those persons were sent home through a back door.
Journalists were not allowed to talk to any of them.
The hearing was organised by the committee to take accounts of witnesses to the killing on July 31 night. An announcement in this regard was made in a circular issued on August 11.
Throughout the entire day yesterday, the office, except the room where the meeting took place, was packed to the brim with so many journalists that one could easily mistake it for a get-together of the Crime Reporters' Association.
Aggrieved locals victimised by the justice and policing systems in Teknaf came to participate in the hearing, so did a crowd of usual bystanders, but to no avail.
Both sides of roads there were lined with vehicles of any and all law-enforcement agencies, and they too stood along with the crowds. A child with a bucket of overripe hog plums made a brisk business selling the snack. Any airborne flu viruses would have had a field day.
Asked about the hearing, the high-level investigation committee's convener -- Additional Divisional Commissioner (Development) Mahmud Mizanur Rahman -- said, "It was a hearing of the 'public', but it was not meant to be a public hearing per say. We had spread the news in different areas that there will be a public hearing for witnesses to the crime [Sinha killing]. Some people approached us and we did a preliminary selection based on what testimonials they had to offer. We took their names and addresses, and those were the people who spoke today," he said.
There were a total of nine preselected people who were interviewed in private by the committee. "Taking their testimonials in front of everyone could have jeopardized them and also the investigation. Once the interviews were over, we let them out through a back door and asked them to go home, so that they do not face any journalists, and don't tell anyone what we spoke about," said ADC Rahman.
He added that they have spoken to 60 people so far in connection with the Sinha killing.
Meanwhile, the announcement of a "public hearing" taking place was misunderstood by locals as being a public hearing for the families of all victims of "crossfire" or "gunfights" with the police in the upazila in Cox's Bazar and quite unintentionally, families of such victims gathered at the office yesterday.
While their testimonials were not relevant to the investigation committee, those people had something to say.
At least 87 people have been killed in 48 incidents of "gunfight" involving Teknaf police alone between August 1, 2018, and August 1, 2020, according to an analysis of reports published in The Daily Star.
Pradip Kumar, one of the main accused in Sinha killing, took over as officer-in-charge of Teknaf Model Police Station on October 19, 2018.
A total of 107 incidents of "shootouts" in Cox's Bazar, including 48 in Teknaf, were recorded by this newspaper during the same two-year period. At least 184 people, including 65 Rohingyas, were killed in those incidents.
Families who've their near ones in so-called gun-fights with law enforcers are often too scared to speak up, but they congregated to do so yesterday. Burkha-clad mothers who lost their sons, and wives who lost their husbands lifted the visors off their faces and broke down in front of television cameras, seeking justice.
Abeda Khatun came from Shilkhali village, accompanied by her two daughters and a son, hoping to be able to tell the story of how her husband was killed in a "gunfight".  "About 11 months ago, my husband Abdul Amin was picked up by the police from our home. It was early in the morning he had just woken up when they came. The kept him for seven or eight days and then they 'gave him crossfire' around 11:30 at night," the woman told The Daily Star yesterday.
Another mother who lost her two sons to "gunfights", came to the hearing with her widowed daughter-in-law. "My husband Md Hossain Kamal was picked up by law enforcers on October 22, 2018, and 'given the crossfire' on October 29. We live in Najirpara of Teknaf," said Rukia Akhter. "His body was found in Shah Porir Dwip."
A man named Abdur Rashid came and claimed that his brother, Abdul Jalil, was in the custody of the Teknaf police for eight months before being found dead following an incident of "gunfight". 
"My brother went missing on December 2, 2019, and showed up dead in West Maheshkhalia Para last July. He was picked up because of a land-related squabble. Two months into his disappearance, we even filed a general diary with the Teknaf police station," he said showing the copy of the GD.
"I got to know that he was inside the police station all this time -- he used to tell my phone number to anyone who was taken into the police station. Some of them could memorise the number and called me afterwards," he said.
In another development, jail authorities in Cox's Bazar said Pradeep Kumar Das, Inspector Liaqat Ali and Sub-inspector Nandadulal Rakshit, accused of murdering Maj (retd) Sinha, have been given their own cells to protect them from other inmates. Many of these inmates in Cox's Bazar District Jail were arrested by the three police men.
They had gotten out of their cells on the second day of their imprisonment, but the other inmates raised a ruckus and were bullying them, said the jail sources. "After this, the three chose to stay in their rooms and they are served food inside their rooms," he said.
The jail authorities also said that in addition to "better living conditions", the policemen were "buying" themselves better meals, and were not eating anything served generally to inmates. "They ate the regular jail food for the first week, but since Pradeep received his commissary provision three days ago, they are buying better food," said the source.
Pradeep and Liaqat ate a hearty breakfast of lentils, vegetables and roti, while Nandadulal chose roti and halwa. For lunch, they each bought a serving of fish, and for dinner they ate meat, added the sources.
The three landed in the jail on August 6.