Emergency response plan ready: govt
Experts see challenges; screening only Chinese nationals at airports is unscientific: China envoy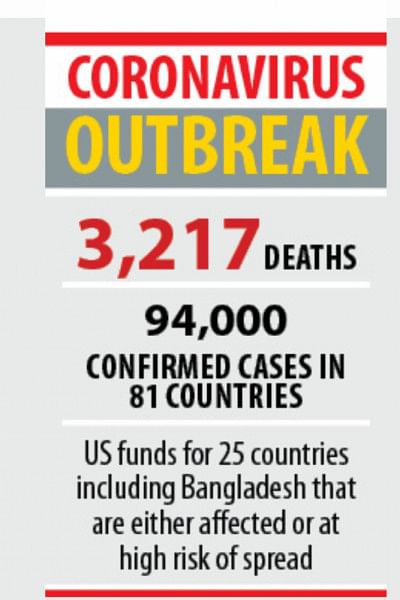 The government has finalised an emergency preparedness plan to tackle any possible spread of coronavirus in the country. 
The plan has been prepared taking into account four levels of emergency; the current level for Bangladesh is one, meaning it has so far no confirmed coronavirus cases.
For this level, the health department is keeping suspected coronavirus patients isolated and carrying out tests on them. All the hospitals in the country have been instructed to have at least five isolated beds for possible coronavirus patients, said Prof Abul Kalam Azad, director general of the Directorate General of Health Services (DGHS).
If the present situation worsens, the emergency level will increase and so will the preparedness, Prof Kalam explained.
The government move comes as coronavirus continues to spread across the world, claiming lives every day.
Experts say Bangladesh also faces risks of coronavirus spread as many other countries in the region have already reported such cases. They pointed out that people from those countries were travelling to Bangladesh, where preparations to tackle the virus seem inadequate.
In another development, the US State Department on Tuesday put Bangladesh and 24 other countries in a list of "high-priority countries" in the coronavirus fallout. It also announced a commitment of $37 million to help those countries address the threat of COVID-19 (coronavirus), according to its website.
The countries include Afghanistan, Pakistan, Kenya, South Africa, Indonesia, Iraq, the Philippines, and Zambia.
At a press conference in Keraniganj, on the outskirts of the capital, yesterday, Chinese Ambassador to Bangladesh Li Jiming also said Bangladesh was facing risks of the spread of the virus.
He claimed that only Chinese people were being screened at airports here, although "95 percent" of the new coronavirus cases were being detected outside China.
According to the World Health Organisation, more cases are being detected outside China, notably in Italy, Iran, South Korea and Japan.
"Screening only Chinese people to prevent the spread of coronavirus is unscientific," Li Jiming said at the briefing, organised by China Railway Group Limited at Jinjira. China Railway Group Limited and its subsidiaries are implementing the Padma Multipurpose Bridge Project and the Padma Bridge Rail Link Project.
Replying to a question, he said, "We are not quite satisfied with Bangladesh policies [over the coronavirus issue]."
But airport sources said people coming from several other countries, including Iran and Japan, also face similar screening at the airports.
One official at Hazrat Shahjalal International Airport, however, said they have only one thermal scanner and several hand-held infrared thermometers to detect any possible case.
Talking about measures to tackle the virus, Li Jiming suggested avoiding gatherings and ensuring a mechanism at all international ports to screen all inbound passengers.
He also urged the Bangladeshi authorities to reconsider a decision of cancelling on-arrival visas for Chinese nationals as the "situation has changed a lot". He also requested them not to impose any restrictions on the Chinese products. 
Meanwhile, Bangladesh has extended its on-arrival visa restrictions to inbound passengers from Italy, South Korea, Iran and Japan. On February 2, similar restrictions were put in place for Chinese nationals, said the IEDCR.
"No passenger from these countries should be allowed to enter Bangladesh without health clearance from the authorities in those countries," Prof Meerjady Sabrina Flora, director at the Institute of Epidemiology, Disease Control and Research (IEDCR), told journalists yesterday at a regular briefing at her office.
So far, seven Bangladeshis -- five in Singapore, one in Italy and one in the UAE –have been found to be detected with the virus. Three of those in Singapore, however, have already been cured.
In the latest development, Iran has confirmed 2,336 cases of novel coronavirus with 77 deaths, while the number of cases is 2,502 in Italy with 79 deaths, 293 in Japan with 12 deaths and 5,621 in South Korea with 33 deaths.
With its epicentre in China's Wuhan, COVID-19 has already left at least 3,217 people dead. The infection has already spread to 81 countries. The WHO has raised its global alert level to very high for all countries.
The mortality rate in novel coronavirus is 2.3 percent, according to Chinese Center for Disease Control and Prevention.
Asked whether there was any inadequacy in measures taken to prevent the virus from entering Bangladesh, government officials claimed their preparations were better than those in many other countries. 
They, however, said they were taking further preparations in this regard.
FOUR-LEVEL EMERGENCY PLAN
Prof Abul Kalam Azad admitted that Bangladesh was at risk, but maintained that good preparations were in place.
Talking about the four-level emergency plan with this correspondent, he said the emergency level for Bangladesh is one. If the situation deteriorates and the country has 10 confirmed coronavirus cases involving people travelling from abroad, the level would be raised to two.
In that situation, all the coronavirus patients would be isolated and treated in hospitals.
The emergency level-3 means the number of confirmed cases is more than 10 with some of them infected within the country. If that is the case, the DGHS DG said, the government would lock down certain areas, where infections would be reported.
Talking about level-4, he said it would come if the situation turned into an epidemic.
"In such a condition, local administrations would lock down more areas having high number of patients and quarantine the suspected cases," he told The Daily Star.
Also, local schools and public institutions, including schools and colleges, would be used as quarantine centres, while the isolation units of the hospitals would handle severe cases.
Prof Azad said it was not necessary to admit all patients to hospitals as 82 percent cases are mild and could be treated at home.
He said the government has already formed a 31-member high-level committee, comprised of representatives from local and global organisations and led by the health minister, to determine the emergency levels.
Also, 10-member district level committees, led by deputy commissioners, and 10-member upazila level committees, led by upazila nirbahi officers, have also been formed to implement the plan in case of emergency, he added.
Prof Muzaherul Huq, founder of Public Health Foundation of Bangladesh, welcomed the government move, but said the most important thing would be to raise public awareness. "The government should be more transparent in this regard."
He suggested that the government inform people about all its plans immediately so that they could prepare themselves for all situations.
He alleged that the current isolation facilities at hospitals were faulty, posing risks of infection transmission. 
"We need a massive emergency preparation. Even a single infection may pose a massive danger to the country," added Prof Huq, also a former regional adviser for the WHO.
SPEEDY RESPONSE NEEDED
In a statement yesterday, Dr Khetrapal Singh, regional director of the WHO South-East Asia Region, suggested the countries in the region be ready to roll out speedy response to the "first case, first cluster, and first evidences of community transmission".
He said there were three priorities for country readiness -- protecting health workers, engaging with communities and empowering them with timely and accurate information to enable them take protective measures, especially those at highest risk.
Five of the 11 countries in the region have confirmed COVID-19 cases – Thailand 43, India 28, Indonesia 2 and Sri Lanka and Nepal one each, the statement added.