Voters not interested
Turnout 31.05pc; AL's Atiqul wins DNCC mayor polls, of course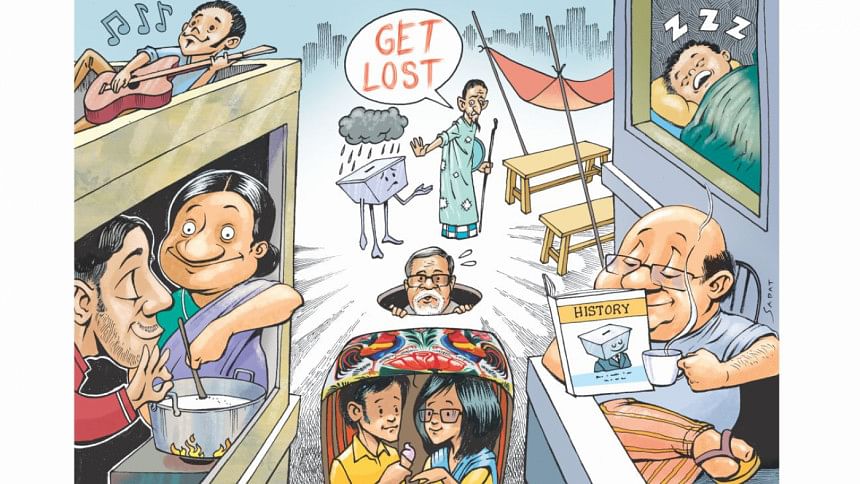 "Do they need our votes? Like they did in the December 30 election, someone will cast my vote."
When Md Kamal told this to The Daily Star, he spoke for hundreds of thousands of voters in the city that went to polls to pick its mayor in the north.
It was a bizarre picture. Logistically speaking, everything was in place for a successful election. The one thing missing was voters, who are at the heart of any election.  
Voters' turnout in yesterday's Dhaka North City Corporation mayoral by-polls was so low that election officials, polling agents, and members of the law enforcement agencies at many centres were seen sitting idle or even sleeping, especially for the first few hours after voting began at 8:00am.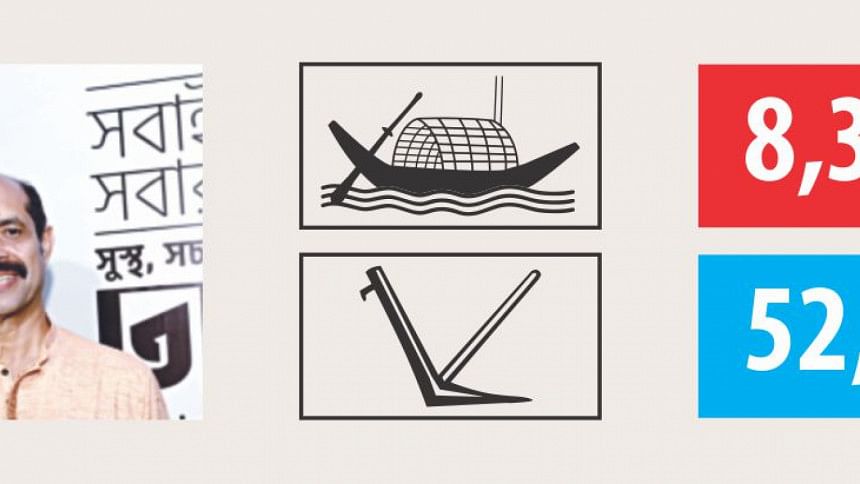 However, the ruling Awami League men, as in the December 30 polls, were seen frequenting the polling centre areas. Some were even seen inside the booths.
In this almost voterless election, AL candidate Atiqul Islam is leading by a huge margin. 
Of the 30.35 lakh voters, only 9.23 lakh people cast their votes, which is just about 31 percent, according to unofficial result sheet. 
Voters turnout in the 2015 DNCC mayoral polls was 37.3 percent.
According to the unofficial count from all the 1,295 centres, Atiqul bagged 8,39,302 lakh votes while his Jatiya Party rival Shafin Ahmed, a prominent singer, got just 52,429 votes.
As many as 19,513 votes were cancelled, while all the three other mayoral candidates had their security money forfeited as they failed to get less than one-eighth of the total votes.
Given the experience in the national election, the main opposition party BNP and its allies boycotted the city polls.
But Chief Election Commissioner KM Nurul Huda defended the EC's role, like he did after the national election. 
"We only create election environment. We cannot bring voters [to polling centres] from their homes," he told reporters in the morning. 
According to him, voters were not interested in the election as the mayor would be in office just for one year.
However, soon after voting closed, Election Commission Secretary Helal Uddin Ahmed told reporters that they estimated 50 percent turnout in the mayoral by-polls and other elections in Dhaka north and Dhaka south city corporations.
The mayoral post fell vacant following the death of Annisul Huq in November 2017, two years after his election in April 2015.
Election to councillor posts in 36 new wards -- 18 under the Dhaka North City Corporation (DNCC) and 18 under the Dhaka South City Corporation -- was also held yesterday.
Five candidates, including Atiqul and Shafin, vied for the mayor post while 116 for councillor positions.
The election came just two months into the national election, in which the ruling Awami League won a landslide.
The BNP and other opposition parties boycotted the polls results, citing massive vote rigging.
In a study, the Transparency International Bangladesh found electoral irregularities like stamping ballot papers the night before the December 30 polls and ballot stuffing by capturing booths on the election day in 47 out of the 50 constituencies surveyed.
Other irregularities include silence of law enforcers and administration officials, casting fake votes, barring voters from going to polling stations, forcing voters to cast vote for a specific symbol and preventing polling agents from going to centres, the study found.
ELECTION SCENARIO
Ten correspondents and three photographers of The Daily Star visited 72 polling centres and found a strange picture.
At booth no-1 at Mohakhali Model High School polling station, a polling officer was found sleeping at 9:40am. The ballot box placed on a table in front of him was empty.
Around 20 policemen and Ansar members were gossiping, sitting on two benches.
One correspondent of this paper waited there for about 30 minutes, but saw no voters. In the meantime, the polling officers were having breakfast and tea inside the booths.
Presiding Officer Humayun Kabir could not say how many votes were cast in the first two hours. However, visiting the four booths, all the ballot boxes except one, were found empty.
"Vote cast may be low due to rain," he said.
TNT Adarsha Girls High School centre is some 500 metres away.
Seeing The Daily Star correspondent, the assistant presiding officer came out of a booth and said, "What's the point of visiting the booths, brother? Better take a seat."
"Brother, what are you going to write today? See? Just one vote has been cast in the first two and a half hours. We don't know how we will spend the whole day here," he said.
Two minutes later, around 30 youths and teenagers wearing boat symbols entered the centre, meant only for female voters. They went to the first floor of the building while two youths were guarding the staircase and did not allow anyone to go up.
Presiding Officer Mizanur Rahman could not give any figure of turnout in the first two and a half hours.
Eight other centres in Mohakhali, Banani, Gulshan and Uttara had similar pictures in terms of voters' presence.
At the two polling centres at Mohammadpur Government College, some people wearing badges of "boat" tried to bar two reporters of this paper from entering the centre.
However, they eventually managed to enter the station, where only 87 out of the 4,474 votes were cast till 10:50am.
In another polling centre at Mohammadpur Government College, not a single vote was cast till 10:30am.
It was a similar picture at the female polling centre at Mohammadpur Government Physical Education College. No vote was cast here till 11:30am. Around 15 minutes later, only two voters    showed up.
Gopal Chandra Saha, presiding officer of the centre, said only two votes out of total 2,227 were cast till 11:50am.
No voters were seen at the Darul Ulum Maius Sunnah polling centre at Polashnagar in Mirpur-11 at 3:30pm. Two supporters of the AL candidate wearing badges were casting votes after taking ballots from polling officials.
Presiding Officer Nazrul Islam declined to talk about this irregularity.
While taking photograph of an empty polling booth at Kalyanpur Girls High School polling centre, a middle-aged man flanked by some youths and a police member forced The Daily Star correspondents to delete the photos.
He identified himself as the presiding officer, and said, "Don't you know it is illegal to take photograph inside the polling centre?... Besides, it would not be fair if you show in your paper that the polling centre is empty."
Later, The Daily Star came to know that the man is actually Belal, organising secretary of ward no-12, Dhaka City North, Awami League.
At Sharulia under Dhaka South City Corporation, supporters of councillor candidates offered transport to voters, only to receive a lukewarm response.
Four candidates contested for the councillor post.
In front of the Kazi Ashrafuddin Primary School at Staff Quarter area, supporters of AL candidate for councillor post of ward 70 were seen asking voters to get on human hauliers to go to the polling centre.
One of supporters said the polling centre was far away. "That is why we're providing transport," he said and hurriedly walked away.