Ensure no still water at home
Experts urge Eid holidaymakers; offices, schools, colleges too must be aware; 7 more die of dengue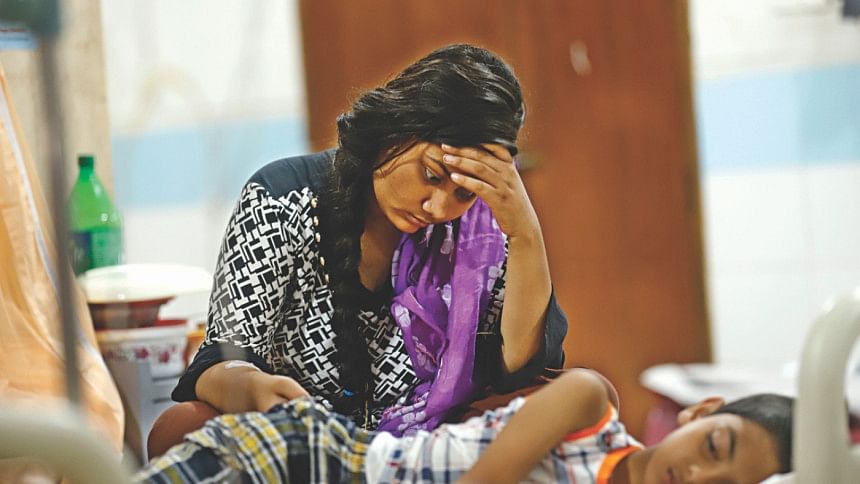 Health experts fear the exodus of thousands city dwellers during the upcoming Eid-ul-Azha vacations could further spread the dengue outbreak in the city, as mosquitoes might use the empty homes, schools and offices as prime breeding grounds.
If stagnant water in any of those sources is not cleaned, then they may become breeding sites for the Aedes mosquito.  
Educational institutions will remain closed for Eid for 10 days from August 8. Office holidays will be observed on August 11, 12 and 13, following the weekend holidays. 
According to the Centre for Disease Control in America, an Aedes mosquito takes approximately 8-10 days to go from being an egg to an adult mosquito.  
A big worry for experts during this period are educational institutions. 
"If the authorities of educational institutions do not take proper steps to clean the property, eventually it will become a breeding ground for Aedes mosquito," said HM Nazmul Ahsan, associate professor at Shaheed Suhrawady Medical College Hospital. 
Directorate of Secondary and Higher Education Director Abdul Mannan said
they would instruct all educational institutions to clean their buildings and classrooms before classes resume after the vacation. 
He said that the education ministry in a directive on July 25 had already instructed to keep campuses clean to stop the spread of dengue.  
"Drain out all stagnant water at playgrounds and anywhere else in the buildings, and clean all water-filled containers and pots regularly," it said. 
Shahan Ara Begum, acting principal, Ideal School and College, said they were aware of the problem. "Our guards will remain on duty. They will take care of the matter during the vacation." 
Moreover, she said, school authorities will clean their school the day before classes begin on August 18.  
As many travel to their ancestral homes to celebrate Eid, experts say the resulting empty apartments can become ideal breeding spots for Aedes mosquitoes, which can lay eggs in stagnant water sources left behind in pots, trays and under refrigerators.  
Prof Mahbubur Rahman, also principal of Norail Govt Mohila College, who did his doctoral research on Aedes mosquito, said that if the several million people leaving Dhaka during Eid do not clean up their apartments properly, it could become a big issue.  
"If 50 or 60 percent of the people leave a single container with some water at their houses, chances of it becoming a breeding ground for Aedes mosquitoes is huge," he said. 
Former director of Institute of Epidemiology Disease Control And Research Mahmudur Rahman urged all to clean all stagnant water at houses, offices and school premises after returning there. 
It is a regular phenomenon that people unknowingly leave some water in pots or the office toilet which was dangerous, said Mahmudur. 
Experts also said to ensure the commode lids in toilets be shut.
DGHS's Communicable Disease Control Director Prof Sanya Tahmina said they had taken different awareness measures centring the upcoming Eid vacation. 
The Directorate General of Health Services (DGHS) director said they would urge Eid-vacationers to keep water storage containers, pots and other kitchen utensils upside down before leaving their homes during the vacation.  
"We will circulate this message among people through bulk SMS service shortly," she said. 
Health experts said non-monitored construction sites could be another big factor in fighting Aedes mosquitoes. Flower pots, water tanks on the roofs of offices and water at toilet commodes could also be breeding grounds for Aedes mosquitoes. 
Dengue has spread to almost all the districts and health workers say it has claimed the lives of 67 people diagnosed with the disease. The government maintains that 23 have died of dengue so far.  
But both figures may be higher as many dengue cases go unreported.  
A record 2,348 dengue patients got admitted to hospitals across the country in 24 hours since 8:00am Monday, according to a DGHS report. 
A total of 29,912 people have been infected with the mosquito-borne disease until yesterday, the highest ever in the country. Last year the number was 10,148. 
BN Nagpal, senior entomologist at the South East Asia Regional Office of the World Health Organization, at a press briefing at the DGHS on Sunday said it was very important to search for and destroy Aedes mosquitoes. 
He said the onus was on people to stop the spread of the disease, adding "source detection" was the key.   
SEVEN PEOPLE DIE
At least seven people, including a three-year-old girl, died after contracting dengue fever in Dhaka, Dinajpur and Rangpur districts yesterday, bringing the unofficial death toll to 67.  
In Dhaka, three patients died at Dhaka Medical College Hospital and one in Anwar Khan Modern Hospital. Of them, Monwara Begum, 75, died at the Intensive Care Unit (ICU) of the hospital around 3:00am, Assistant Director of the hospital Nasir Uddin told The Daily Star. 
Monwara was admitted to DMCH on August 3 with symptoms of dengue fever, the doctor said. 
Hailing from Manikganj, Amzad Mandal was admitted to the hospital around 3:00am last night and breathed her last around 6:00am, the source said.
After contracting dengue, Habibur, a resident of Tejgaon area of Dhaka, admitted to the DMCH on July 31 and died at the ICU of the hospital around 2:20pm today.
Besides, a female Bangladeshi expatriate living in Italy, died of the mosquito-borne fever at Anwer Khan Modern Hospital last night, Qamruzzaman, administration officer of the hospital, told The Daily Star today.
Hailing from Chandpur district, she had been residing in Mirpur area of Dhaka, hospital sources said. 
In Dinajpur, Rabiul Islam, 17, died at M Abdur Rahim Medical College and Hospital around 5:00am, our Dinajpur correspondent reports, quoting the hospital's Director Abu Mohammad Khairul. 
Hailing from Thakurgaon's Ranisankail upazila, Rabiul was admitted to the hospital with symptoms of dengue fever. 
In Rangpur, a three-year-old girl died at Rangpur Medical College Hospital. 
Rianna, 3, contracted dengue fever in Dhaka and was being treated at a clinic in Dhaka, but was admitted to the hospital on August 3, ABM Shahiduzzaman, a doctor of the hospital's medicine department, told our Dinajpur correspondent.