Cruelties rising in chaotic time
Experts say weak family ties, disorder in society key factors behind increasing incidents of brutality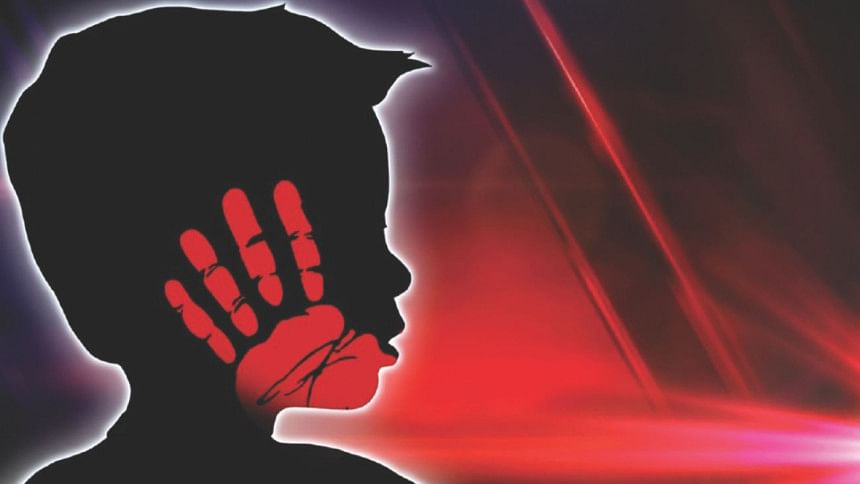 Incidents of brutalities have increased alarmingly in Dhaka and elsewhere in the country in recent months with killing, sexual abuse and torture becoming rampant.
Sorrowfully, family members were involved in a majority of these cases.
A son or daughter killing parents, parents killing a child, a husband killing his wife or vice versa -- these are some of the cruelties that made headlines in national media of late.
Criminologists and psychologists say such heinous crimes are on the rise due to weak family bonding, mental instabilities, and social disorders.
Many have become intolerant due to the prolonged effect of the Covid-19 pandemic, financial crunch, and absence of healthy entertainment. Emotional turmoil and depression have made many violent, even suicidal.
Omar Faruk, professor of criminology and police Science at Mawlana Bhashani Science and Technology University, termed such crimes inter-personal violence.
To explain this, he said, "We are heading towards a disordered society. Culture of impunity and decline of social values play a vital role in this regard. Criminal tendencies and aggressive behaviour see a rise when social values go down."
Human aggression has intensified for economic, political or familial factors and the result is rising brutality, he said.
"In Bangladesh, access to justice is very low. People do not want to report to the police or go to court. So the victim remains tormented until he or she gets killed," he added.
"We have well-defined laws to protect the victims. But there is very minimal implementation… law enforcers must give importance to these issues."
THE INCIDENTS
Ain O Salish Kendra data shows around 95 women were killed by their husbands from January to May 30 of this year. Also, eleven women were murdered by their in-laws, 23 by their own family members, and 40 died by suicide.
Around 502 women were raped and 22 were killed after rape during that period, it added.
In 2020, between January and May, some 86 women were killed by their husbands.
Besides, 21 women were murdered by their husband's family members, 16 by their own family members, and 25 committed suicides during this period, ASK data shows.
This May alone, police sources said, around 129 people were killed across the country.
In some cases, the family members were found informing the police after killing their beloved ones. On June 19, 30-year-old Mehjabin Islam Moon called the national emergency hotline 999 after killing her parents and younger sister in the capital's Kadamatali.
"I killed my father, mother and sister -- come and rescue them," the woman told an officer who attended the call, according to police.
She also threatened that if they arrived late, she would kill her husband and daughter too.
Police said a family dispute was the reason behind the killing, which she planned after watching Indian TV series "Crime Patrol".
On May 30, an auto-rickshaw driver named Moyna Mia was cut into six pieces by his first wife Fatema Khatun and dumped in different places of the capital.
Fatema admitted that her frustration over Moyna's second marriage made her commit the crime.
On May 31, a physician at Green Life Hospital Kazi Sabira Rahman, 47, was killed by cutting her trachea and her mattress set on fire in a Kalabagan house. Police suspect this murder too was a result of a family dispute.
On the same day, police arrested Arifa and her boyfriend Tanay in Gazipur on charges of killing her husband Sumon Mollah and slicing up the body into six pieces.
On May 19, Abdur Rahman, the imam of a mosque in Dakshin Khan killed a readymade garment worker Azhar in his room. The body pieces were dumped in a septic tank.
This was the result of an extramarital affair, police said.
On March 23, police recovered bodies of Hashi Begum, 25, a homemaker, and her three-year-old son Nirob Hossain from a lake near the Korail slum in Banani. Police say Hashi's husband Rubel Hossain killed the two because of a family dispute.
On February 11, police recovered the body of 34-year-old Sajid Hasan from Wari, who was killed because of an extramarital affair, they said.
THE FACTORS
Monirul I Khan, professor of sociology at Dhaka University, told The Daily Star that many factors lead to such brutalities -- including weak family ties and deprivation.
"In any industrialised society, family relationships become weak and get diluted due to the lack of commitment," he said, adding, "The commitment and values to keep the family integrated have been lessening gradually."
The recent incident of a woman killing her parents and sister is an example of weak family relationship, he opined.
The sociology professor further said brutalities are a "reverse reaction of deprivation".
Economic deprivation is one such thing that helps inequality rise, he said, also pointing to people not getting jobs after the end of their studies or not being able to access education.
Shafiqul Islam, commissioner of Dhaka Metropolitan Police, observed that people are becoming intolerant for various reasons.
"Nowadays, family ties are not working properly. The person who is earning passes all day at the office, his children are busy on Facebook, while his wife is busy watching Indian serials. They are not talking to each other or sharing their feelings."
Mekhala Sarkar, associate professor at the National Institute of Mental Health, suggested the media not publish or air reports detailing the murders -- such as how it took place -- as it sometimes may influence a person who has grievances or who is seeking revenge. 
She also suggested the authorities bring some control over programmes like "crime shows" and some online games.
Sayedul Ashraf, lead psychiatrist of LifeSpring, thinks social media is one of the multifactor elements which is leading people to such a level of aggression.
"People are spending more time online and on social media activities rather than spending time with family members. Besides, many content on social media are violent in nature. People do not have any control over what they are watching or following," he told The Daily Star.
Ashraf suggested remaining cautious before following people or pages on social media. "We also need to be careful about children using social media and should not allow anyone below 15," he added.