The Daily Star Investigation
Crazy pills spill via new routes
Hundi traders step in after surrender of 102 yaba godfathers, dealers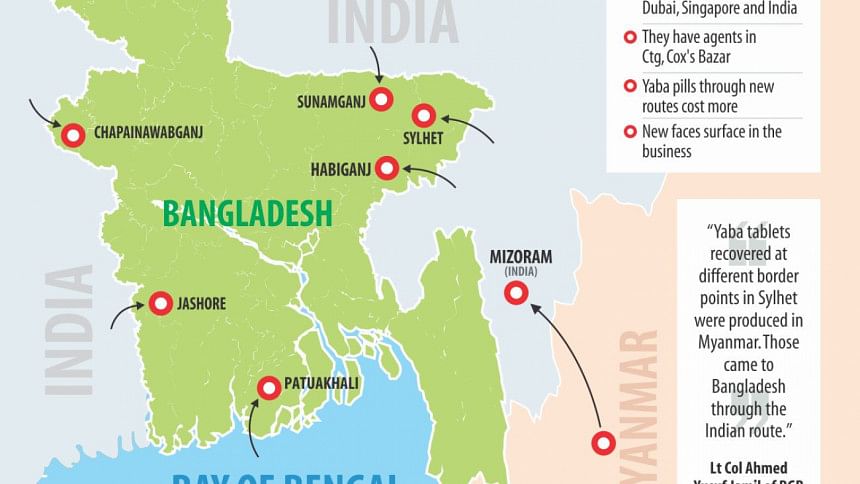 A new strategy of yaba smuggling, involving fresh routes and hundi traders, has been at work since the surrender of 102 godfathers and dealers in Cox's Bazar in February.
The crazy pills from Myanmar are now making their way into Bangladesh through India.
The consignments first enter north-eastern Indian state of Mizoram through hilly roads and then travel through other states before reaching border points in Jashore, Chapainawabganj, Sylhet, Sunamganj, Habiganj and Patuakhali.
Previously, the pills came mainly through Teknaf and Kuakata from Myanmar.
As many as 22 hundi lords in Dubai, Singapore and India are overseeing the new smuggling strategy with their agents assigned in Chattogram and Cox's Bazar, The Daily Star has learnt from police and local sources in the districts.
Explaining how the strategy works, the sources said yaba dealers in Bangladesh first pay the agents through a mobile money transfer service provider and place orders.
The agents then transfer the money to Myanmar via Dubai, Singapore and India through hundi, an illegal means of fund transfer. On receiving the payment, the Myanmar traders sent the consignments through the border points.
Also, smugglers from the Myanmar side are now carrying yaba pills to seven border points in Teknaf and Ukhia. Of them, six are in Teknaf – Sabrang, Jaliapara, Nazirapara, No-1 Sluice gate of the Naf river, Naitongpara and Jajimura. The one in Ukhia is Palong Khali.
Sometimes, the smugglers themselves cross the Naf river dodging the border guards and hand over consignments to yaba peddlers, who bring the pills further inside Teknaf and Ukhia.
Earlier, local fishermen used to smuggle in the pills through the river.
The change in plans came in the wake of a crackdown on drugs in recent months, which saw surrender and arrest of yaba godfathers and leaders, the sources said based on information gleaned from many of the arrestees.
Meanwhile, the law enforcers claim they have recently been able to stop yaba smuggling through 10 other border points in Teknaf and Ukhia. They said only those seven points were active and that they were working to seal them as well.
ABM Masud Hossain, superintendent of police in Cox's Bazar, claimed to have curbed 80 percent yaba smuggling through Teknaf, considered to be the gateway of the pills into Bangladesh.
He admitted that the tablets were still entering the country via other routes.
"We have got the names of some 636 people from the 102 top narcotics godfathers. We are verifying the information," Masud told The Daily Star recently.
He further said they had already learned about some new routes in Teknaf and begun taking actions.
According to police database, around 2.07 lakh yaba pills were recovered in Cox's Bazar since February 16, the day 102 godfathers and dealers in Cox's Bazar surrendered.
Border Guard Bangladesh, Rapid Action Battalion and Department of Narcotics Control (DNC) have recovered around 16 lakh yaba pills from the district over the period.
Since the surrender ceremony, at least 17 alleged drug dealers have been killed in "gunfights" in the district.
NEW ROUTES
The new routes include border points in Putkhali, Dhannokhola of Sharsha upazila, Jadavpur of Chaugachha upazila in Jashore; Wahedpur of Shibganj upazila in Chapainawabganj; Zakiganj in Sylhet; Madhyanagar and Tekerghat in Sunamganj; and Balla in Habiganj, said Rab and police sources.
Some consignments land in coastal areas of Patuakhali and Barguna from Myanmar through the Bay of Bengal, they said.
Talking to The Daily Star recently, Lt Col Ahmed Yusuf Jamil, commanding officer of BGB Battalion-48, said, "Yaba tablets recovered at different border points in Sylhet were produced in Myanmar. Those came to Bangladesh through the Indian route."
In February alone, BGB Battalion-53 recovered 71,000 yaba tablets at Chapainawabganj border point, said sources there.
Shikdar Moshiur Rahman, officer-in-charge of Shibganj Police station, echoed Lt Col Jamil's statement.
"We are on alert to stop such smuggling. We are trying to arrest all the smugglers," he said.
Contacted, Lt Col Selim Reza, commanding officer of BGB Battalion-49 in Jashore, also said yaba tablets were entering the district from India.
"We also have information yaba tablets are now being produced in India on a small scale," he said.
All brands of yaba mainly produced in Myanmar -- R7, WY and Champa -- are available at all those border points. But they cost more there, said local sources.
An R7 pill's retail price ranges from Tk 80 to Tk 100 each at Teknaf border, while it's between Tk 500 and Tk 600 at other points. One piece of WY is sold between Tk 50 to Tk 60 in Teknaf but it costs Tk 350 to Tk 400 at other border points, the sources said.
THE HUNDI LORDS
Police officials investigating narcotics cases said the 22 hundi lords took charge of the illegal trade after the surrender of the 102 narcos who used to control the yaba network in Cox's Bazar.
The officials said the smuggling would not end unless the hundi network was totally cut off.
On average, each of the hundi traders in Bangladesh maintains 50 to 80 personal accounts of the mobile payment service, said a top police official in the district.  
They learnt these while interrogating two top Teknaf-based hundi traders Nur Mohammad, 40, of Nazir Para, and Nurul Amin, 35, of Jaliapara, the official said, requesting anonymity.
Nur and Nurul were arrested in Teknaf Zero Point area on March 21. The next day, they were killed in an alleged gunfight with police during a drive to recover arms and yaba.
Nur was also named in a home ministry list of yaba dealers. He was facing at least 10 cases, including for murder and attack on police and journalists. Nurul stood accused in three cases, including one for money laundering, said police.
Another police official, who interrogated the two, claimed that the two confessed that they were jointly handling 89 accounts of the mobile payment service. Recently, they had transferred Tk 80 lakh to hundi leaders abroad.
"These two hundi traders also admitted they have a syndicate which sends over Tk 100 crore abroad every month," the official said, wishing not to be named.
In line with the new model, the Myanmar-based suppliers take Tk 30 for each pill that successfully reaches Bangladesh territory dodging the border guards. If the consignment is caught, the local traders get a refund, said investigators.  
Asked, Cox's Bazar SP Masud said that yaba dealers were laundering a huge amount of money out of the country with the help of hundi traders.
"We have got trace of around 22 top hundi dealers who are now controlling this business," he said, adding that they were making efforts to destroy the network.
Law enforcers did not give the names of the dealers for the sake of investigation.
NEW FACES IN THE SHOW
The drug dealers involved in the new strategy prefer new faces as the old ones are already under police radar. People with no history in yaba business are being recruited as carriers, said police.
But the number would not be too high, they claimed.
Most of the old faces are either in hiding or have started yaba trade individually, said sources in the law enforcement agencies, adding that the district police have prepared a list of 636 people who emerged as such traders after the surrender of 102 yaba godfathers and dealers.
DNC Assistant Director Soumen Chandra said although yaba smuggling in Teknaf suffered a setback after the surrender, the number of retail sellers had gone up in recent months.
"We have already intensified our drives. We are taking action against those sellers," he added.
[Our correspondents in Sylhet, Benapole and Chapainawabganj contributed to this report.]