Call fresh polls or face demo
5 panels who boycotted Ducsu elections issue 3-day ultimatum to DU authorities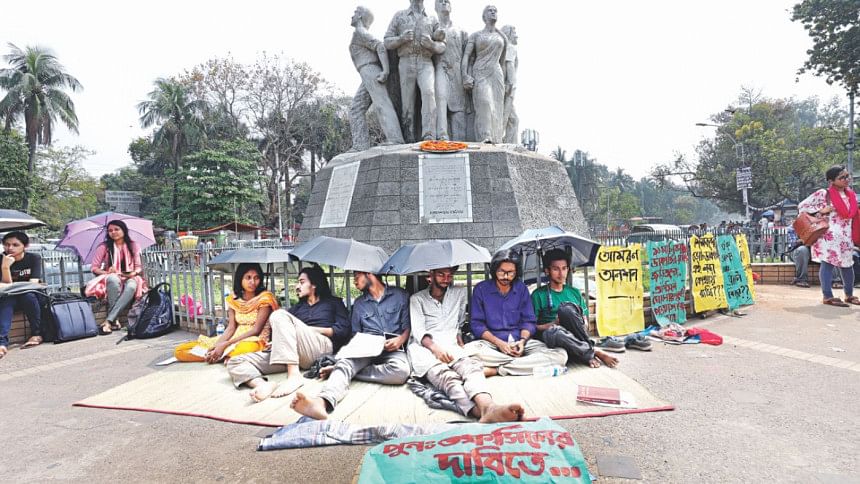 The agitating students yesterday issued a three-day ultimatum to the Dhaka University authorities to announce a fresh Ducsu election, or face a tougher movement from Sunday.
Members and supporters of five panels, who boycotted Monday's Dhaka University Central Students' Union (Ducsu) elections citing vote rigging, vowed to continue their protest until their four-point demand is met.
The demands are: announcement of a fresh polls schedule, resignation of all the teachers and staff members involved in the "farcical" election, formation of a neutral election committee and withdrawal of all the cases filed against the agitating students.
DU Vice-chancellor Prof Akhtaruzzaman said it was not possible to hold a fresh election, but Ducsu VP-elect Nurul Haq Nur, a quota reform leader, expressed solidarity with the call.
"The students voted for me. They want a re-election and I'm on their side," Nur told reporters at Mohsin Hall, where he resides.
To press home their demand, several hundred students brought out a procession from Raju sculpture around 12:30pm and marched towards the VC's office. Nur was among the protesters.
A six-member delegation of the students then met the VC at his office to hand over a memorandum. They spoke with him for about 30 minutes to recount all the "irregularities" they found during voting, including the discovery of stashes of ballot papers, both marked and unmarked, from two female halls.
After the meeting, Liton Nandi, the VP candidate of Progressive Student Alliance, told reporters that the VC rejected their demands.
The VC also threatened them with cases if anyone tried to create unrest on the campus, he added. 
'NOT POSSIBLE'
The VC later told journalists that a repolling was not possible.
"I can't disregard the time and efforts of the 450 Dhaka University teachers and staff members to make the Ducsu election a success. I have no right to show disregard to their efforts," he said.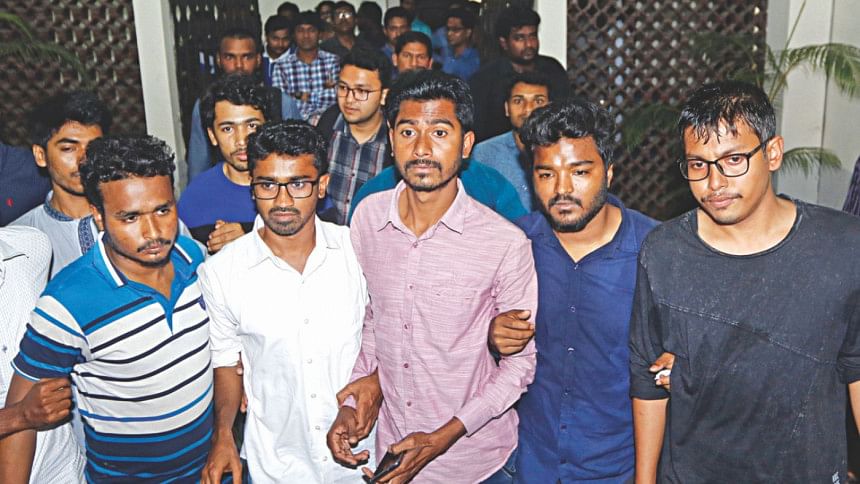 He also warned of tough actions against any attempt to disrupt the academic atmosphere.
But Aroni Samonti Khan, leader of the independent panel, asked, "What action has been taken against those who engaged in criminal acts on the campus for the past years?
"We have given him an ultimatum till Saturday. If our demands are not met, we will intensify our ongoing movement."
I'M ON THEIR SIDE: NUR
Nur, who beat BCL's Rezwanul Haque Chowdhury Shovon by 1,933 votes, said he would take oath only if the students wanted him to.
Both Nur, who was once a BCL leader at Mohsin Hall, and Shovon are residents of the hall.
"Despite all sorts of rigging, they [Chhatra League] could not defeat Akhter Hossain and me from my panel. However, they have defeated others implementing a blueprint," he said.
"All organisations except for Chhatra League are pressing for re-election and they are staging demonstrations. They have issued a three-day ultimatum to the vice-chancellor. As their representative, I express my solidarity with their demand.
"I demand re-elections to all Ducsu posts by March 31, scrapping the dubious election."
Earlier in the day, Ruqayyah Hall students staged protests, demanding resignation of provost Zeenat Huda and withdrawal of a case filed against Nur, Liton Nandi and 30-40 others.
Marjuka Raina, a student of Ruqayyah Hall, filed the case for "assaulting" the provost.
Contacted, Zeenat last night said she was pushed by some students during a heated argument on the election day.
HUNGER STRIKE ON: ONE HOSPITALISED
The hunger strike of six DU students demanding a fresh election rolled into the second day yesterday.
One of them, Anindya Mondal of philosophy department, had to be hospitalised after he fell unconscious in the afternoon.
The six students were continuing the hunger strike at the base of Raju Sculpture near TSC and vowed to continue the protest unless their two-point demand is met.
Initially, four independent candidates who lost the polls began the hunger strike. Two students later joined them.
Meanwhile, five Ruqayyah Hall students began a fast unto death to press home a four-point demand, including reelections to their Hall Sangsad and resignation of the hall provost for her failure to hold a fair election.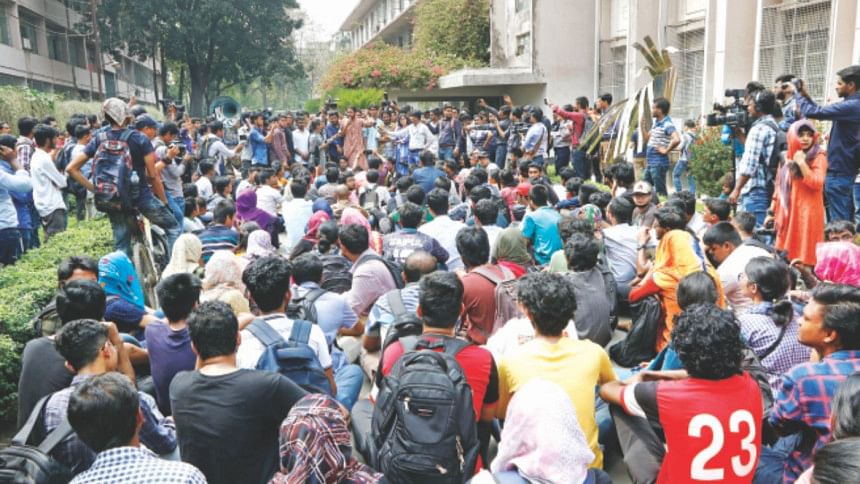 The 28-year-long wait for the Ducsu election ended in boycott by all major panels except for the BCL over allegations of irregularities and vote rigging.
Most independent and leftist panels exploded in protests even before the voting ended and are demanding a reelection. They had also called a strike, which was later called off.
The university authorities found proof of vote rigging in Bangladesh-Kuwait Maitree Hall, where several hundred ballot papers were found in a sack. All the ballot papers were marked in favour of the BCL candidates, teachers and students said.
The hall provost was removed from duty following the discovery.