All the best, shining stars
2,257 outstanding achievers in O- & A-level exams rejoice as The Daily Star honours them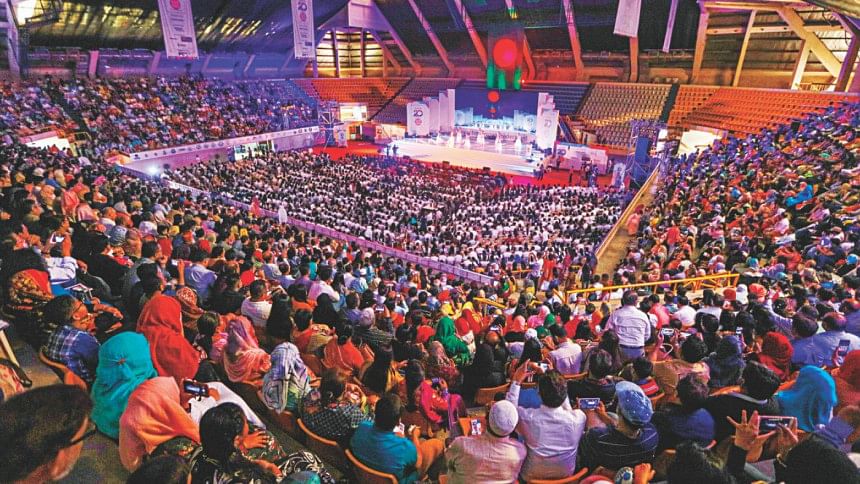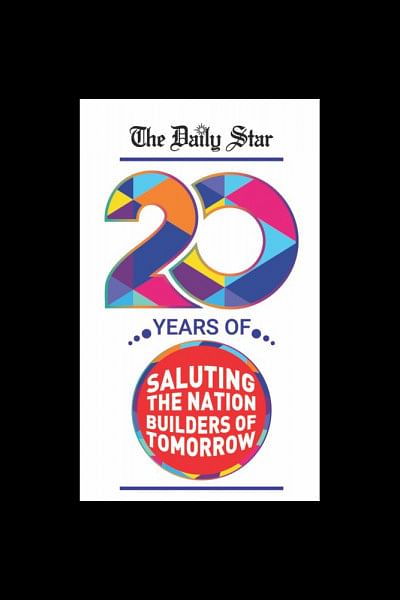 Yesterday's heavy rains could not dampen the indomitable spirit of some of the country's brightest minds who turned up in exuberance to celebrate their academic success and brilliance.
They showed every sign that they would be the change makers of tomorrow and pledged to build a prosperous nation at The Daily Star O- and A-level awards presentation ceremony at the Shaheed Suhrawardy Indoor Stadium in Mirpur.
"Let's pledge that we will put our talents and education to good use. We must make sure that none of us becomes educated monsters," said Hanzalah Choudhury, who got the highest number of A's among the country's A-level candidates.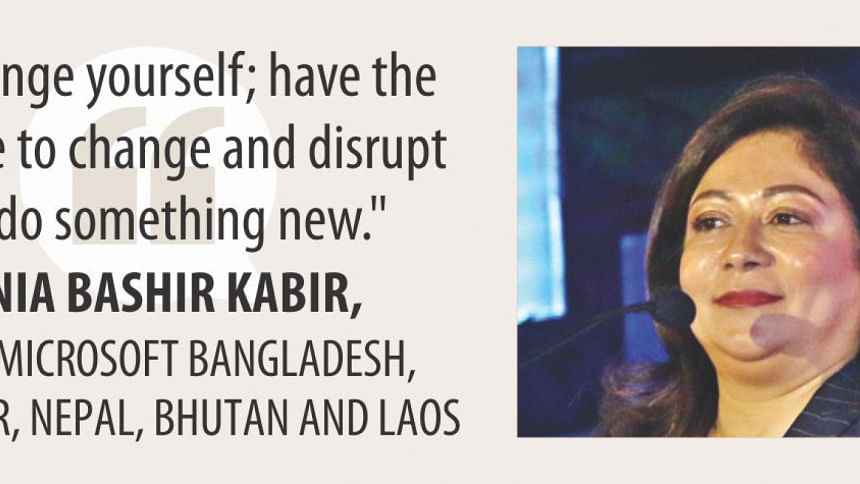 A total of 2,257 awardees -- 1,813 from O-level and 444 A-level -- were recognised at the 20th edition of the newspaper's annual academic awards ceremony, with the tagline "Saluting The Nation Builders of Tomorrow".
The criteria for the award were to achieve at least six A's in O-levels or three A's in A-levels in the 2017-18 academic session.
Forty-nine students achieved the highest marks in the world in different subjects.
Nine students got special recognition for achieving the most A's in O-and A-levels in the country.
The enthusiasm of the awardees, their guardians, teachers, friends and family members added colour to the event.
The outstanding achievers received medals and certificates handed over by Sonia Bashir Kabir, managing director of Microsoft Bangladesh, Myanmar, Nepal, Bhutan and Laos, and Mahfuz Anam, editor and publisher of The Daily Star.
Boisterous applause and cheers rang throughout the stadium as the names of the awardees were being announced.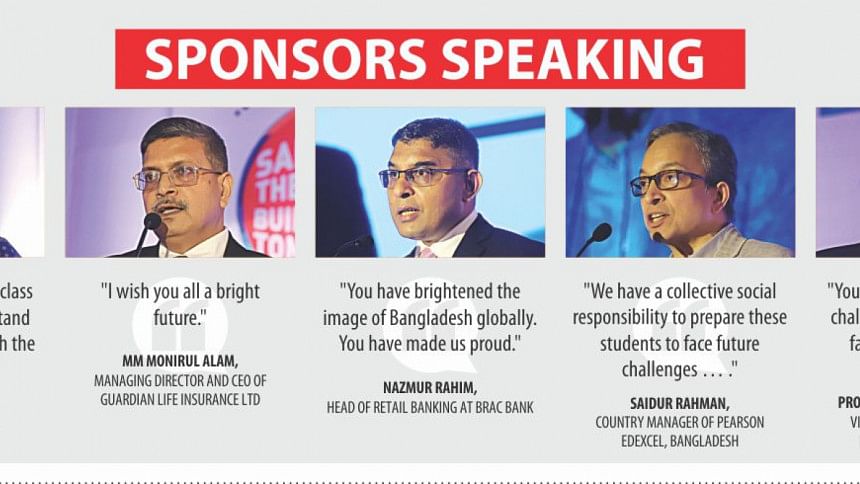 BRAC Bank Ltd was the celebration partner of the event, while Daffodil International University was the academic partner. Edexcel, Guardian Life Insurance and MACES, an education consultancy firm, were the associate sponsors and Channel i was the media partner.
Awardees from 98 English-medium schools from across the country gathered in front of the podium for what was to become one of their most memorable days.
The proceedings began with a documentary on the glorious history of the nation followed by enthralling dance performances by students of several schools.
Mahfuz Anam welcomed the guests and the organising partners shortly after the programme began around 9:30am. By then, the indoor stadium was full to the brim.
Speaking as the chief guest, Sonia Bashir Kabir, said 50 percent of Bangladeshis were under the age of 30 and that students had the ability to take a nation from being a least developing economy to a middle income one.
"In this age, your gender, your religion, or your location does not have anything to do with success. You could be anywhere, anyplace, anytime, doing what you need to do."
Sonia called for cultivating inner wellbeing to understand what was happening around the world and leveraging technology to do whatever one wanted to do.
Talking about the importance of data, she said data was the new currency.
"Anyone who wants to do a project with data, anyone who has an empathetic solution to a problem that exists today, is going to be able to change the world," Sonia Bashir said.
She encouraged the awardees to rebel against complacency.
"Every time you see you are comfortable, and every time you see that you are able to handle the situation very easily, please stop and disrupt.
"Challenge yourself; have the courage to change and disrupt and do something new."
She invited those students interested in turning ideas into businesses and said Microsoft would be there to help them.
In her keynote speech, Saiara Musarrat Adrita, programme manager, Xbox, Microsoft, blended her personal lessons with advice for the young minds.
She said it was important to have a hunger to learn and try new things and that it was okay to not know something as long as one had the hunger to learn and try it.
"You owe it to yourself to give yourself the opportunity to try new things... Until you try it, you will never know if it interests you or if you can be good at it," she said.
Saiara, who also got The Daily Star award during the 2009 and 2011 ceremonies, said she had learnt to be persistent in pursuing her goal.
Life has a screening process to stop people who don't want something badly enough. It will throw obstacles in the form of failure, said Saiara, who graduated from Virginia Tech University.
"It's your job to come up with a plan B if plan A fails. My experiences taught me that there is not [only] a single path to your goal," she said, adding that her plan A was to attend the very best university but she failed.
She wanted it badly enough, however, and so came up with a plan B which was to enrich herself with other qualities, she said.
"Prepare yourself to surpass your goal. Create your own path to your goal," she said.
Congratulating the awardees for their success, The Daily Star Editor Mahfuz Anam said, "You must feel proud. You must feel confident and you must celebrate this tremendous achievement."
He said the fundamental lesson of the world was that countries had developed and alienated themselves from nature. "But today, the world has reached a stage where climate change is threatening our existence. You, as students, must inculcate this feeling from the very beginning."
He said, "However tall our buildings are, wide our roads are, however productive our factories are, are we, at the end of the day, harming nature?"
Mahfuz Anam then said the capital Dhaka was encircled by four rivers, but "we are polluting the water of those rivers."
He called upon students to develop a close bond with nature and also urged them to build a harmonious relationship with their fellow human beings.
"There are too many wars going on in the world. There is too much hatred in our mind," he said.
"Please be aware that unless we can bring harmony to the world, harmony to our own society, harmony to our life, all our good education, all our brilliant results will ultimately produce nothing," he added.
Congratulating the outstanding achievers, Nazmur Rahim, head of retail banking at BRAC Bank Ltd, said, "You have brightened the image of Bangladesh globally. You have made us proud."
He said the young people were leading digital transformation of the country and it was the young minds like the awardees who created many start-ups.
"I think only sky is the limit when it comes to youth innovation," he said, adding that the young generations were changing the perception the world has about Bangladesh.
He also spoke about some of the offers that his bank was providing students for pursuing higher studies.
BRAC Bank has designed students' file service in a way so that students can choose the universities of their choice without any hassle in fund transfer, he said, announcing a 20 percent discount on service charge for all the awardees.
Dr Yousuf Mahbubul Islam, vice chancellor of Daffodil International University, told the students that they would always have to ask "why" when they choose a subject to study or a career to pursue.
He suggested that the objective of whatever they do should be in the service of others.
Saidur Rahman, country manager of Pearson Edexcel, Bangladesh, said in the 21st century, education that was being imparted would define the development, progress and future of the nation.
"We have a collective social responsibility to prepare these students to face future challenges...," he said.
"We are confident that these students will be able to overcome any challenges in future. So it is important that we take the right decision about education in these years which will shape our future for generations to come," he added.
Tina Salem Manzoor, founding partner of MACES, called upon the awardees not to compromise their dreams.
"Dig deep in yourself to find out what motivates you and what you feel is the purpose of your life. What you want may not seem like the most financially rewarding career now, but if it is something you enjoy doing it will keep you happy and inspire you to do great things," she said.
She urged the students to come back to Bangladesh after finishing studies abroad.
"Make yourselves world class professionals who can stand shoulder to shoulder with the best in the world," she said, adding, "Brand yourselves and Bangladesh."
MM Monirul Islam, managing  director and CEO at the Guardian Life Insurance Limited, said insurance was a must for a healthy society, and that state of insurance in a country was an indicator of its development.
He said Guardian Life Insurance was working in this area to build a healthy society and encouraged all to have insurance.
Zunaed Rabbani moderated the event.
The Daily Star initiated the unique annual event in 1999, which, over the years, has turned into a source of inspiration for many.