Admission to Hospitals: Patients left in quandary
Many of them fear being turned away by hospital staffers or contracting the novel coronavirus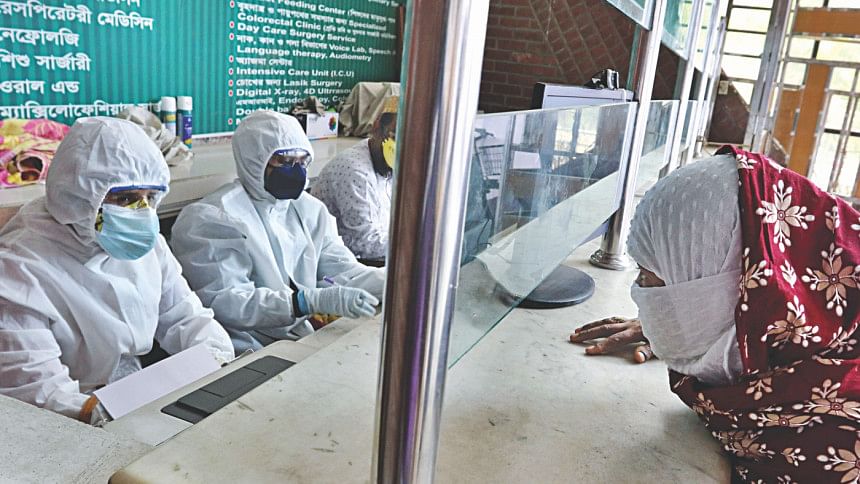 Patients who have not tested positive for the coronavirus but are  generically sick are caught in a quandary -- to go to the hospital or  not?
First, there is the fear of unwittingly contracting the disease from others in hospital.
Second, there is the fear of being turned away. 
As the Institute of Epidemiology Disease Control and Research keeps a  tight grip on who to test, hospitals are neither being able to test and  identify coronavirus patients, nor being able to protect their staff  from potential carriers by giving them the PPE (personal protective  equipment) suits required.
And so, regular patients are in some circumstances finding themselves with nowhere to turn.
On Sunday night, some locals of Uttara sector 11 protested in front  of Regent Hospital while it was receiving an ambulance carrying a  delivery patient.
They did so because the hospital recently signed an agreement with  the Directorate General Health Services to be one of the multiple  hospitals designated for coronavirus patients, and the locals thought  that the hospital was receiving a coronavirus patient.
"We had only two inpatients in the hospital, and none of them were  Covid-19 patients. One was a woman in labour and the other was a staffer  who fell sick," said a member of the administration, who requested  anonymity.
Even if they are coronavirus patients, the hospital is duty-bound to treat them, he said.
"After the late evening prayers, the locals came to the hospital and  beat up the staff, locked the gates of the road, and did not let an  ambulance through. That ambulance was carrying a patient in labour but  they thought it was a coronavirus patient. The gate is still locked," he  said.
A point of contention was the lack of PPE for the staff and doctors  at the hospital, said the administration officer. This fed the locals'  fears of community transmission.
The officer-in-charge of Uttara West station had to arrive at the  scene with a team to calm down the situation, informed Sub-inspector  Baten of the police station.
"The hospital and the locals have not come to an agreement yet," said Baten.
Meanwhile, a 27-year-old entrepreneur had a hard time finding a  hospital who can give his father life-saving chemotherapy because they  had travelled back from India on March 21.
"My father has cancer. We discovered this when we were in India for  his treatment. We completed one chemo session there and the doctor  advised us to come back home and finish the rest of the sessions here,"  said the 27-year-old.
"His next chemotherapy session was supposed to be today but we are  struggling to find a hospital who will treat him. We went to one of the  hospitals for treatment, but they refused to meet my father because he  has just travelled back and needs to be quarantined," he said.
The man informed this correspondent that the doctor told him that  there is a strict restriction from management to the hospital personnel  to not talk to patients with travel history.
"Even if something happens to me or my father, whether it be for his  cancer treatment or coronavirus, where do we go?" asked the concerned  son.
Kamrul Hassan ran around with his coughing sister all day yesterday looking for a hospital who would agree to see her.
"My sister works in a hotel and is routinely coming in contact with  people who have recently travelled. She has had a persistent cough for  5-6 days and I wanted her checked out," said Hassan.
He first went to Kurmitola General Hospital where he found the  admission counter empty. A nurse told him to wait outside for a doctor,  but none came.
After waiting for long, he went to Kuwait Maitree Hospital, where he claimed he found the emergency section closed indefinitely.
"There were no doctors or nurses. A member of the law enforcement  agency guarding the gate told us that they only take in people referred  by the IEDCR," said Hassan.
However, when he went back to Kurmitola Hospital and pleaded his case again, he was able to see a doctor.
But not many were as lucky, as has been evident by some widely-shared social media posts.
The son of the second patient who died of coronavirus faced a very  difficult time finding a hospital to take his father, who had pneumonia.
The son, Fuad Abdullah Al Faruque, described his experience on Facebook.
"IEDCR initially refused to test my father because he did not have a  travel history. I nevertheless took him to a private hospital in  Shyamoli, where they prescribed medication and requested him to recover  at home."
Home recovery was not an option for this patient -- he had to be  taken to the emergency again the next day as his condition deteriorated,  the son wrote. "They said my father needed the ICU, but they would not  be able to accommodate him." He then called a private hospital in  Mohammadpur, which asked him to come but 15 minutes after arriving told  them to leave, he claimed. 
He then transferred his father to another private hospital in  Kalyanpur which too could not provide ICU support. Meanwhile he kept  calling other private hospitals and all gave him non-committal answers  -- except Delta Hospital in Mirpur.
"Delta agreed to take my father and had the ICU ready," he said. His  father was moved to Delta at 4:00am, after having been shifted from  hospital to hospital the whole day. Up until that point, he had not been  able to convince IEDCR to test his father, he claimed. It was after his  father had to be put on life support that they got him tested. But it  was much too late and his father passed away at Delta Hospital.
One Nurun Nahar Noshin's father, a pneumonia patient, was turned  away from several private hospitals and died while waiting for his IEDCR  test results. He tested negative and the daughter took a photo of the  test result and expressed her grief on Facebook. 
EMPTY HOSPITALS
Never before has the emergency ward of Dhaka Medical College Hospital (DMCH) been this eerily empty. Not even on Eid days. 
The silence speaks volumes about the current health crisis of the country. 
Speaking to the admissions counter, our correspondent was informed  that while the hospital saw approximately 450-500 people being admitted  per day before the crisis, the number has come down to about 200. 
DMCH has a unique brand of staff called "trolleymen" -- they are  freelance staffers who make a living by pushing patients on trolleys for  Tk 50. 
They sat around, waiting for work. "If more patients do not show up then I will not be able to buy food for home," said one. 
Prof Mujibur Rahman from the Department of Medicine said that if  patients show up with normal flu, they are asked to go home and recover.  
Similarly Shaheed Suhrawardy Hospital's director Uttam Kumar Barua  told this correspondent that their number of patients have been halved.  "We used to have 1200-1300 inpatients every day. This has gone down to  500-600."