Abrar's Death: Bus owner arrested, placed on remand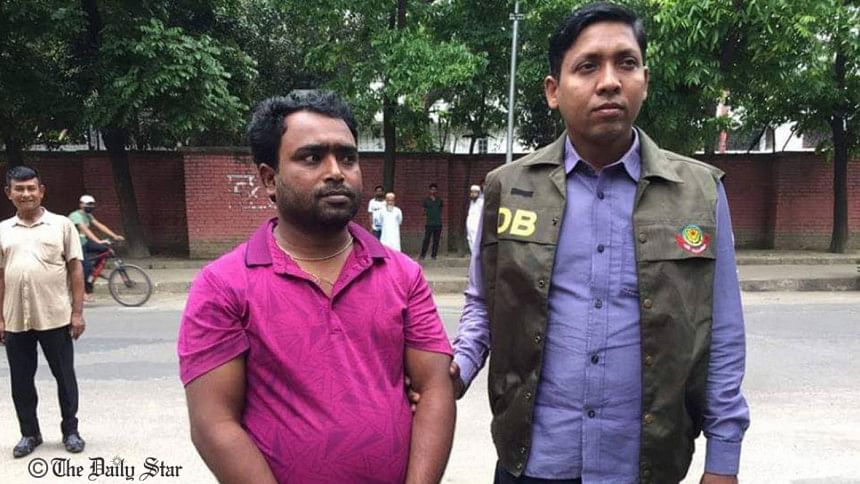 The owner of Suprobhat Paribahan bus that ran over and killed university student Abrar Ahmed Chowdhury on March 19 was placed on a three-day remand yesterday, hours after his arrest from the capital's Mugda. 
The owner is Nani Gopal Sarker, 42, who owns four out of 163 buses of the company.
Passengers and pedestrians caught bus driver Sirajul Islam and handed him over to police in the capital's Shahjadpur after the vehicle had hit and injured a college girl on the morning of March 19, said police. 
After the accident, the bus was parked by a road there. Bus conductor Yasin Arafat then informed Gopal of the matter over phone and said agitated locals might torch the bus. Gopal told him to take the vehicle to a safer place.
As instructed, Yasin, who had no driving licence, took the wheel and the bus ran over Abrar near the gate of Bashundhara Residential Area, police said. 
Gopal had been on the run since the accident happened. A DB team arrested him around 6:30pm on Thursday, said Masudur Rahman, deputy commissioner (media) of Dhaka Metropolitan Police.
A bus owner's primary responsibility is to ensure immediate treatment of victims after an accident takes place, Masudur said. But without doing so, Gopal committed an offence by asking the conductor to flee the spot immediately along with the bus.
The second accident that killed Abrar, a first-year honours student at Bangladesh University of Professionals, would have been averted, if Gopal acted responsibly, the police official added. 
DB officials said in primary interrogation, Gopal admitted that driver Sirajul began his trip from Sadarghat area around 5:45am and hit Synthia Islam Mukta, 20, a student of Mirpur Ideal Girls' Laboratory Institute, at Banshtala in Shahjadpur.
Gopal also confessed that he had been operating the bus on Sadarghat-Gazipur route illegally though the vehicle had the permission to ply on Dhaka-Brahmanbaria road, said the DB official, adding that Gopal did not change the ownership of the vehicle even after he bought it two and a half years ago.
Rejecting his bail petition, Dhaka Metropolitan Magistrate Baki Billah placed Gopal on a three-day remand after DB Inspector Kazi Shariful Islam, also investigation officer of the case, produced him before the court with a three-day remand appeal. 
Earlier, detectives arrested conductor Yasin and bus helper Md Ibrahim from separate places on March 27, a week after Abrar's father Brig Gen (retd) Arif Ahmed Chowdhury filed a case with Gulshan Police Station.