Abrar Killing: Hasina for quick disposal of case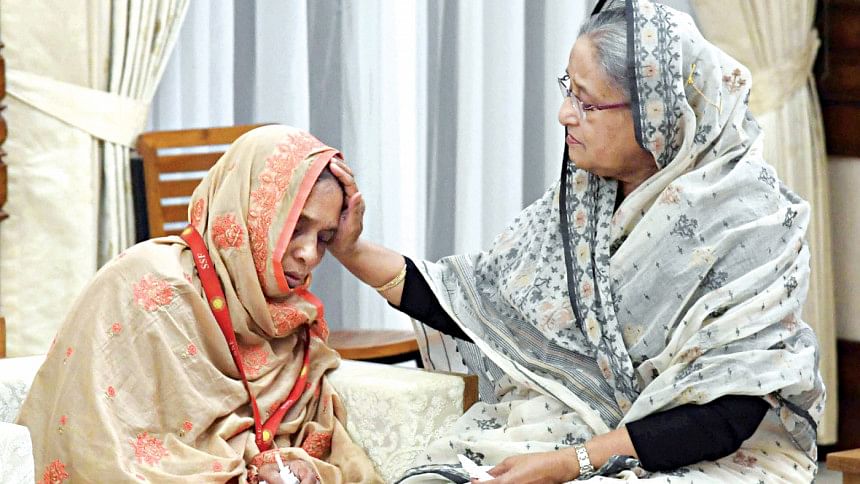 Prime Minister Sheikh Hasina said she has directed the law minister to look for a way to dispose of the Abrar Fahad murder case quickly.
She said this to Abrar's family members when they met her at the Gono Bhaban yesterday.
Briefing reporters after the meeting, PM's Press Secretary Ihsanul Karim said Abrar's parents expressed their deep gratitude to the premier for dealing with the matter as a mother.
Abrar's father Barkat Ullah and mother Rokeya Khatun also expressed their gratitude to the administration, police, and the country's people for their all-out support and cooperation.
Hasina said after the incident, they did not see who belonged to which party. "I don't want to see who belongs to which party. To me, killers are just killers, criminals are criminals."
She said she does not have words to console the bereaved family. "Look at me, I have lost everything in just one night. I can feel the pain of losing close relatives."
The PM said the killers are not human beings. "How could they kill a person with whom they were sitting and studying [every day]?"
After the incident, police were directed to collect the CCTV footage, she said. "But it's not clear to me why some Buet students created obstacles to the collection of the footage."
Ihsanul said on arrival of the PM at the meeting room of the Gono Bhaban, Abrar's mother embraced her and burst into tears. The PM held her with great affection for some time and sat down beside her instead of sitting on the chair set aside for her.
Abrar's brother Abrar Faiz, Awami League General Secretary Obaidul Quader, and Joint General Secretary Mahbubul Alam Hanif were present, among others.
Abrar, a second-year student of Buet's electrical and electronic engineering department, was beaten to death by a group of Chhatra League men at the university's Sher-e-Bangla Hall on October 7.
Later, his father filed a murder case against 19 Buet students, mostly Chhatra League leaders, and several other unnamed accused with Chawkbazar police station.