Muezzin killed inside mosque
Cops unsure of motive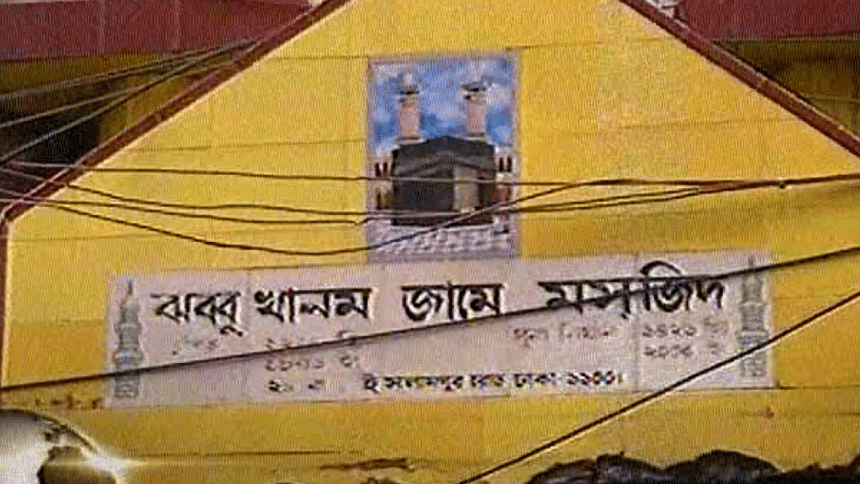 Unidentified assailants stabbed a muezzin to death inside a mosque in Old Dhaka's Islampur yesterday.
The body of Haji Maulana Belal Hossain, 49, was found in a pool of blood on the stairs of the four-storey Jabbu Khanam mosque where he served for 28 years. Police said he was killed before 5:20am.
Imam of the mosque Tajul Islam, who lives with his family on nearby Zindabahar Road, said he went to the mosque in the early morning and offered prayers on the first floor of the mosque.
Before offering the Fazr prayers, he was looking for the muezzin and found the body of Belal lying on the stairs between the first and the second floors, Tajul said.
The basement and ground floor of the mosque houses 30 wholesale clothes shops. 
On information, Belal's son Md Yeasin, a madrasa student who lives in Gandaria, came to the spot. He later filed a murder case with Kotwali Police Station against unknown people.
He said during the last Ramadan some unknown criminals entered the room of his father on the second floor and beat him up. They also took away his mobile phone and some money.
A general diary (GD) was filed with Kotwali Police Station at the time.
After the incident, Belal wanted to leave the job and go to his village home, but he changed his mind following an assurance from the mosque committee.
Asked if he suspected militant links with the killing of his father or whether his father was the target of any extremist groups, Yeasin replied in the negative.
Mofizuddin Ahmed, deputy commissioner of Dhaka Metropolitan Police in Lalbagh division, told this correspondent that police were yet to find any clue about the killing.
Apart from police, other agencies are also working to find clues. A CID team visited the spot and collected evidence.
Mofizuddin said the imam and junior muezzin Mosharraf Hossain were picked up for interrogation. 
The DMP official said though Belal worked as the muezzin, he used to handle some cash to meet the expenses of the mosque. He said they were investigating whether there was any link between the money and the murder.
He said police were not ruling out the possibility of militant links with the killing either.
Police suspect that more than one killer was there.
The body of the muezzin was taken to Sir Salimullah Medical College morgue for an autopsy.
Morgue sources said there were stab marks in his chest, abdomen and left hand.
On July 30 last year, unidentified criminals strangled to death a khadem (caretaker) of a Dhanmondi mosque in the capital.
Officer-in-charge of Dhanmondi Police Station Nure Azam yesterday told this correspondent that the mystery behind the killing could not be unearthed and the Detective Branch (DB) of police was investigating the case.