A mother's appeal to another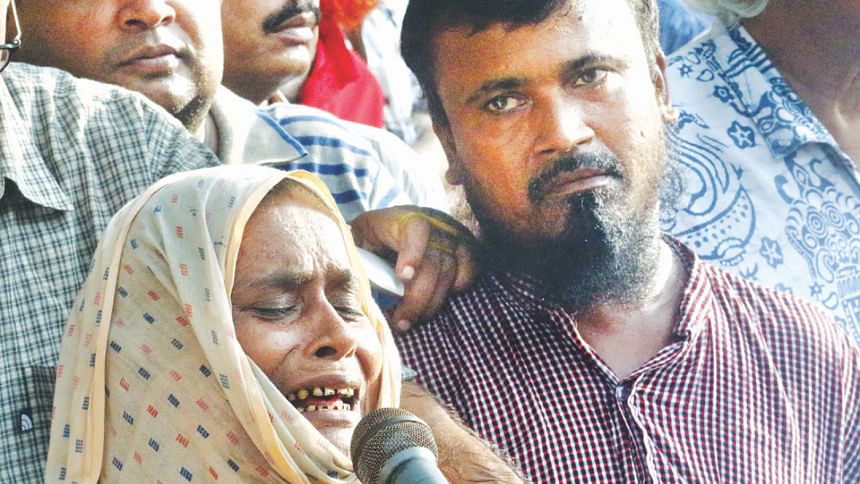 A distressed Saleha Begum struggled to hold back tears as she begged for the release of her only son Muhammad Rashed Khan, a quota movement leader under arrest since July 1.
"Please release my son. I will take him in my arm. I don't have anything else. Just bring him back…" Saleha pleaded with the prime minister from a human chain in front of Jatiya Press Club yesterday.
"He was not involved in politics. He was never against the government. He is just a general student. What has he done to be put on 15 days' remand?"
The demonstration was organised by Jatiya Oikya Prokriya, a citizen's platform.
Zafrullah Chowdhury, founder of Gonoshasthaya Kendra, and ABM Mostafa Amin, member secretary of the platform, spoke among others.
The speakers criticised the government for arresting and harassing the quota reform protesters for waging a "logical movement".
Castigating the Dhaka University vice-chancellor and the proctor for their "inaction", they demanded safe campus for the students.
As of now, 14 quota reformists, including some central leaders of the movement, have been shown arrested by police in different cases filed in April.
Saleha said she came to the human chain only to have her son released and she has no other motive.
"Our prime minister is the mother of this country and I am begging my son from a mother. Ma [Prime Minister]! Please give my son back!"
Rashed, a joint convener of Bangladesh Sadharan Chhatra Odhikar Sangrakkhan Parishad, the platform spearheading the quota reform movement, is an MBA (banking and insurance department) student of Dhaka University.
He was detained from Bhasantek in Dhaka on July 1, at a time when the government went on the offensive against the quota reform activists.
Rashed was first shown arrested in a case filed under the ICT Act on the day of his arrest.
On July 8, he was shown arrested in another case filed for vandalising the residence of Dhaka University vice-chancellor during a demonstration in April, although his name was not included in the first information report (FIR).
Rashed was taken on 15-day remand in two phases.
Saleha, in her 50s, came all the way from Jhenidah to Dhaka for the first time on July 1, and has been wandering from police stations to DB office to the CMM court every day since then, trying to get her son out.
"We toiled so hard to raise my baba [Rashed]. My son gave us hope that he would get a job one day and keep us happy.
"But my baba is now in jail ... I can't live without him ..." the helpless mother could not say any more.
Rashed's father Nabai Biswas said a vested quarter tried to label him as a Jamaat-Shibir activist.
"It's so unfortunate. I was never involved in politics. I am just a mason. I had to take loan from a bank to bear the expenses of my son's study. He is just a general student," Nabai said and demanded release of all the arrested quota reform protesters.
Dr Zafrullah Chowdhury said he joined the human chain only to beg pardon from Rashed's parents, being a freedom fighter.
"When we joined the Liberation War, most of the families [of the freedom fighters] were like the family of Rashed. Most of the families were farmers and labourers. Our goal was to build a country based on the principles of equality and equity."
In February, mostly students of different public universities along with jobseekers gathered under the banner of Bangladesh Sadharan Chhatra Adhikar Sangrakkhan Parishad and waged the movement demanding quota system reforms in civil service.
In April, students of public and private universities across the country took to the streets and blocked key points of the capital and roads and highways elsewhere.
Amid the protests, Prime Minister Sheikh Hasina in parliament on April 11 spoke about abolishing all types of quotas in public jobs.
But as no gazette notification was issued in this regard, the protesters started an indefinite boycott of classes and examinations in all universities and colleges on May 14.
Afterwards, the PM on July 12 in parliament said it was not possible to reform the freedom fighters' quota in government jobs due to a High Court verdict.
Meanwhile, the tenure of the committee formed on July 2 to "review, reform or cancel" the quota system has been extended by 90 more working days.