More diseases, more deaths
Global report on climate change shows grim picture for Bangladesh in coming decades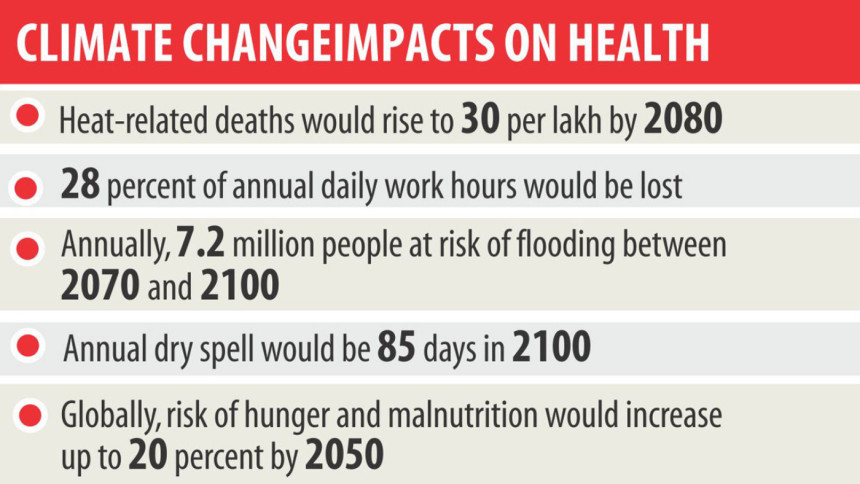 Global warming may lead to a higher number of deaths and outbreak of diseases linked to extreme events such as heatwave and flood in Bangladesh in the coming decades, according to a UN report.
Such events could reduce labour productivity and give rise to hunger and malnutrition, it said, calling for strong actions to cut carbon emission and promote adaptation.
"Under a high emissions scenario, heat-related deaths in the elderly [65 plus years] are projected to increase to almost 30 per 100,000 by 2080," said the report, "Climate and Health Country Profile 2015", on Bangladesh released yesterday.
Such heat-related annual death was four per lakh in Bangladesh between 1961 and 1990.
If global mean temperature rises four degrees Celsius, about 28 percent of annual daily work hour is projected to be lost by workers carrying heavy labour in different sectors, including agriculture and construction.
The report, prepared by the World Health Organisation and the United Nations Framework Convention on Climate Change, was launched ahead of the UN Climate Change Conference to be held in Paris from November 30 to December 11.
In a statement yesterday, N Paranietharan, WHO Representative to Bangladesh, said, "Climate change threatens to undermine Bangladesh's significant achievements in the health sector."
Health should receive due priority as climate change has a profound link to it, he said, stressing the need for adequate involvement of policymakers to that end.
"The country profile should be used to base policies and practices to protect human health from climate change," he added.
The UN report said, "Under a high emissions scenario, mean annual temperature is projected to rise by about 4.8 degrees Celsius on average from 1990 to 2100."
This rise in temperature has a direct link to sea-level rise and extreme events such as prolonged and heavy rainfall and dry spell that subsequently affect human health and agriculture.
The number of days of warm spell is projected to go up to almost 300 days on average in 2100, which was about 60 days in 1990.
Also, the longest dry spell could rise to 85 days on average in 2100 from about 70 days in 1990, the report said.
The elderly, children, the chronically ill and socially isolated people are particularly vulnerable to heat-related conditions.
Diseases like malaria transmitted by insects will also rise in Bangladesh, though there is no country-specific projection on it. Globally, over 147 million people may be at risk of malaria by 2070 with the rise in temperature, according to the report. 
It said on average 7.2 million people in Bangladesh could be affected by flooding due to sea level rise between 2070 and 2100 if there were no large investments in adaptation.
However, if emissions decrease rapidly and there is a major scale-up in protection activities like continued construction and raising the height of dikes, the number of people affected annually could be as low as 14,100.
In addition to deaths from drowning, flooding affects food production, water provision, ecosystem disruption and outbreak of infectious diseases.
"Longer-term effects of flooding may include post-traumatic stress and population displacement."
It also anticipates 20.3 million people in Bangladesh will be living in areas at high risk of cyclone by 2050, compared to 8.3 million at present.
An additional 7.6 million people could be exposed to very high salinity by 2050.
Highlighting the impact of outdoor air pollution, the report said it has severe consequences for health and could increase mortality from respiratory infections, lung cancer, and cardiovascular disease, especially among women and children.
The WHO called for the government to develop an exclusive national policy to address health challenges for climate change by utilising a rights-based approach, and mobilising resources required for building climate-resilient healthcare facilities.