Islami Bank chairman quits
Changes also at the helm of different committees, Islami Bank Foundation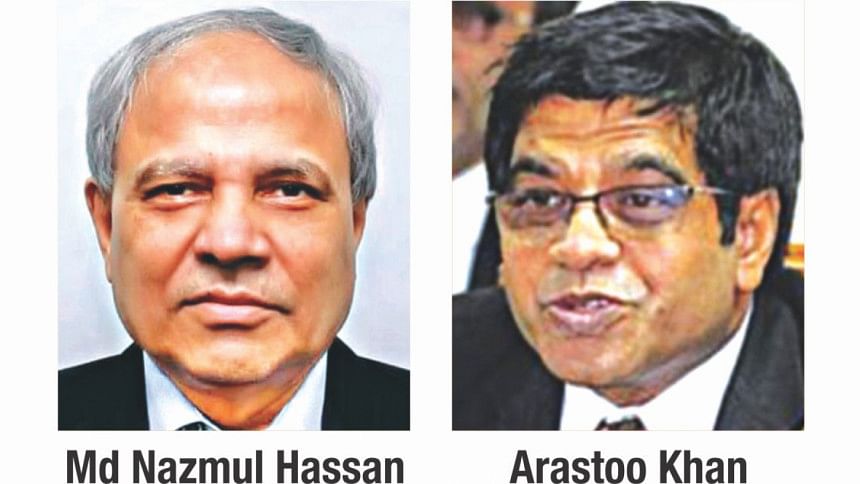 The Islami Bank, the country's largest private bank with over Tk 100,000 crore deposits, saw some sudden, dramatic changes yesterday.
Its Chairman Arastoo Khan resigned yesterday, and the board lost no time to replace him with Prof Nazmul Hassan of Dhaka University.
Islami Bank Foundation, the Shariah-based bank's CSR wing, also got a new chairman, Shamim Mohammad Afzal, an independent director. He replaced Syed Manjurul Islam.
Arastoo became chairman on January 5 last year and was supposed to serve a three-year term.
His sudden departure left other directors and employees scratching their head in surprise, with one director saying more changes were afoot.
"I could not take the work load," Arastoo told The Daily Star by phone about his resignation.
Asked if he was forced to quit, he said, "I am not interested to talk about this right now."
The Daily Star talked to three directors and a number of senior executives of the bank, and they were completely in the dark about the development.
"I had no idea about the changes," said a director, requesting to remain unnamed. "I don't know who are bringing the changes and why."
A Bangladesh Bank official told The Daily Star last night that the Islami Bank had been facing liquidity crunch over the past few months because of its aggressive lending.
Also, the advance-deposit ratio of the bank has recently crossed 92 percent, in violation of the permissible limit of 90 percent set by the BB for Shariah-based banks, the official added.
In some cases, the Islami Bank even faced crisis in disbursing large-scale loans in recent months, the BB official said.   
The Islami Bank board also appointed Prof Selim Uddin of Chittagong University, as a board member and executive committee chairman of the bank yesterday. He replaced Maj Gen (retd) Abdul Matin.
Matin has been made chairman of the bank's risk management committee.
Selim said that the bank management recently requested him to serve the board as a director.
"I don't know yet whether I will be an independent director or a representative of a company in the bank's board," he said.
In January last year, the bank saw some major changes. At the time, its chairman, several directors, managing director and heads of different committees were changed.
The bank started witnessing the changes after some little-known companies bought shares of the bank.
The companies include Platinum Endeavours Limited, Paradise International Limited, BLU International Limited, ABC Ventures Limited, Grand Business Limited, and Excel Dyeing and Printing Limited. They held over 14 percent stakes in the bank till November last year.
S Alam Group, a Chittagong-based conglomerate, is allegedly linked to these companies.
Arastoo, who became a director of the bank on December 15, 2016, was made chairman as a representative of Armada Spinning Mills, another little known company.
He had replaced Mustafa Anwar, who had represented Ibn Sina Trust, which is believed to have connections with the Jamaat-e-Islami.
The bank had also brought changes in the executive committee, audit committee and risk management committee, with Abdul Matin, Zillur Rahman and Abdul Mabud becoming the new chairmen of those committees respectively.
Mabud was removed from the board within a few months.
Then on May 20 last year, a group of seven directors threatened to step down if a single of them had to resign under pressure.
They made the threat following disclosure by Syed Ahsanul Alam, former vice-chairman of the bank, on May 11 that he was being asked by some quarters to resign.
Ahsanul was finally removed from his executive post on May 23. A few days later, he was also removed from the board of directors.
Earlier this month, five top officials of the bank, including an additional managing director and three deputy managing directors quit.
"More changes in the top management will come soon," another director said yesterday.
The IBBL was established in 1983 as the country's first Shariah-based bank. Individuals, government institutions and some banks in the Middle East had over two-thirds shares in the bank at that time. Now their holdings have come down to 46 percent.
A share of Islami Bank was traded at Tk 27 in Dhaka Stock Exchange yesterday, down from Tk 40 a year ago.