Monsoon worry for Rohingyas
Early rains heighten fear in camps, as aid agencies say around 2 lakh refugees at risk of flood, landslide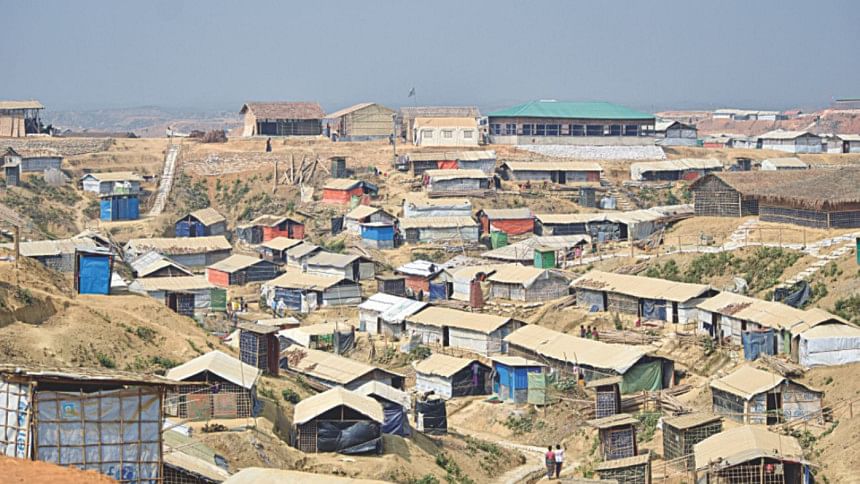 With early rains falling on the Rohingya camps in Cox's Bazar, the fear of natural calamities has heightened among the refugees living in tiny shanties made of bamboo poles and tarpaulin in the district's Ukhia and Teknaf.
Over 700,000 Rohingyas, who crossed over into the coastal district fleeing persecution in Myanmar since August, are dwelling in shacks that are too weak to stand heavy rains and storm.
The monsoon will get into full swing in June but before that there is a high risk of cyclone, which usually occurs in April-May and October-November, according to Uzzal Kanti Pal, in charge of Cox's Bazar Met office.
Besides, one or two depressions might form in the Bay in later this month and one might turn to cyclone, Uzzal said yesterday, adding that same forecasts has been issued also for May.
Asked about the early downpour, the official said, "Within 24 hours till the morning of April 18, we recorded 43 millimetres of rain in Cox's Bazar. Light or medium rains are likely in next two or three days."
The rains exposed some major challenges ahead -- also because the arrival of hundreds of thousands in just a few months had a major impact on the topography of the area.
"Trees and vegetation were cleared by people who urgently needed land to put up their shelters. Because of that, it is impossible to identify for certain where the most severe weather-related damage will occur," reads a statement of International Organisation for Migration posted in its website yesterday.   
IOM studies show that when the monsoon proper hits, an estimated 120,000 people will be at grave risk from flooding and landslides, it added.
Aid workers, meanwhile, have taken some measures to reduce the risks but, as IOM said, the damage caused by this week's early rains also highlighted the desperate need for more funding.
So far, 120,000 shelter kits, which include bamboo poles, tarpaulin, ropes and tools, have been distributed among the refugees for building shanties, said Ratan Kumar Podder, co-coordinator, shelter sector of Inter sector Coordination Group (ISCG) in Cox's Bazar.
Refugees were also trained on how to build those shanties more strong and risk free, he said, adding that aid workers are also working to distribute the shelter kits to another 60,000 families by May.
According to the UN Migration Agency, the cost of work to help protect almost a million refugees from the life-threatening dangers of cyclones, severe flooding, and landslides far exceeds current financial resources and pledges.
To date just seven percent of IOM's $182 million funding appeal for the rest of the year has been secured.
John McCue, IOM's senior operations coordinator in Cox's Bazar, said: "The arrival of the rains first marks the start of what is going to be an incredibly challenging period for the refugees and those working to support them, with the worst yet to come when cyclone and monsoon seasons hit in the coming weeks."
"IOM and our partners are working flat out to do as much as possible to mitigate risks and prepare people for the dangers to come. But the grim reality is that most people are living under tarpaulins on highly unstable ground and are going to have to survive months of rain, floods, landslides and possible cyclones. They are in desperate need of support and protection and we simply do not have the funding we need to deliver a fraction of what is required."
The refugees and aid workers are mostly worried by the risk of storms, especially cyclone when the wind speed could rise up to 140km per hour.    
"Whether the shanties are old or new, these will hardly survive if cyclone lashes the area. We are concerned about our safety," Mohammad Hossain, a Rohingya community leader at Balukhali    camp in Ukhia, told this correspondent.   
Md Arif, a Rohingya refugee at a makeshift Balukhali camp, said his house at Buchidong in Myanmar was built of wood and that was strong enough to protect them from cyclone.
But, here in Balukhali, the bamboo poles of the shanties have been installed barely six inches into the ground and they will be uprooted easily by storms, he said. 
If a mid-range cyclone with wind force between 80km/h and 90km/h hits the area, a large number of Rohingya shanties will be destroyed, said Prof ASM Maksud Kamal of Department of Disaster Science and Management at Dhaka University.
A cyclone that struck Teknaf last year with 80km/h to 130km/h forcer smashed around 25,000 houses, he noted.
According to the data of Bangladesh Meteorological Department, in the last three consecutive years, cyclone Mora with 146km/h wind speed, Roanu with 128km/h and Komen with 65km/h wind speed swept Chittagong region including Cox's Bazar.
Prof Maksud added that cyclone and heavy rainfall bring hazards like flash flood and landslide and the area hosting Rohingyas are prone to those dangers. 
Most of the Rohingya settlements were build in a traditional way to meet up the need for emergency shelter and dwelling in those would be risky during stormy weather, said Professor Maksud.
A joint study carried out by UNHCR, IOM and Asian Disaster Preparedness Centre presented in February showed that around 2,00,000 Rohingyas are at risk of landslide and flash flood in monsoon.
Of them, 25,000 face "extreme risk" of natural calamity, said a source at the Office of Refugee Relief and Repatriation Commission (RRRC) in Cox's Bazar.   
About 10,000 have so far been moved to safer places and aid agencies are working to move all the people who are living under threats of landslide and flood, said Shamsud Douza, additional commissioner of the RRRC office.
In mid-June last year, Chittagong, Rangamati, Bandarban, Khagrachhari and Cox's Bazar districts experienced the worst landslide in history with at least 160 people losing their lives in the disaster.