Mobile bills to go up
Supplementary duty on services increased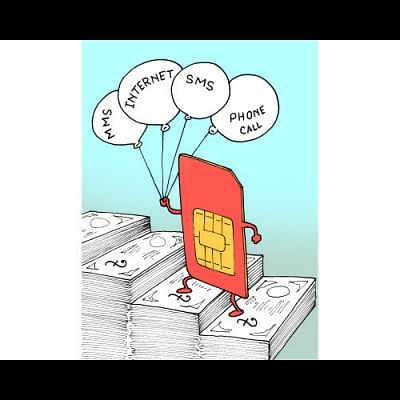 The cost of using a mobile phone would go up by more than two percent as the proposed budget looks to hike the supplementary duty on SIM usage.
Senior executives of carriers said they had already brought supplementary duty into effect early today.
The National Board of Revenue (NBR) yesterday evening issued a Statutory Regulatory Order (SRO) to this effect, shortly after the finance boss's budget speech was over.
Carriers complied with the SRO and have started updating their billing system.
"We have started implementing the order and it will be effective from zero hour of June 3," said Mahmud Hossain, chief corporate affairs officer at Grameenphone.
Other carriers as well took preparation to charge subscribers extra.
They would also send texts to their customers within a short time, they said.
The proposed duty will implicate voice calls, internet, SMS and MMS services and any service related to SIM cards.
At present, there is a 3 percent supplementary duty on all kinds of mobile services; the finance minister proposed to increase it to 5 percent.
Carriers said this move would have a negative impact on their earnings and hurt their expansion plans.
"There is no doubt that users will reduce their mobile use, if this tax is implemented," said a top official of a leading carrier.
TIM Nurul Kabir, secretary general of Association of Mobile Telecom Operators of Bangladesh, said it would be a setback for the government's digitisation process.
"The mobile operators play an important role in building a digital country. And here, we see that the government either imposes a new tax or hikes it every year," he added.
He demands comprehensive taxation and a full withdrawal of supplementary duties on mobile use; otherwise, users will lose affordability.
Sadia Sharmin, a student of ULAB University, said using a mobile phone gets more and more expensive every year. "The way calls and data usage are taxed is confusing as well. There should be a limit to the tax on calls and internet."
In his budget speech, Finance Minister AMA Muhith yesterday said the government reduced the SIM tax to Tk 100 from Tk 300 in fiscal 2015-16, which resulted in a reduction in revenue from this sector.
"In order to enhance revenue collection from this sector, I am proposing to increase the rate of supplementary duty on SIM card related services from 3 percent to 5 percent," he said.
Muhith had proposed a 5 percent supplementary duty on all kinds of earnings related to SIM cards last year as well; but he reduced it by 2 percentage points in the face of widespread criticism.
The government also proposed a 1 percent surcharge on mobile phone use in the budget for 2014-15, which was implemented in March this year.
If this proposal is accepted, users will have to pay 15 percent VAT on total use, 5 percent supplementary duty and then 1 percent surcharge on top of that. In other words, users have to pay a total of Tk 121.96 to take a service of Tk 100 from carriers.
Or, customers can enjoy only Tk 82 of their Tk 100 top up, which is Tk 83.59 at present.
An official of Grameenphone said this hike would burden the customers even more.
"The mobile phone industry in Bangladesh is highly taxed; taxing it any further will disrupt its role in building a Digital Bangladesh," said Mahmud Hossain.
Ekram Kabir, vice-president of communications and corporate responsibility at Robi, said Bangladesh remains the lowest in ARPU (average revenue per user) in the world.
"With the increased levy, mobile phone costs will increase, which will affect our subscribers. We forecast that overall revenue will decline as voice and data use could ease off following the tax hike. We would request the government to roll back the supplementary duty."
As of April, there are 13.2 crore active mobile connections, of which, 5.87 crore are also connected to the internet, according to Bangladesh Telecommunication Regulatory Commission.
Total revenue in the market currently stands at around Tk 25,000 crore.