Violence still forcing them to flee home
ICRC official says on Rohingyas in Rakhine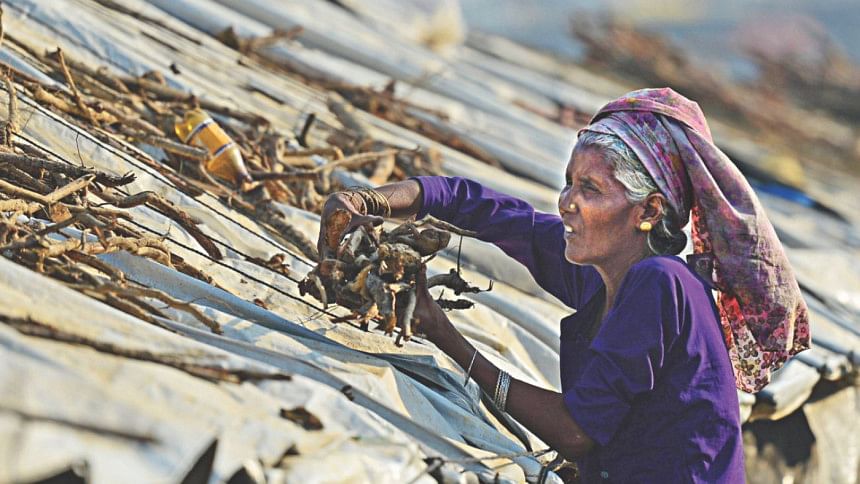 Armed conflicts in Myanmar's Rakhine state have deescalated, but communal violence continues to force the Rohingyas to flee to Bangladesh, an official of Red Cross said.
"For some minority communities, it is difficult to make a living and lead a daily life without fear of or pressure from other communities," said Boris Michel, regional director for Asia and the Pacific of the International Committee of the Red Cross (ICRC). He did not use the term "Rohingyas".
"It is difficult for them to move around, have access to services and even to harvest crops. This situation is certainly continuing, which triggers the continuation of the movements towards Bangladesh," he said in an exclusive interview with The Daily Star at ICRC Dhaka office on November 21.
Boris had arrived in Bangladesh on November 19 on a five day visit and visited refugee camps in Cox's Bazar.
Over 620,000 Rohingyas have fled atrocities by Buddhist-majority Myanmar military since August 25, following attacks by Arakan Rohingya Salvation Army on police posts. The new influx joins over 200,000 Rohingyas who fled violence in previous years.
Around 200,000 more Rohingyas are expected to arrive in Bangladesh in the coming weeks, said US-based International Rescue Committee, despite Myanmar de facto leader Aung San Suu Kyi's statement that there were no conflicts in Rakhine since September 5.
The UN had earlier termed the violence as a "textbook example of ethnic cleansing", while rights groups termed it as "crimes against humanity and genocide".
Operations of all aid agencies, except for ICRC, had been suspended in Rakhine since the violence erupted. World Food Programme (WFP) was finally allowed to operate there only in late October.
ICRC says there is a long history of inter-communal violence between different communities in Rakhine where Rohingyas are denied citizenship and basic services including health and education.
Additionally, the latest clashes between different armed groups, armed forces and security forces have aggravated the situation, Boris Michel said.
Asked about the steps taken by Myanmar authorities to defuse communal violence, he said authorities are aware of the necessity to restore law and order, but it is very challenging as "communities are involved in the communal violence".
He said ICRC is encouraging people at all levels – state, military, security forces and communities -- to make sure that the civilian population should not be subjected to violence.
"It is very important to restore law and order if we want to see the tension diminishing and if we want to see some solution in the future," said Boris Michel.
For this to happen, the ICRC official said, the solution has to be political under a "very deep agreement" between different stakeholders as there has been differences in access to services among different communities including jobs opportunities, health and education services.
He said there has to be massive investments to create economic opportunities so that all the grievances of all the communities can be met in a way to prevent any further communal violence.
On his visit to refugee camps in Cox's Bazar, Michel said the scale of the requirements is huge given the massive population movement in a short time, and it is very difficult for Bangladesh and local authorities to absorb them.
He stressed on better management of emergency services in the refugee camps and ensuring law and order in and around the camps.
"There has to be good balance between local communities and the refugees. Otherwise, it can quickly turn into problems locally," Boris Michel warned.
This is because local communities see their daily lives totally disrupted by the arrival of other people, which creates imbalance in terms of job opportunities, business, security and access to land, he added.
"So, it is a very complex situation to handle," he said.
The international community needs to be committed to financing emergency response to the crisis until Bangladesh and Myanmar find a political solution, Boris added.