Rohingya influx 4,80,000 AND COUNTING
UNSC stepping up response
Holds closed-door meet; secretary-general to brief during its public session tomorrow; seven UN experts ask Suu Kyi to visit Rohingyas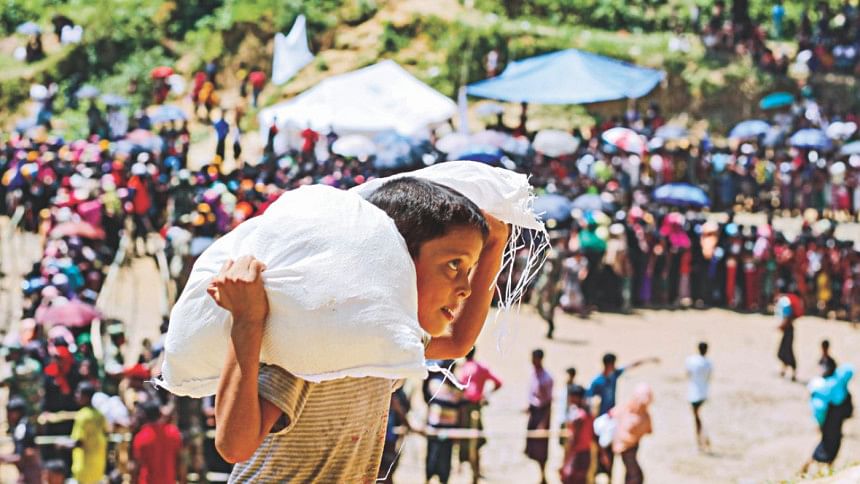 The UN Security Council met behind closed doors yesterday to discuss the violence in Myanmar, moving to step up its response to the exodus of 4,80,000 Rohingyas in what has been condemned as "ethnic cleansing."
The meeting will set the stage for a public session of the top UN body tomorrow, during which UN Secretary-General Antonio Guterres is set to brief on the crisis and China, along with other council members, will deliver remarks.
International alarm is growing over the fate of the Rohingya who have been fleeing an army campaign in Rakhine that the United Nations says has included killings, rape and the torching of villages.
The military operation followed attacks on August 25 by militants on police posts.
British Deputy UN Ambassador Jonathan Allen said the council must "send a clear message to the authorities of Myanmar that the violence needs to stop."
Humanitarian aid must be allowed in Rakhine and the status of the Rohingya, who are stateless in Myanmar, must be addressed, he said.
French Ambassador Francois Delattre said he was pushing for a "strong and united response" from the council to pile pressure on authorities in Myanmar, reports AFP.
China, a supporter of Myanmar's former junta, backed a council statement earlier this month calling for an end to the violence, but the exodus has continued.
Rights groups, which have accused the council of dragging its feet on Myanmar, are calling for urgent action to address what they have denounced as crimes against humanity against the Rohingya.
"The council urgently needs to consider an arms embargo against the Burmese military and targeted sanctions against those responsible for the criminal campaign against the Rohingya," said Human Rights Watch's UN director Lou Charbonneau.
"We hope the secretary-general will drive home the importance of urgent action now by the council," he said.
France, which takes over the council presidency in October, has invited former UN chief Kofi Annan to brief next week on his recent report which advocates citizenship for the Rohingya.
Myanmar's de facto leader, Aung San Suu Kyi, has disappointed human rights groups who had campaigned for her freedom during the Nobel Peace Prize winner's 15 years under house arrest by a military junta.
The council meeting will measure the level of support Suu Kyi still enjoys with Western allies after her nationwide address last week failed to quell the outrage.
Tomorrow, the Security Council will also hear a briefing from UN Secretary-General Antonio Guterres on the crisis, diplomats told news agencies. 
The development comes following requests by seven countries -- Sweden, the United States, Britain, France, Egypt, Senegal, and Kazakhstan -- of the 15-member body.
The Security Council has already met twice behind closed doors since the Rohingya crisis began and earlier this month. It issued an informal statement to the press condemning the situation and urging Myanmar authorities to end the violence, reports Reuters.
Diplomats say the Security Council could consider adopting a formal statement if the situation does not improve, but China and Russia are unlikely to agree to stronger action that would require the adoption of a resolution they could veto.
A Security Council resolution would need nine votes in favour and no vetoes by Russia, China, the United States, Britain and France.
Myanmar said earlier this month that it was negotiating with China and Russia to ensure that it is protected from any Security Council action.
In early September, Guterres took the rare step of sending a letter to the council to express concern about the "humanitarian catastrophe" unfolding, raising fears that it could have "implications for peace and security" beyond Myanmar's borders.
Rights groups are pushing the council to threaten sanctions against Myanmar's government and urging countries to review military cooperation.
Ahead of tomorrow's UNSC meeting, the Bangladesh foreign ministry will brief the ambassadors/high commissioners of nine UNSC member countries in Dhaka today.
Ambassadors of Sweden, Japan, Italy and Egypt will attend the briefing to be held this noon, in addition to the envoys of five permanent members -- the US, the UK, Russia, France and China.
REFUGEE FIGURE HIKED
The UN yesterday drastically increased the estimated number of Rohingya who have fled violence in Myanmar to 4,80,000.
The number who have crossed the border since August 25 to escape the Myanmar military crackdown has increased by 45,000 in two days, reports AFP.
Between the new arrivals and some 3,00,000 Rohingya who were already living in the area due to previous violence in Myanmar, there are now nearly 8,00,000 refugees in camps around the Bangladesh border town of Cox's Bazar that are bursting at the seams.
The situation has forced new arrivals into makeshift shelters in grim conditions, and sparked warnings that epidemics, including cholera, could easily spread.
A report by UN agencies and international charities said the higher number was due largely to an estimated 35,000 Rohingya, not previously accounted for, moving into two refugee camps.
It also said numbers crossing the border had started to rise again.
After reporting a significant fall in arrivals last week, the new report said hundreds had been crossing the border daily in recent days.
UN Refugee Agency has called for redoubling of the international humanitarian response in Bangladesh, with concerns that conditions of the refugees could deteriorate.
In a statement, UNHCR spokesperson Adrian Edwards said despite every effort by those on the ground, the massive influx of people seeking safety has been outpacing capacities to respond, and the situation for these refugees has still not stabilised.
UNHCR said it flew in its fourth humanitarian airlift of 100 metric tonnes of aid yesterday. Two more aid flights are being scheduled.
SUU KYI ASKED TO MEET ROHINGYAS
Seven UN special rapporteurs have called on Myanmar authorities to stop all violence against Rohingyas and halt the ongoing persecution and serious human rights violations, according to a statement issued by the UN Human Rights Office of the High Commissioner yesterday.
They also called on Myanmar State Counsellor Suu Kyi to meet the Rohingyas personally in Rakhine and in Cox's Bazar.
"We call on Aung San Suu Kyi to meet the Rohingya personally in Rakhine State as well as in Cox's Bazar to talk to those who have fled, as well as those who have stayed, as she says the Myanmar Government is interested in doing."
The experts asked UN members to go beyond statements and start taking concrete action to stop the military and security forces from accomplishing their so-called "unfinished business of getting rid of the Rohingya minority from Rakhine".
"There have been credible allegations of serious human rights violations and abuses committed against the Rohingya, including extrajudicial killings, excessive use of force, torture and ill-treatment, sexual and gender-based violence, and forced displacement, as well as the burning and destruction of over 200 Rohingya villages and tens of thousands of homes," said the statement.
They also called on Myanmar to provide humanitarian access to international organisations to assist tens of thousands of internally displaced people in Rakhine and ensure full access of human rights monitors for independent assessment of the situation there on the ground.
The special rapporteurs are Yanghee Lee, on human rights in Myanmar; Agnes Callamard, on extrajudicial, summary or arbitrary executions; Fernand de Varennes, on minority issues; Leilani Farha on adequate housing and right to non-discrimination; Cecilia Jimenez-Damary on human rights of internally displaced persons; Mutuma Ruteere on contemporary forms of racism, racial discrimination, xenophobia and related intolerance, and Ahmed Shaheed on freedom of religion or belief.
In another development, Fortify Rights, an organisation working in Southeast Asia, demanded that Thailand's Prime Minister Prayut Chan-o-cha urgently engage Myanmar's civilian and military leadership to end ongoing attacks on Rohingyas.
In an open letter to the Thai prime minister, it also recommended that Thailand directly assist refugees in line with international law, according to a statement.