Top UN official in Myanmar recalled
Suu Kyi says her govt in talks with Dhaka for return of those 'now in Bangladesh'; no mention of Rohingya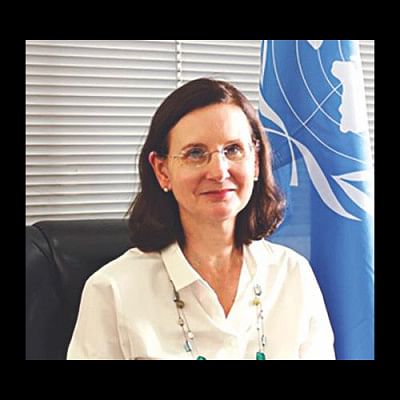 The UN has announced that its top official in Myanmar is being recalled to headquarters in New York amid allegations that she commissioned and then suppressed a report that was highly critical of UN's approach in Myanmar.
The development comes as UN Under-Secretary-General for Political Affairs Jeffrey Feltman begins a five-day visit to Myanmar today.
Separately, the UN Security Council meets to hear from former UN chief Kofi Annan his experience on the plight of Rohingya today.
More than 5,20,000 Rohingya people have crossed into Bangladesh over the last one and a half months, fleeing a security crackdown that allegedly killed 3,000 Rohingyas and burned 284 villages of the Muslim minority. 
Myanmar says its "clearance operations" began on August 25 in response to Rohingya insurgent attacks on security posts, but the UN says it started in early August.
A UN report on Wednesday said, "The brutal attacks against the Rohingyas in northern Rakhine state have been well-organised, coordinated and systematic, with the intent of not only driving the population out of Myanmar but preventing them from returning to their homes."
Meanwhile, Myanmar's de facto leader Aung San Suu Kyi yesterday called for national unity and said she created a committee that would coordinate all international and local assistance in Rakhine State, reports AP.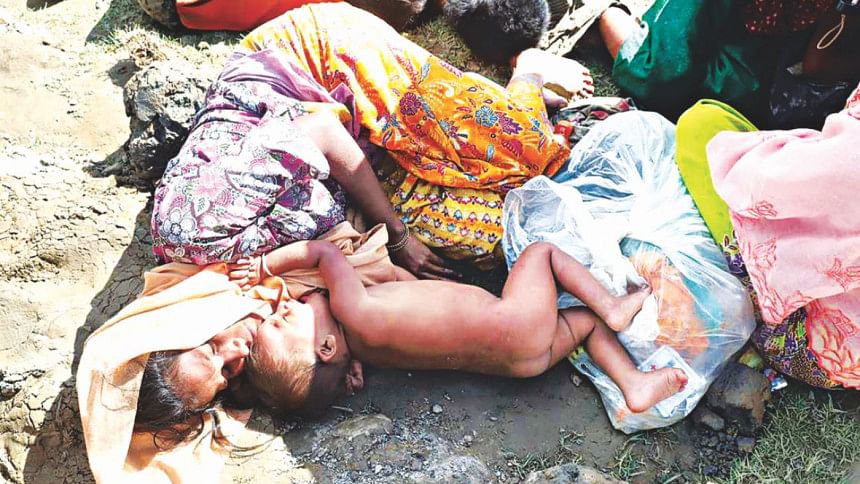 She acknowledged in a speech on state-run television that the country was facing widespread criticism over the refugee crisis, and called for unity in tackling the problem.
She said her government was holding talks with Bangladesh on the return of "those who are now in Bangladesh."
Suu Kyi did not use the word "Rohingya" in her speech, although she referred to several other ethnic minorities by name.
She said those who return from Bangladesh would need to be resettled, without providing details,      and said development must be brought to Rakhine to achieve a durable peace.
The Myanmar state counsellor said she would head the new committee, the "Union Enterprise for Humanitarian Assistance, Resettlement and Development in Rakhine," and that it would coordinate all efforts to create a "peaceful and developed Rakhine state."
Suu Kyi said the government has invited UN agencies, financial institutions such as the World Bank, and others to help develop Rakhine, one of Myanmar's poorest areas.
CONTROVERSY OVER RENATA
Quoting the UN, the BBC yesterday reported UN Resident Coordinator Renata Lok-Dessallien in Myanmar would leave by the end of October.
It said in June that she would be rotated from her position but stressed then the decision had nothing to do with her performance.
Diplomatic and aid community sources in Yangon, however, told the BBC's Jonah Fisher the decision was linked to her failure to prioritise human rights. Since then Dessallien has remained in post with the government of Myanmar, rejecting her proposed successor.
Two weeks ago the UN secretary-general said he had full confidence in Dessallien but the BBC said that now appears to be in doubt.
Renata was the focus of a BBC investigation last month in which she was accused of suppressing internal discussion on Rohingya Muslims. A statement from the UN in Myanmar, in response to a BBC inquiry, however, defended Dessallien's handling of the Rohingya issue.
The Guardian newspaper on October 5 reported the UN-commissioned report that criticised its strategy in Myanmar and warned it was ill-prepared to deal with the impending Rohingya crisis was suppressed.
The review, written by a consultant and submitted in May, offered a highly critical analysis of the UN's approach and said there should be "no silence on human rights".
The report accurately predicted a "serious deterioration" in the six months following its submission and urged the UN to undertake "serious contingency planning".
"It is recommended that, as a matter of urgency, UN headquarters identifies ways to improve overall coherence in the UN's system approach," wrote Richard Horsey, the report's author.
Security forces would be "heavy-handed and indiscriminate" in dealing with the Rohingya, said Horsey in the report.
However, a source close to events, who asked not to be named, told the Guardian that the report was "spiked" and not circulated among UN and aid agencies "because Renata didn't like the analysis".
UN UNDER-SECRETARY-GENERAL TO VISIT MYANMAR
UN Under-Secretary-General for Political Affairs Jeffrey Feltman, who is visiting Myanmar during October 13-17 October, will focus on building a constructive partnership between Myanmar and the UN to tackle the underlying issues impacting all communities in the affected areas of Rakhine, said a UN statement yesterday. 
The visit follows UN's repeated calls for an end to the military operations and violence in Rakhine and unfettered access for humanitarian support and the safe, voluntary, dignified and sustainable return of refugees to their areas of origin.
UN Security Council, which met late September but failed to adopt a resolution against Myanmar because of opposition from China and Russia, will hear former UN chief Kofi Annan.
Annan in late August presented the final report of an advisory commission on Rakhine that he chaired at the request of Aung San Suu Kyi, reports AFP.
France and Britain requested the meeting with Annan as the council weighs its next steps to confront the refugee crisis.
Britain has been working on a draft Security Council resolution that would call for the return of the Rohingyas, but negotiations with China, a supporter of Myanmar's former ruling junta, have been slow, diplomats said.
WORLD BANK READY TO SUPPORT
World Bank said it is ready to support Bangladesh addressing the Rohingya crisis in Bangladesh.
"While we hope the refugees can safely return home soon, it is important that the international community support them and the host communities in the near term with basic services," said Annette Dixon, vice president at the World Bank for the South Asia Region in a statement after a meeting with Finance Minister AMA Muhith in Washington.
The amount of the support has yet to be decided, but it could include expanding access to health, education, water, sanitation, and roads.
After the meeting on the sidelines of World Bank-IMF annual conference, Muhith told reporters that Bangladesh would seek assistance formally from the World Bank for about 10 lakh forcibly displaced Rohingyas.
He did not talk of any amount, but said half of the amount was likely to be grant. Muhith also said Bangladesh needed about $2 billion for the Rohingya refugees.
HOME MINISTER TO FOCUS ON REPATRIATION
Bangladesh Home Minister Asaduzzaman Khan Kamal will go to Myanmar on a four-day visit on October 23 to discuss the repatriation of the Rohingyas, reports UNB. 
The Bangladesh delegation will include two secretaries of the home ministry, high officials of Border Guard Bangladesh, Coast Guard, Department of Narcotics Control, the police boss and foreign ministry officials.
"The objective of the visit is to repatriate the Rohingyas who were forced to flee into Bangladesh," the minister told reporters at the secretariat yesterday.