Why silent on troubled banks?
MPs slam Muhith for keeping mum on scams, irregularities in banking sector; some allege proposed budget favours 'bank looters'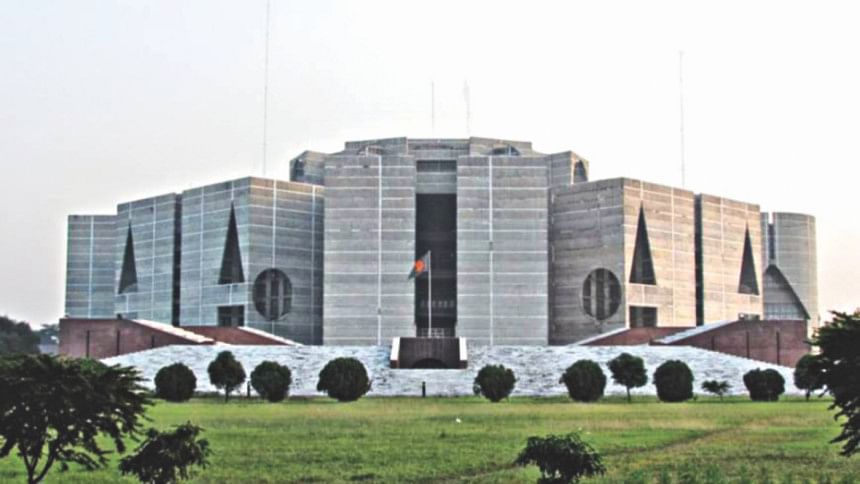 "You [finance minister] must bring the looters to book to restore people's confidence [in the banking system].... You must ensure good governance, you'll have to do these things with an iron hand."

Awami League Lawmaker  Ali Ashraf, addressing AMA Muhith in parliament 
In a rare show of anger and frustration, some ruling party and opposition lawmakers blasted the finance minister in parliament yesterday for his complete silence on the widespread irregularities in the banking sector during his budget speech.
Six of the seven Awami League and Jatiya Party MPs who took part in the discussion on the supplementary budget for 2017-18 came down hard on AMA Muhith for his poor handling of the scam-hit sector.
A growing number of loan scams and mismanagement have plagued the banking sector in the past few years, but the finance minister keeps mum about it, they said.
They also criticised Muhith for backtracking from his earlier position of forming a commission to reform the banking sector.
Those who looted money from banks could have been identified if the commission was formed, they noted.
Muhith, who placed his 10th budget in a row on Thursday, was present in the House but made no response. House leader and Prime Minister Sheikh Hasina was not present as she is in Canada now.
Defaulted loans are rising and have reached nearly 11 percent of the total outstanding loans. If the rescheduling is taken into account, it would be about 20 percent, industry insiders said.
Surprisingly, many borrowers are willful defaulters. Big borrowers -- of Tk 500 crore and above -- were given extra benefits in the name of restructuring their loans in 2015. Many of them have already become defaulters and are now lobbying hard to reschedule their loans again.
BASIC, once a healthy state bank,is now all but destroyed thanks to Sheikh Abdul Hye Bacchu, who was chairman of the bankfrom 2009-2013.
State-run Sonali, Janata, Agrani and Rupali banks have also been hit by big loan scams and are now being recapitalised with taxpayers' money.Now this "disease"has spread to private banks, such as Farmers Bank that is failing even to pay off depositors' money.
In parliament yesterday, lawmakers slammedMuhith for favouring "bank looters" instead of going tough on them for financial irregularities, as the finance minister in the latest line of mercies slashed corporate tax for banks and financial institutions by 2.5 percentage points in the proposed budget, a move they said would benefit the banks' directors.
In 2018-19, the corporate tax rate for non-publicly traded banks, insurance and financial institutions would be 40 percent and for publicly traded ones 37.5 percent.The corporate tax rates for the other sectors have been kept unchanged.
In recent years, the banking sector has been struggling to survive from the rising defaulted loans, capital shortfall and financial scams that mainly emerged from a lack of corporate governance, corruption in loan disbursements and growing influence of directors of private banks in the banks' affairs.
Taking part in the discussion yesterday, ruling Awami League MP Prof Md Ali Ashraf demanded that Muhith restore discipline in the banking sector.
"Loan defaulters have looted hundreds of thousands of crores of taka from the banking sector. But from their physical condition, the luxurious cars they ride in and the housesthey live in it does not seem that they are loan defaulters," he said.
He urged the finance minister to catch the money launderers and loan defaulters.
Otherwise, the sector will collapse, he warned.
When the ALtook office in 2009, the size of the defaulted loans was Tk 22,482 crore. By March this year, itsoared to Tk 88,589 crore.
"If we cannot restore discipline in the financial sector, we will not be able to attract foreign investments," said Ali Ashraf.
Another treasury bench MP, Sohrab Uddin from Kishorganj-2, also criticised Muhith for the sorry state of the banking sector.
"People are afraid of keeping money in banks. That's why money laundering is taking place," he said.
Jatiya Party MP Kazi Firoz Rashid said the looting in the banking sector in Bangladesh is the second biggest incident after the looting of Somnath Mandir of India by Sultan Mahmud of Ghazni (971-1030).
"Why do you give them protection?" he asked Muhith.
"Today you are in power. But power is not permanent. You will be tried someday," he warned.
Firoz Rashid, elected from Dhaka-6, said the bank robbers looted Sonali Bank and Farmers Bank. "What justice have the people got? You have given the permission [for Farmers Bank], people deposited their money in it and their money has been looted."
He questioned why the finance minister didn't put Farmers Bank's assets on auction for plundering people's deposit.
"Why don't you confiscate Farmers Bank's assets when a farmer has to face arrest warrant for defaulted loan of only Tk 24,000?
"Thousands of crores of taka have been laundered from the banking sector. But you didn't take any action because all those people are close to you," he said.
He also said instead of taking actions against bank looters, the finance minister has protected the bank owners in the proposed budget.
"It means that you take sides with the moneyed men. You are making rich people richer. But it is the poor and deprived people who will cast votes for you in the next elections."
Firoz also said: "I can guarantee that you will not find the well-off people before the polls as they will leave the country ahead of the election."
Claiming that there is no good governance and rule of law in the country, he said the government often spoke of huge development. But the reality is that just an hour-long rain submerges the city roads.
Another Jatiya Party MP, Pir Fazlur Rahman, sharply criticised Muhith for not forming the commission for the banking sector.
Independent MP Dr Md Rustum Ali Faraji said money from banks was being siphoned off. "People used to keep their money in banks for security, but people are now afraid of depositing money in banks...millions have been siphoned off abroad."
Talking about loan defaulters, the independent lawmaker from Pirojpur-3 said many people knew these loan defaulters as they took loans from various banks.
Nine banks, which include six state banks and the trouble-hit Farmers Bank, have failed to meet the minimum regulatory capital needs, in a worrying development for the government.
According to Bangladesh Bank data, during the final quarter of 2017, the nine banks saw their capital shortfall swell by Tk 1,766 crore to Tk 19,466 crore.
The lack of corporate governance and financial scams have eroded the capital base of the banks.
Rustumdecried Muhith'sproposal in the budget to reduce the corporate tax for banks, insurance and financial institutions.
He said the government has already given the bank owners enough.
"There's a provision [in the banking law] that allows four people from a single family to become bank directors; and they can be directors for three terms... Now you're proposing lower taxes for them. If this sort of patronisation continues, there will be nothing called bank."
JP MP Nurul Islam Omar and AL MP Romesh Chandra Sen also participated in the discussion.