Muhith should quit over 'tax burden'
JP lawmakers slam him at Jatiya Sangsad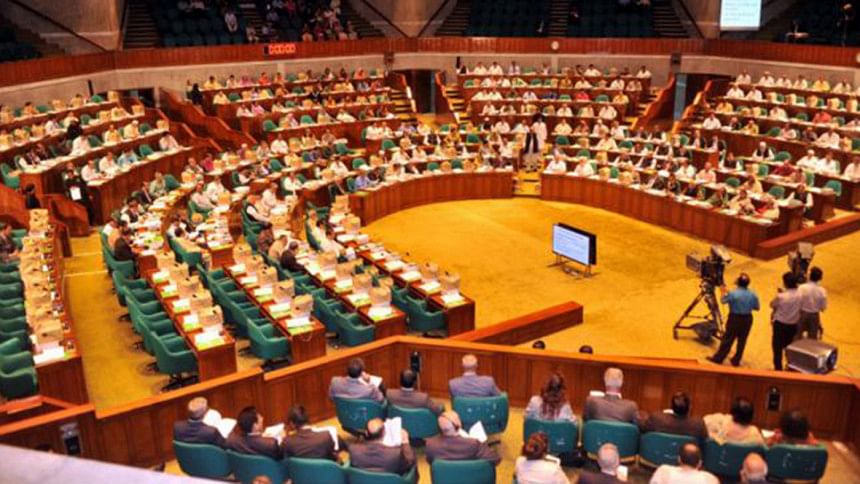 MPs from the Opposition in Parliament yesterday demanded resignation of Finance Minister AMA Muhith for placing "anti-people budget" and imposing "tax burden on people".
Taking part in a discussion on the proposed budget for fiscal 2017-18, Jatiya Party MP Ziauddin Ahmed Bablu criticised Muhith for his failure to curb corruption in the banking sector and for not making public the probe reports on Bangladesh Bank heist.
The finance minister has made "a criminal offence" by proposing to provide Basic Bank with Tk 2,000 crore to bail it out while several thousand crores taka was looted from the bank, he said. 
"The finance minister should face legal procedure for providing bail-out money to banks. I urge finance minister to resign from his position with honour."
Public money is being laundered, but there are no efforts by the government to stop it, the JP lawmaker said.
Bablu pointed out that there are default loans of around Tk 1.16 lakh crore. If the money can be realised, there is no need for increasing VAT and excise duty on bank accounts, he said. 
"A culture of impunity now exists in the banking sector.
"On the one hand, the finance minister is increasing VAT. And on the other hand, he is protecting looters of banks by providing bail-out money [to banks]," said JP MP Kazi Feroz Rashid.
Referring to ministers' criticising Muhith for proposing an increased excise duty on bank accounts, Feroz said they didn't have moral right to criticize the budget as it had been approved in a cabinet meeting before it was placed in the House.
A special cabinet meeting was held at the Jatiya Sangsad Bhaban with Prime Minister Sheikh Hasina in the chair on June 1 hours before Muhith placed the national budget in parliament.
The proposed budget was approved unanimously in the meeting, sources at the parliament secretariat said.
Neither of the ministers nor state ministers, who have been criticising Muhith, opposed the proposed budget, they said.  
Meanwhile in the budget discussion, Tarikat Federation MP MA Awal yesterday demanded an investigation to find out the reasons behind the rice price hike.
"Food minister [Qamrul Islam] is blaming pro-BNP businessmen for price hike", which would eventually keep the real culprits out of any action against them, he added.
Meanwhile, MPs from the treasury bench softened their tone in criticizing Muhith.
An Awami League MP, Pankaj Nath even said harsh criticism by MPs from the ruling party on Monday was tantamount to an act of sabotage against the government.
He, however, called upon the finance minister to withdraw the budget proposal to increase the excise duty.
Several AL senior MPs on Monday lambasted Muhith for proposing high excise duty on bank accounts, 15 percent uniform VAT rate and a slash in the interest rate of savings certificates.
They also came down heavily on Muhith for his failure to take action against looting of thousands of crores of taka from state banks.
While placing the budget for the next fiscal year, Muhith told parliament that actions couldn't be taken against those involved in the Hall Mark and Basic Bank scams due to interference from his own party men.