Shelter for Rohingyas temporary
PM tells French envoy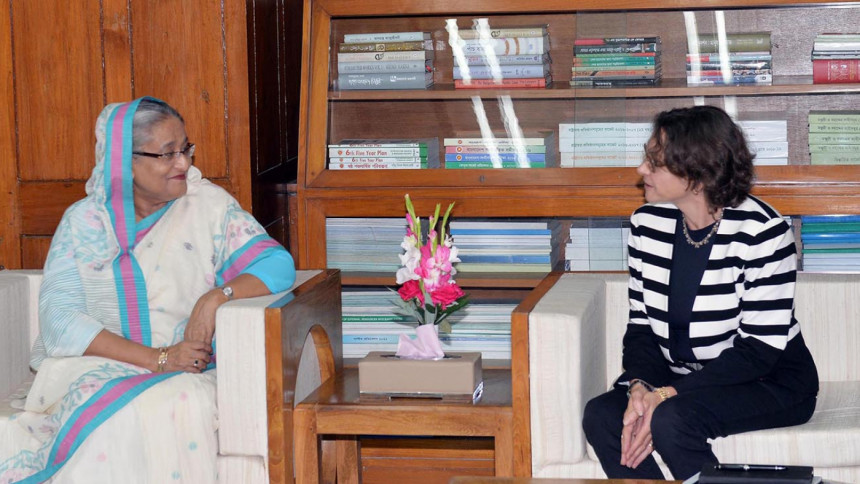 Prime Minister Sheikh Hasina yesterday said Bangladesh was giving shelter to Myanmar refugees on humanitarian grounds, but not forever.
"We've given shelter to them [Myanmar refugees] on humanitarian grounds, but we cannot keep them here forever," she said when French Ambassador to Bangladesh Sophie Aubert met her at her parliament office.
The PM called upon the international community to mount pressure on Myanmar to take back its nationals.
The current problem in Rakhine, Myanmar cannot be solved through military actions. It can be solved through a political process, PM's Press Secretary Ihsanul Karim quoted the premier as saying. He briefed reporters after the meeting.
In Bangladesh, Hasina said, there was problem in the Chittagong Hill Tracts and Bangladesh solved it through talks. "We negotiated with them, settled the matter internally and then took back our nationals."
She said she was looking forward to visiting France at the end of the next month when she would hold a meeting with the French president.
Sophie Aubert said her country was ready to help Bangladesh over the refugee issue.
The diplomat said the overall security situation in Bangladesh improved a lot and she appreciated the PM for her pragmatic leadership.
The ambassador hoped the next general election in Bangladesh would be peaceful.
She said Bangladesh-France cooperation in energy and water sectors has increased a lot. The two countries are also working together on the climate change issue, she added.
Sophie Aubert reassured the PM that the Bangabandhu Satellite would be launched into space on December 16 as per schedule.
PM's International Affairs Adviser Gowher Rizvi was present at the meeting.