Flood fallout: A different fight for those stuck at home
Tamanna Khatun, an 11-year-old, was found alone waiting for her parents in their flood-hit home in Sirajganj Sadar upazila's Kawakhola union.
Her parents had travelled from Choto Koyra village, where they live, to another in search of work.
"There are 15-20 houses apart from ours. However, they are now all vacant as the residents had to shift to a shelter after water entered their homes. Our home is still dry as it is on higher land. So, we decided not to leave just yet," said Tamanna.
"We have four cows and five goats, and they had to be shifted to Dogasi village, around two kilometres away from Choto Koyra."
Tamanna's father leaves the house early in the morning to look for a job, while her mother goes to nurse the cattle in Dogasi.
Meanwhile, she is left on her own for more than half the day.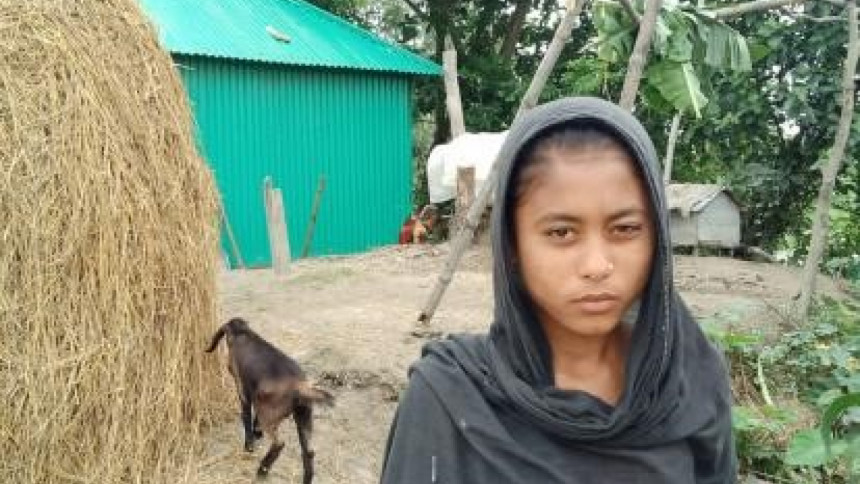 "My mother comes home in the evening, so I stay alone all day," said Tamanna, a fourth-grader at Mohesh Kangla Govt Primary School.
The school is temporarily closed due to the flood, putting her studies on hold indefinitely.
Nasima Begum, a middle-aged woman hailing from Bonnir Char in Sirajganj Sadar, was also forced to live alone in her flood-hit house, where even her bed is underwater.
Her son and husband have to live away to take care of their livestock.
When this correspondent visited her house, she was seen trying to salvage whatever remained above the water level.
"The men of my family are rushing to different places, trying to save our farm animals, while I stay back.
"However, it is time for me to start looking for a safe place," shared Nasima, who has no access to food or rescue aid.
When this correspondent visited the flood-hit areas in Sirajganj, he came across vulnerable women and children struggling to survive while the male members of their families travelled to nearby lands to save their animals, find aid, or secure a job.
According to Bangladesh Water Development Board, the floodwater has gone down by 4cm in Sirajganj in 24 hours till 8am.
"Although the water level is decreasing, it will take more time for the flood to fully recede as the rivers are already swollen," said Md Nasir Uddin, sub-divisional engineer of Sirajganj WDB.