Dengue Deaths so Far: Most were infected a second time
Shock syndrome to blame, says IEDCR; 3 more die; record 2,096 hospitalised in a day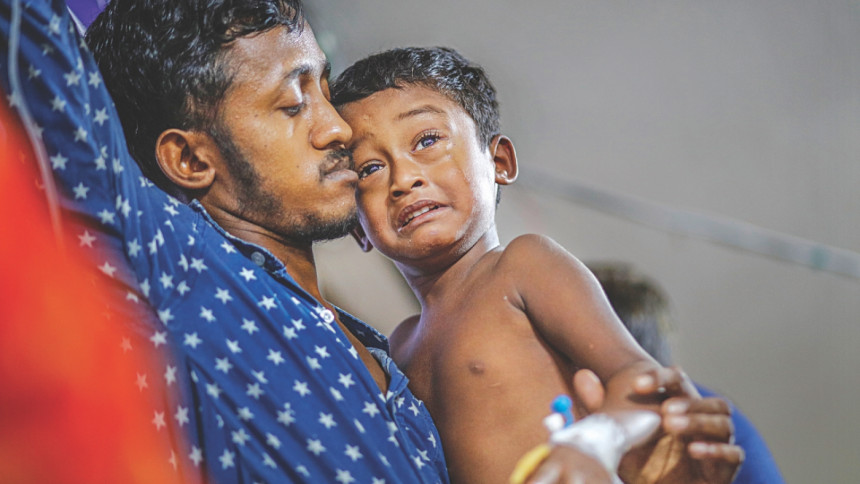 Most of the people who died of dengue this year suffered shock syndrome and were second-time infected, said the Institute of Epidemiology, Disease Control and Research (IEDCR).
Meanwhile, three more people died of dengue yesterday, taking the unofficial death toll to 60, and a record 2,096 dengue patients got admitted to hospitals across the country in 24 hours since 8:00am Sunday.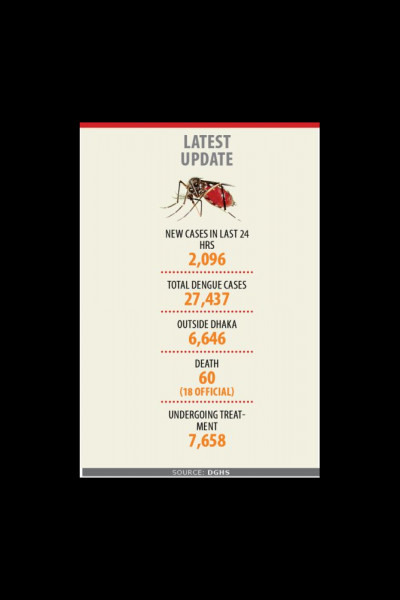 IEDCR Director Prof Meerjady Sabrina Flora said they believe that of the 18 deaths due to dengue they confirmed, 70 percent were second time dengue patients.
Flora, who heads the death review committee of the Directorate General of Health Services (DGHS), said most of the deaths were due to shock syndrome, a dangerous complication from dengue often caused by a secondary infection with a different virus serotype.
WARNING SIGNS
HM Nazmul Ahsan, associate professor at the Shaheed Suhrawardy Medical College Hospital, said if a patient ignores the warning signs and seeks medical help late, his or her condition could deteriorate fast resulting in death even. 
He said serious abdominal pain, vomiting again and again, unusual drop in body temperature and platelet count in blood, infrequent urination, and bleeding from any part of the body are some of the warning signs.  
"Understanding the warnings is very important, for doctors and patients, ... and if these signs are seen in any patient, then we assume the patient will go into a critical phase within two or three hours," he said.
A patient may go into less severe or severe shock in that critical phase, Nazmul said, adding that a dengue patient who seeks medical attention late and then goes into shock has reduced chances of survival.
"But if a patient is admitted to hospital just after the warning signs appear, and is treated properly, then the patient going into the critical phase could be averted," he said.
Pregnant women, children, old people, people with high blood pressure, diabetes, kidney or liver issues have higher risk and they should be hospitalised at the initial stage of the fever, he suggested.
THREE MORE DIE
Former teacher Kumar Das, 45, of Sanir Akhra died in the emergency section ICU of Dhaka Medical College Hospital yesterday evening. He was admitted to the hospital yesterday afternoon in critical condition, said Assistant Director (admin) Nasir Uddin of the hospital.
In Madaripur, a man suffering from dengue died in Rajarchar village under Shibchar upazila around 12:30am yesterday.
Ripon Hawladar, 30, worked for a garment factory in Dhaka.
Shafiqul Islam, civil surgeon of Madaripur, said, "Ripon went to Shibchar Upazila Health Complex on Saturday from Dhaka. The doctors told him to get admitted but he went home instead." 
Eleven-year-old Athai Saha, of Kamargram under Boalmari upazila in Faridpur, died in a private hospital in Dhaka around 1:00pm yesterday. 
Athai's uncle Proshanta Saha said, "We admitted her to the hospital in Dhanmondi after doctors at Bolamari Upazila Health Complex recommended she be moved to Dhaka."
RECORD ADMISSION
At least 2,096 people with dengue got admitted to hospitals across the country in the 24 hours until 8:00am yesterday.
According to a DGHS report, 27,437 people have been infected with the mosquito-borne disease until yesterday, the highest ever in the country. 
Last year the number was 10,148.
WHO ENTOMOLOGIST
BN Nagpal, senior entomologist at the South East Asia Regional Office of the World Health Organisation, at a press briefing at the DGHS said it is very important to search and destroy Aedes mosquitoes. 
Nagpal, who has experience of around 40 years in this field, said 40 percent dengue cases would be reduced if the construction sites could be monitored and controlled.
Suggesting pouring oil in the breeding sources at construction sites, Nagpal said caretakers of the sites must monitor regularly and take effective steps to destroy the breeding source.
"Everyone must keep at least an hour a week to clean all containers in their homes so that Aedes mosquito cannot breed," he said. 
Nagpal also suggested monitoring and cleaning bus depots, vehicle impounds, plant nurseries, and educational institutions.
He said Aedes never breeds in drains, ponds, lakes, rivers or in rainwater but they love to lay eggs in small containers.
Water tanks on the roofs of houses could also be breeding grounds for Aedes mosquitoes, he said, adding that the tanks must be covered.
He suggested spraying mosquito repellent aerosol inside houses in the morning and evening. During day time, Aedes mosquitoes prefer to rest in the dark corners of rooms and avoid light. The peak biting time is after sunrise and two hours before sunset.
He said Aedes mosquito eggs can last up to a year in dry conditions.