Sporadic violence on a day of alarm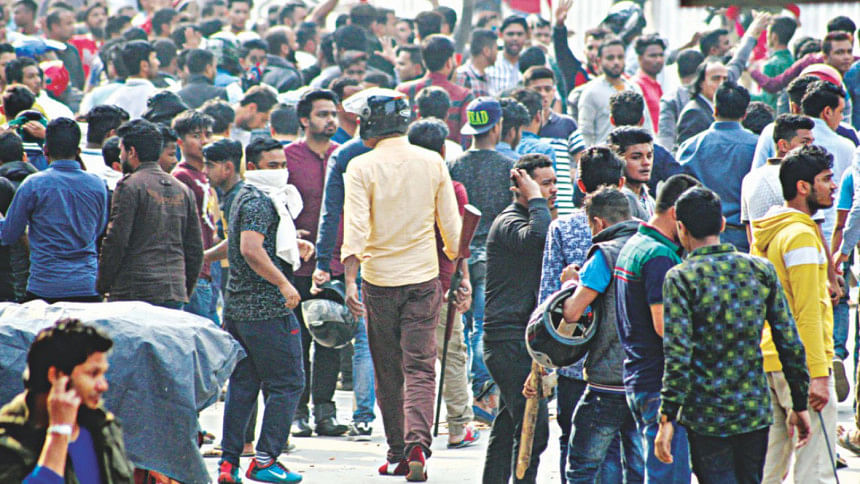 People across the country were fearing widespread violence and were panicking as tension built up ahead of yesterday's verdict in the Zia Orphanage Trust graft case against BNP Chairperson Khaleda Zia.
Much to their relief, it was not as bad as feared.
There were incidents of violence in the capital, Chittagong, Sylhet and a few other places. One person was killed and around 100 others were injured across the country yesterday.
An Awami League supporter was killed as two groups of the ruling party men had a gunfight at Rupganj of Narayanganj over showing off muscle power ahead of the verdict delivery. At least 50 people, including AL activists, police and journalists were wounded.
The usual bustling capital was almost deserted yesterday. Very few vehicles were seen on the streets since morning. Many shops and schools were closed.
A huge number of policemen, and Rapid Action Battalion and Border Guard Bangladesh personnel in riot gear were deployed.
AL leaders and activists all over the country gathered in their offices but law enforcers kept the BNP offices locked.
The AL men took position at different city points and staged show of force. They even held rallies in front of BNP offices at some places.
Even though Dhaka Metropolitan Police had imposed a ban on any gatherings and processions in the city blocking traffic, AL supporters brought out processions with no obstructions from police.
Police, however, swooped on BNP supporters at different places, including Sylhet, Chittagong and Mymensingh, when they brought out processions.
In Sylhet, AL men armed with firearms were seen alongside police clashing with BNP supporters.
Around 50 people were injured and more than 200 were arrested in Chittagong, Sylhet, Mymensingh, Gaibandha, Khulna, Kushtia, and Brahmanbaria. 
The arrestees include Khaleda's Special Assistant Shamsur Rahman Shimul Bishwas, Chittagong city unit BNP President Shahdat Hossain and Jatiyatabadi Chhatra Dal President Rajib Ahsan, BNP leader and former Khulna chamber president Shaduzzaman Mortaza.
Very small number of intercity buses entered the capital. The number of passengers were also few. Commuters were smaller in number.
Most intercity trains left Kamalapur Railway Station with two to six hours delay.
DHAKA
Clash between the BNP men and police began in Moghbazar area around 12:45pm as police tried to prevent them from joining Khaleda's motorcade heading towards the court.
The BNP activists threw brick chunks at police who used teargas. Ruling party men also joined police.
The clash spilled over to Kakrail just after Khaleda's motorcade reached there. Police again used teargas and charged truncheons on BNP men escorting their leader.
The BNP men torched two parked motorcycles and there were chases and counter chases between them and police.
It happened again around 2:30pm when police stopped the BNP men in Chankharpool area and only allowed Khaleda's motorcade to proceed towards the special court in Bakshibazar.
Police charged truncheons and used teargas during the clash that lasted for 15 minutes. The BNP men threw brick chunks from different alleys.
Police picked up at least 20 BNP men from there. Over 100 BNP men had been picked across the city yesterday.
Minutes after the verdict was delivered, detectives picked up Shimul Bishwas at the court and Chhatra Dal President Rajib at party office in Nayapaltan, police said.
After the verdict, the BNP men did not engage in any type of violence in the capital.
SYLHET
A tri-party clash erupted between the supporters of the BNP and pro-Awami League student body Chhatra League and the police around 3:00pm yesterday.
The clash ensued when pro-BNP Jatiyatabadi Swechchhasebak Dal and Jatiyatabadi Chhatra Dal brought out a procession from Sylhet court area and police obstructed them.
Activists of Chhatra League joined in and the clash soon spread to Bandarbazar area and continued for two hours.
Five people including a policeman were injured.
During the clash, a Chhatra League activist with a double-barrel gun and several others with sharp weapons were seen.
The BNP supporters exploded several Molotov cocktails and vandalised vehicles in the area.
Muhammad Abdul Wahab, additional deputy commissioner of Sylhet Metropolitan Police, said they fired 155 bullets and several teargas canisters to control the situation.
The Awami League leaders and activists brought out a procession in the area two hours later when the situation calmed down.
However, some 50 BNP men blocked Zindabazar area for about 15 minutes around 5:00pm. Police again resorted to gunfire.
CHITTAGONG
In Chittagong, at least five people, including two policemen, were injured in a clash between police and the BNP men in front of the BNP office in Kazir Dewri area around 1:30pm.
Police detained 15 BNP leaders and activists, including Chittagong city unit President Shahdat, at the office.
The clash erupted yesterday afternoon after police had asked BNP activists at the office to leave.
The BNP activists threw brick chunks at police while police charged truncheons on them.
At least 148 BNP-Jamaat men were arrested in the district in 12 hours from 7:00am Wednesday.
Heavy presence of activists of AL and its associate organisations were seen in at least 20 places in the city.
NARAYANGANJ
Suman Miah, 32, was killed when supporters of AL lawmaker Golam Dastagir Gazi and Kayetpara Union Parishad Chairman Rafiqul Islam Rafiq clashed at Rupganj upazila of Narayanganj yesterday, said police.
The two rival groups of the ruling party were trying to stage a show of force on the west end of Kanchan Bridge centring the verdict.
Witnesses said supporters of the lawmaker had taken position on the west end of the bridge around 11:00am while supporters of the chairman tried to do the same there.
They clashed and chases and counter chases took place when Suman was shot.
More than 50 people, including journalists, were injured. Police constable Mojibor, 42, was among the bullet hit, reports our Narayanganj correspondent.
The wounded were sent to Dhaka Medical College Hospital and local hospitals, said Officer-in-Charge Ismail Hossain of Rupganj Police Station.
Police fired several shots in the air to bring the situation under control, he said.
Despite repeated attempts, The Daily Star could not reach the lawmaker and the chairman for comments.
OTHER PLACES
In Laximpur, 15 people, including three journalists, were injured when AL men attacked BNP supporters as they attempted to bring out a procession from the home of Shahid Uddin Chowdhury Annie, a former BNP lawmaker.
During the clash, some ruling party supporters attacked and vandalised the home of Annie.
In Noakhali, three BNP men were shot and two pro-BNP lawyers were injured when ruling party men attacked BNP men who were trying to bring out a procession in Dutter Hat.
The BNP men hurled brick chunks at police. Police fired six shots.
In Mymensingh, some 15 members of the BNP and its front organisations were injured in chases and counter chases between them and police.
The clash erupted as police stopped their procession at Natun Bazar.
Police fired 23 rubber bullets to bring the situation under control, said Mahmudul Islam, officer-in-charge of Kotwali Police Station.
In the evening, police detained three people as they attempted to torch a train. One seat of a carriage was burnt.
In Gaibandha, police picked up 20 BNP activists after the BNP and its front organisations brought out a procession after the verdict was delivered. Police also charged truncheons and used teargas on them.
In Rangpur, police used a sound grenade when supporters of the BNP brought out a procession on GL Roy Road after the verdict was delivered.
In Bakal of Satkhira, a bus was set on fire around 7:00pm.