Khaleda Zia declared war against court
Says Obaidul Quader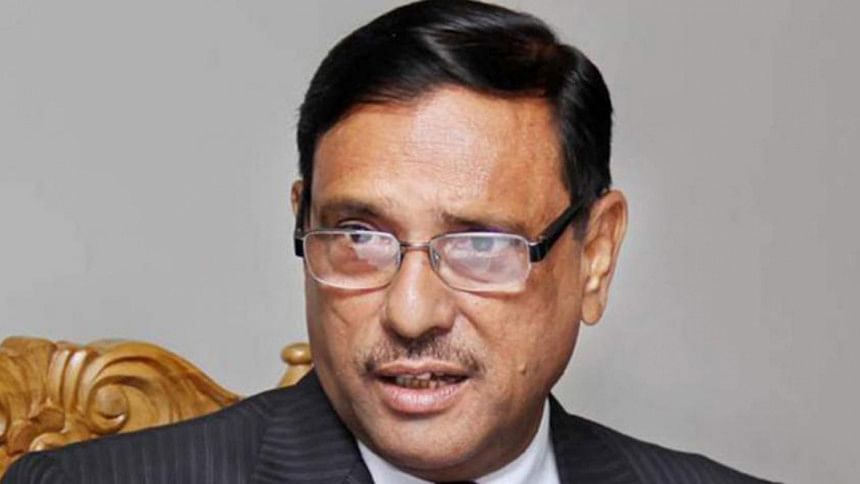 Awami League General Secretary Obaidul Quader yesterday alleged that BNP was playing "dirty politics" over a court verdict.
"Khaleda Zia has declared a war against the court by making false and provocative statements," he said at a press conference at the party president's Dhanmondi office.
The AL organised the press conference around an hour after BNP Chairperson Khaleda Zia had spoken at a press meet at her Gulshan office.
Quader, also the road transport and bridges minister, said the AL as the people's political force was committed to ensuring safety of their lives and properties.  "We don't believe in conspiracy and vengeance. Nobody will be allowed to do so."
Responding to a query from a journalist, he said the government instructed the law enforcers not to tolerate any offence.
According to party sources, the AL leaders and activists will not take to the streets until any unwanted situation is created over the Dhaka court's verdict in the Zia Orphanage Trust graft case filed against Khaleda.
However, the ruling party men will remain prepared to face the BNP if it resorts to any destructive activities. If necessary, the AL men will assist law enforcers in maintaining law and order.
The AL men would remain alert and stay at the party offices across the country since morning while the leaders of Dhaka city (South) AL would be at the party's central office on Bangabandhu Avenue by 9:00am, said party sources.
Ruling party leaders and activists were asked to have patience and ignore provocations.
Quader recently sent specific directives to the presidents and general secretaries of the party's district and thana units.
He asked them to remain alert and make people aware of any kind of destructive politics and conspiracy against democracy, development and stability.
"We asked our leaders and activists to remain alert and cooperate with the law enforcers to keep the situation normal. We will not allow the BNP men to create chaos," Shahey Alam Murad, general secretary of Dhaka city (South) AL, told The Daily Star.
Speaking at the press conference, Quader alleged that the BNP was threatening to return to the politics of "fire terrorism" and there was panic over the verdict.
The AL general secretary suggested that the BNP chief should not to be worried as she would have the chance to challenge the verdict with the higher court and also to seek presidential clemency. "Our president is a generous person. If she apologises to the president, he might pardon her."