I'll be back
Khaleda tells family, party; appears quiet, in control all the way from home to jail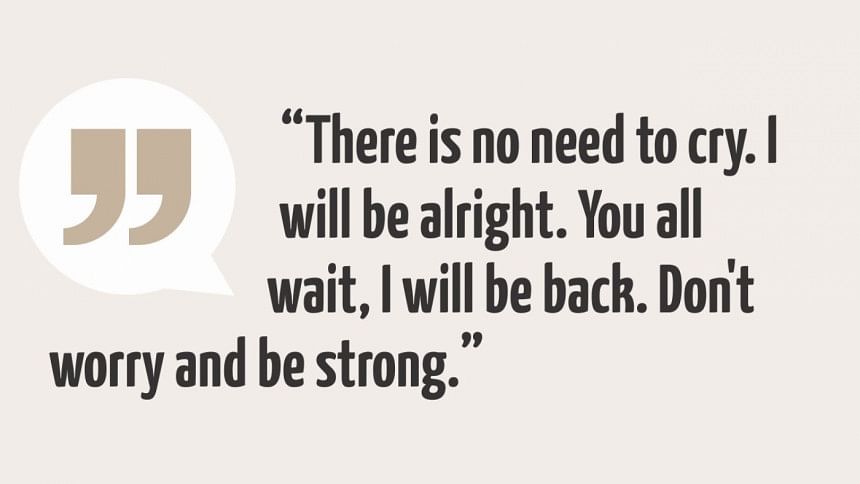 Khaleda Zia woke up early in the morning yesterday.
By 9:00am, she had her breakfast -- roti, vegetables and fruit juice -- prepared by domestic help Fatema.
The BNP chief appeared quite composed as she was talking to family members after breakfast. Some of them helped her get ready and packed her suitcases.
It was not just any other day.
Close relatives, BNP leaders and lawyers were waiting at her Gulshan house -- some to say her goodbye and some to accompany her to Bakshibazar in Old Dhaka.
While comforting them, Khaleda said, "There is no need to cry. I'll be alright. You all wait, I'll be back. Don't worry and be strong."
A court was set to deliver verdict in a corruption case against the former prime minister.
"Maintain unity at any cost in the family as unity is strength," a close relative quoted her as saying.
She looked "very strong", another relative told this newspaper. "She was mentally prepared for whatever the verdict would be and that's why she took all her prescribed medicines and other personal stuff with her."
Khaleda's elder sister, sisters-in-law, younger brother, nephews, late son Koko's in-laws, among others, bade her a tearful farewell.
Before leaving for Bakshibazar, she held closed-door meeting with BNP leaders -- Nazrul Islam Khan, AZ Mohammad Ali, Kaiser Kamal and Nawshad Jamir -- at her residence and instructed them to keep the party united, said a source.
According to a relative, Khaleda talked to her son Tarique Rahman, who is currently in England and also an accused in the graft case, his wife Zubaida Rahman and their daughter over the phone.
She also called the widow of Koko and their daughters.
The BNP chief had preparations to leave her residence "Feroza" for the court by 10:30am but finally could set out around 11:45pm, said another source. 
In an off-white sari, a cream colour shwal and sunglasses, Khaleda boarded her white SUV and started for the court, accompanied by members of Chairperson's Security Force, a private organisation to look after her security.
Law enforcers escorted her all the way as she travelled to Bakshibazar through Gulshan Avenue, Tejgaon, Moghbazar, Kakrail, Segunbagicha Chankharpul and Dhaka University campus.
In Moghbazar, her motorcade remained stranded for around an hour as a clash broke out between supporters of the BNP and the ruling Awami League.
When she came near the High Court area at 1:15pm, hundreds of party supporters on foot joined her. As her motorcade approached the court from Chankharpul intersection at 1:45pm, law enforcers dispersed the supporters.       
By early morning, personnel of various law enforcement agencies had taken position in front of Khaleda's residence. Hardly anyone was allowed to stay near the house except for the law enforcers and media persons.
The entire route to the court was kept free of traffic and law enforcement personnel were deployed on every intersection. It took Khaleda around two hours to reach the makeshift Special Judge's Court-5, crossing around 10km. 
She entered the court at 1:52pm and sat on a chair helped by Mohila Dal President Afroiza Abbas and General Secretary Sultana Ahmed. 
Her special assistant Shimul Biswas, who would later be arrested, stood on her left while her domestic help Fatema was on the right.
She was quiet but looked a little tense.
Around 30 female members of police took position beside her and some of her lawyers met her after she took her seat. 
Judge Md Akhtaruzzaman started the proceedings at 2:13pm. In the meantime, Khaleda offered her Zohr prayers at an adjacent room. 
The BNP chairperson kept her eyes closed most of the time as the judge read out the verdict for around 15 minutes. Two to three times she shook her head.
Khaleda wanted to talk with her lawyers after the pronouncement of the judgment awarding her five years' imprisonment and five other accused ten years in jail and Tk 2.10 crore fine each.
Earlier, Khaleda's counsel AM Mahbub Uddin Khokon and a few other pro-BNP lawyers shouted at the judge, alleging it was injustice as the case was false. 
Senior BNP leaders, including party's Secretary General Mirza Fakhrul Islam Alamgir, standing committee members Khandaker Mosharraf Hossain, Moudud Ahmed, Nazrul Islam Khan and Amir Khashru Mahmud Chowdhury and pro-BNP lawyer Zainul Abedin were present in the court. They all looked sad.  
Some lawyers and staff of the BNP chairperson's Gulshan office were seen crying and comforting one another.
Following the verdict, Khaleda had a chance to have a brief meeting with some of her lawyers and then a police SUV taking her on board left for the old jail on Nazimuddin Road at 2:56pm.
Her counsels Sanaullah Mia and Masud Ahmed Talukder accompanied her to the jail gate.
Talking to The Daily Star, Talukder said Khaleda called upon the people and her party men to have patience and not to create anarchy over her verdict.
"Madam urged the country men not to violate law. She requested all to hold peaceful programmes to protest the verdict," he added.
"Madam termed the verdict politically motivated," the lawyer said, adding, "Madam hoped that the people will give a fitting reply to the ruling government in the next election." 
The jail authorities received Khaleda at 3:20pm.