A Journey With Pride
The Daily Star celebrates 25th anniversary, honours 24 eminent personalities,one institution for their lifetime contribution to nation-building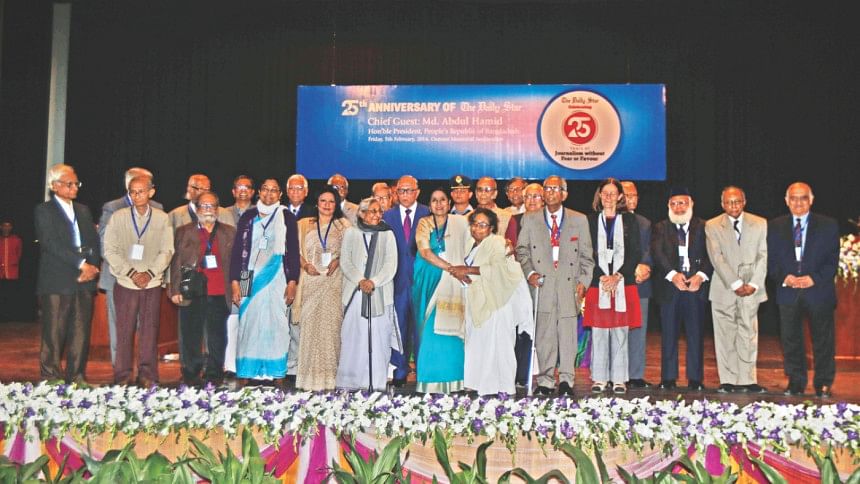 The Daily Star yesterday awarded 24 prominent individuals and an institution for their lifetime contribution to nation-building at its 25th anniversary programme.
President Abdul Hamid handed over the awards to the recipients at a gala event marking the newspaper's silver jubilee celebrations at the capital's Osmani Memorial Auditorium in the morning.
Appreciating The Daily Star's initiative to honour the noted citizens, he said, "Every year, The Daily Star honours distinguished persons from different fields, particularly business, climate change and arts and entertainment."
Specially mentioning The Daily Star awards to top performing students of O-Level and A-level over the past 16 years, he said the newspaper's "efforts go further beyond awards though, as they have always strived to bring into light … young entrepreneurs, encouraging the youth population of the country to contribute to the country. I applaud these initiatives and hope that The Daily Star will continue in their endeavours."
About the role The Daily Star plays in connecting Bangladesh with a global audience, he said it "brightened the image of the country by highlighting our successes."
"Through impartial and investigative reporting and analysis, it carved a special place in the hearts of people both at home and abroad," Hamid observed.
Besides publishing news and opinions, he said, The Daily Star is very committed to social causes like saving rivers and the environment, protecting the rights of children and women, and promoting various other development issues.
"As part of what they consider to be their social duty, this newspaper helps create awareness among mass people about various critical issues," he stressed.
The awardees are Prof Anisuzzaman, Prof Rehman Sobhan, Prof Serajul Islam Choudhury, Prof Abdullah Abu Sayeed, writer Hasan Azizul Haque, Prof AM Harun-ar-Rashid, social worker Dr Angela Gomes, Prof Jamilur Reza Choudhury, Prof Arun Kumar Basak, Prof Dwijen Sarma, theatre personality Ferdousi Majumdar, social worker Jharna Dhara Chowdhury, business personality Mahbubur Rahman, eminent journalist Matiur Rahman, environmentalist Dr Mohammad Ali Reza Khan, publisher Mohiuddin Ahmed, artists Murtaja Baseer and Mustafa Monwar, Prof Rafiqul Islam, poet Syed Shamsul Haq, social activists Tahrunessa Ahmed Abdullah and Valerie Ann Taylor, and sports personality Bashir Ahmed.
As an institution, Muktijuddho Jadughar (Liberation War Museum) was given the award for its contribution to research on the Liberation War.
Nineteen visiting editors of some of South and Southeast Asia's most popular newspapers attended the programme that started off with the national anthem. Eminent singers rendered two musical numbers in a jam-packed auditorium.
Dignitaries from home and abroad commended The Daily Star for its commitment to journalism and the country's development. 
Suthichai Yoon, founder and chief adviser to Nation Multimedia Group of Thailand, said The Daily Star had tried to cover issues that concerned public of this country over the past 25 years.
Speaking on behalf of Asia News Network, a network of 22 newspapers published from 20 Asian countries, he said that through unbiased and substantive reporting The Daily Star worked towards ensuring human rights, removing gender discrimination, establishing press freedom and ensuring transparency and accountability of various authorities.
Suthichai stressed that the most important element of journalism is credibility.
In this massive world of information, credibility was the most important source and that was why traditional media, newspapers and professional journalists would still play the most important part, he said.
The journalists should serve as the conscience and soul of the society, he said, hoping that The Daily Star would continue to uphold the spirit of journalism without fear or favour.
Eminent Indian columnist Kuldip Nayar said he felt privileged to be a part of the newspaper's silver jubilee celebrations.
Recalling his meeting with Bangabandhu Sheikh Mujibur Rahman and his early visits to Bangladesh during and immediately after the Liberation War, he said, "Today, coming to Bangladesh on the 25th anniversary of The Daily Star, I find Bangladesh as a mature and developing nation, a nation which has a lot of confidence in itself, a nation which can thwart any kind of danger."
Praising Bangladesh's secularism, he said The Daily Star helped this country to uphold not only people's right to know, but also the values of secularism and democracy.
Hailing the newspaper for "protecting independence and professionalism of the press", N Ram, chairman and publisher of The Hindu group of newspapers, said, "The Daily Star is one of the best and most respected newspapers in our part of the world. It has fostered journalistic innovation, ventured into new areas and developed a robust and attractive digital presence."
"Above all, it has remained true to the core democratic, secular and progressive values it committed itself to when it set out its journey a quarter century ago," he observed.
He said The Daily Star was nothing if not clear-sighted and outspoken and it "has also contributed substantially to promote ethical business and youth entrepreneurs, and strengthen Bangladesh's bilateral relations with all its South Asian neighbours."
"Practicing journalism without fear or favour is never easy," he said, adding, "To be able to do this successfully over a sustained period is a rare achievement."
Praising The Daily Star for introducing a healthy trend in journalism, Prof Anisuzzaman, one of the awardees, said the newspaper represented all people irrespective of party affiliations and views.
"It has embraced truth and proved its courage … The only partiality it has shown is towards the country's Liberation War. So, when recognition comes from an institution like this, it becomes more meaningful," said the emeritus professor of Dhaka University, on behalf of all the awardees.
In his welcome address, Mahfuz Anam, editor and publisher of The Daily Star, said the birth of the newspaper happened at a historic moment as it coincided with the defeat of autocracy and the restoration of democracy.
"It was born with an unflinching commitment to democracy," he said.
He said democracy "is the most suitable government" for a country like Bangladesh and this newspaper "has been and will work relentlessly and tirelessly for strengthening democracy."
An independent voice, the editor said, adds strength to democracy and through ethical and patriotic journalism Bangladesh will prosper and so will journalism in this country.
Thanking the readers of The Daily Star, he said they helped the newspaper to grow and become stronger.
"A newspaper's life is credibility and public trust. A newspaper is trusted when it lives up to its ideals of ethical journalism," he said.
Mahfuz Anam said after many impediments, Bangladesh was coming out of the shackles of underdevelopment, illiteracy and malnutrition and was ready to make its place in the committee of nations with dignity and pride.
"And in that journey of dignity and pride, The Daily Star will be an active, energetic, committed and ethical partner," he said.
The editor thanked the newspaper's board of directors for their support and commitment to press freedom.
In her vote of thanks, Rokia Afzal Rahman, president of Mediaworld Ltd, the owning company of the newspaper, said editorial independence "lies at the core of The Daily Star's success as a credible newspaper."
Expressing her gratitude to the board's unwavering support for press freedom, she said, "The board believed that the editorial institution must enjoy unfettered freedom and total independence."
The Daily Star, despite the limitation of being an English newspaper, "enjoys unprecedented trust of people", she said.
"Our success puts tremendous responsibility on us," she said, adding that the board would continue to extend its support for better news coverage and investigative journalism.
Referring to the link between a thriving democracy and freedom of expression, she said that free media "is fundamental to Bangladesh's success."
BOOK LAUNCH
At the programme, the president unveiled the cover of "Genocide They Wrote", a book on the genocide perpetrated on Bangalis by the Pakistan occupation army during the Liberation War, published by Daily Star Books and written by Inam Ahmed and Shakhawat Liton.