India's Transit Thru' Bangladesh : Reaping benefit is a challenge
Routes finalised; meeting next month to fix charges for goods transportation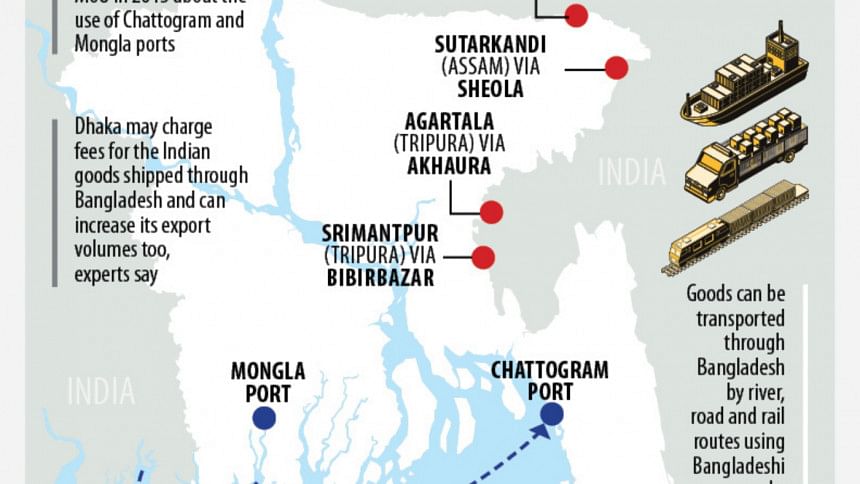 India has been working strategically to connect its north-eastern region with the rest of the country through Bangladesh since Dhaka agreed to give New Delhi the privilege nine years back.
Experts say that Bangladesh should try to reap as much benefit of the new regional connectivity as possible.
India is developing the infrastructure needed to carry freight through Bangladesh, avoid lengthy detours and save time and money. Officials of the two countries will meet next month to decide which routes will be used at the beginning and how much India should pay Bangladesh in transit fees.
During a recent visit to India, Prime Minister Sheikh Hasina agreed to let New Delhi use Chattogram and Mongla ports. This enables India to carry freight using Bangladesh's river, rail lines and roads.
Economists say the improved connectivity can also help Bangladesh, which is located between South and Southeast Asia, to become a regional hub and growth centre.
RIVER PROTOCOL
In November 2010, India and Bangladesh for the first time signed a transit agreement.
The two governments in 2015 inked a protocol allowing India to use four riverways through Bangladesh, which would link Kolkata and Murshidabad to Assam, Tripura and Meghalaya.
Since Kolkata-Ashuganj-Akhaura river route became operational in June 2016, only 13 cargo vessels used it, paying Bangladesh Tk 28 lakh in transit fees.
Shipping ministry officials said Indian businesses were not using the route regularly as the roads and ports needed to use the waterway were not ready yet.
During Prime Minister Sheikh Hasina's visit to Delhi from October 3-6, the two countries decided to utilise a river route from Murshidabad's Dhulian to Tripura's Sonamura via Rajshahi.
Officials hope this and other river routes would be operational soon.
PORT USE
The two countries signed a memorandum of understanding (MoU) regarding the use of Chattogram and Mongla ports in 2015, after years of demand from India. Subsequently, the countries signed an agreement last year and a standard operating procedure (SoP) during Hasina's visit in October.
According to the SoP, goods that reach Chattogram and Mongla sea ports, will be carried by road, rail, and water ways to Agartala (Tripura) via Akhaura; Dawki (Meghalaya) via Tamabil; Sutarkandi (Assam) via Sheola, and Srimantpur (Tripura) via Bibirbazar.
The SoP covers waterways, roads and railways. It will allow the landlocked Assam, Meghalaya and Tripura states to access open sea trade routes through Chattogram and Mongla ports.
Under the 2015 river protocol, vessels were allowed to carry a maximum of 2,000 tonnes of cargo. But now larger ships would ply the waterways, increasing the trade volume and reducing logistic costs.
Tripura will be connected to Chattogram Port through the Feni Bridge over the Feni river in Sabroom town of South Tripura and Ramgarh in Khagrachhari. India is constructing the roads and railways to Sabroom as part of its massive development works in the northeast, according to Indian media.
Shipping ministry officials said a secretary-level meeting between the two countries next month will decide when to begin using the routes and what would be the fee for using the port.
INFRASTRUCTURE UNDER INDIAN LINE OF CREDIT
India has so far provided three lines of credit (LoCs) worth $7.5 billion, and majority of the money is meant to develop infrastructure needed for the connectivity through Bangladesh.
For example, Bangladesh is in the process of constructing a bay container terminal in Chittagong Port, further developing Mongla Port, and building four-lane highways for Ramgarh-Baruerhat, Cumilla-Brahmanbaria-Sarail, and Ashuganj river port-Sarail-Dharkhar-Akhaura land port routes.
Under the Indian LoCs, Bangladesh is also establishing an inland container river port in Ashuganj, doubling the rail lines from Khulna-Darshana Junction and upgrading the metre gauge lines to dual gauge lines from Parbatipur to Kaunia.
The government is also establishing Indian economic zones in Mongla, Bheramara and Mirsarai and an IT Special Economic Zone in Keraniganj.
Implementation of a motor vehicle agreement among Bangladesh, Bhutan, India and Nepal will further enhance trade and connectivity, with Bangladesh at its helm.
CAN DHAKA REAP THE BENEFIT?
Dhaka may charge fees for the Indian goods shipped through Bangladesh and can increase its export volumes too, experts said.
Under the SoP, in Chattogram and Mongla ports, "Movement of cargo will be exempted from customs duties or any other taxes other than administrative operational fees and other charges prescribed by the inter-governmental committee for transit of goods."
Such fees and other charges shall be admissible as per the provision of General Agreement on Tariffs and Trade unless parties agree to more favourable terms as part of a special trade agreement, reads the SoP.
Shipping ministry officials said a secretary-level meeting scheduled for next month will decide what charges will be set for using the ports and the routes. The meeting will decide whether the charges will be similar to the fees applicable for the Kolkata-Ashuganj-Akhaura route or higher.
The officials said they are deciding how much Bangladesh may charge before the meeting next month. For port use, they are considering whether to impose ten types of charges.
Under the river protocol, Bangladesh charges Tk 277 for each tonne of freight. Of this, Tk 50 and Tk 34 are charged for security and anchoring at the jetty.
The commerce ministry had formed a core committee on fixing charges of transit and transshipment. Its proposal to charge at least Tk 1,058 for each tonne was not accepted by Bangladesh government.
Therefore, officials of both the countries later fixed the charges at Tk 277.
Mohammad Yunus, research director at the Bangladesh Institute of Development Studies, who was a member of the committee, said,"If the recommendation is implemented, Bangladesh will benefit."
"We need to see what we are gaining because the infrastructure is being built with our money," he told The Daily Star.
Prime Minister's Economic Affairs Adviser Dr Mashiur Rahman, however, pointed out that the recommendations were not based on empirical studies.
Shipping ministry officials said local transport companies would benefit when the goods are transported through the country.
Economics Professor Selim Raihan of Dhaka University said the country's low ranking in ease of doing business should be improved drastically to attract foreign investment.
"If we cannot draw investments to the economic zones, other countries will use our roads, ports and other infrastructure to boost their exports while we will lose," he added.
The economic zones should be connected to the roads, rail and waterways that are being developed with the Indian credit, he observed.