Ijtema ends with prayer for peace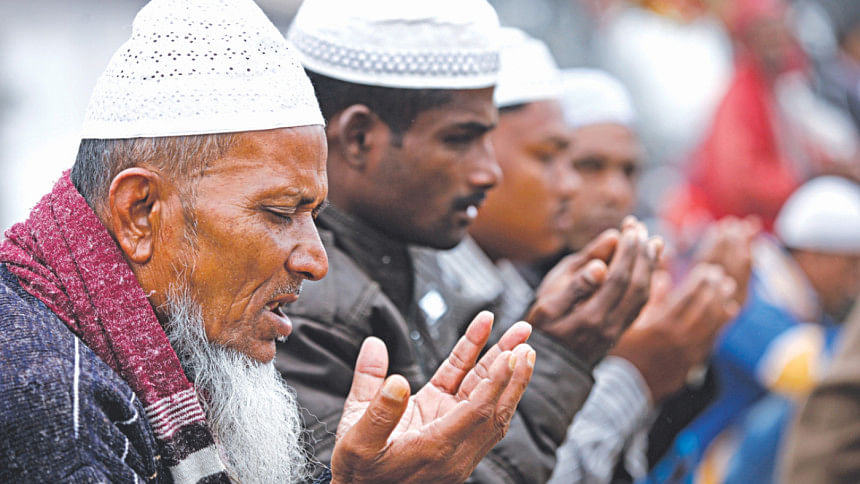 Several lakh devotees sought world peace, forgiveness and divine blessings for mankind and the Muslim Ummah as the first phase of Biswa Ijtema ended yesterday with the Akheri Munajat.
Indian religious scholar Mawlana Muhammad Saad led the 24-minute munajat starting at 11:08am.
Braving cold, fog and transport crisis, people of all ages from home and abroad, including women, turned out for the munajat at the Ijtema, the second largest congregation of the Muslims after the Hajj, on the bank of Turag in Tongi, Gazipur.
The gathering spilled over to the adjacent roads and areas.
Many people joined the munajat from the roofs of vehicles and boats and rooftops of nearby buildings. Devotees who could not reach the venue listened to the prayers over the mobile phone and electronic media.
Dhaka-Mymensingh highway, Tongi-Kamarpara road and Abdullahpur-Ashulia road had been closed to traffic since morning with thousands of people marching towards the Ijtema venue.
To join yesterday's munajat, a huge number of women went to Tongi Saturday night and stayed at several places near the venue. Many others had already been on the Ijtema ground since Friday.
"I had to walk around five kilometres to reach the venue. There was no bus from Banani either," Afroza, who is from Dhaka's Farmgate, told The Daily Star after the munajat.
Prime Minister Sheikh Hasina participated in the munajat from the Gono Bhaban while BNP Chairperson Khaleda Zia from her Gulshan home.
A total of nine devotees died of cardiac arrest and other complication during the three-day first phase of the Ijtema.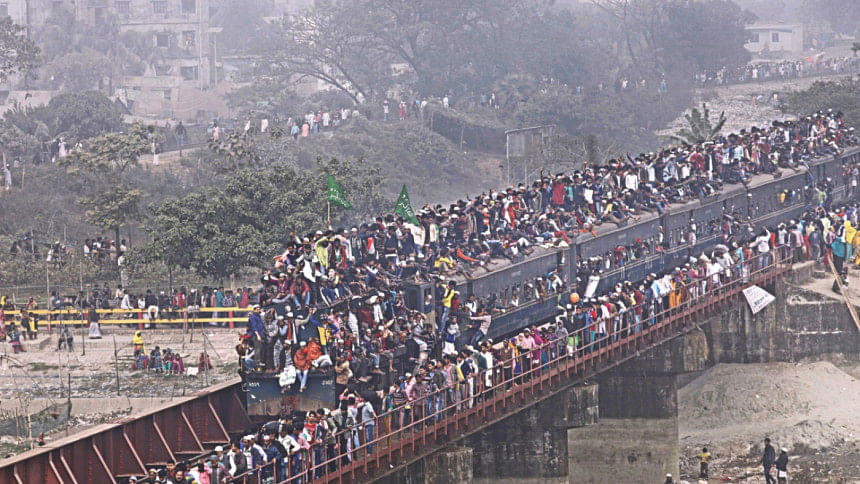 Many social, business organisations and individuals distributed free water, cold drinks and dry food among the devotees.
Under the banner of Department of Narcotics Control, some 20 former drug addicts, who have been rehabilitated, also distributed mineral water for free among devotees offering the munajat at Uttara Sector-9 in the capital.
Twenty mobile courts of Gazipur district administration filed 51 cases and realised Tk 1.60 lakh in fine for selling adulterated food and occupying footpaths at Tongi during the Ijtema, Officer-in-Charge Firoz Talukder of Tongi Police Station said.
For the first time, the Ijtema is being held in four phases in two years.
People from 33 districts, including Dhaka, are taking part in the first two phases this year, while those from the remaining 32 districts, also including Dhaka, will participate in the other two phases next year.
The first phase was for the devotees of 17 districts, including the capital. The second phase will start on January 15 and end on January 17 with the Akheri Munajat.