Nightmare on Airport Road
Thousands suffer as traffic goes haywire; many miss flights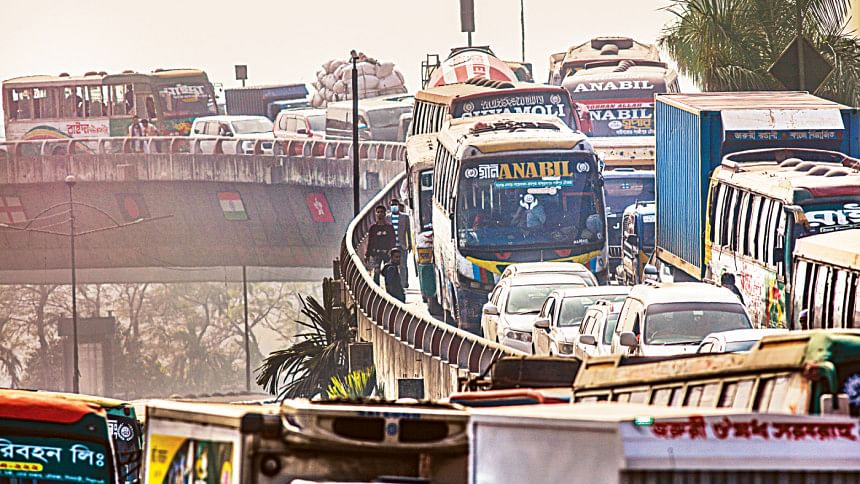 Dhaka dwellers and commuters suffered immensely yesterday as traffic came to a standstill on the Airport Road. Thousands were stuck for hours on end and many missed appointments, meetings and even flights.
The trouble began around Wednesday midnight, when a massive rush of devotees to reach the Biswa Ijtema ground, along the busy Dhaka-Mymensingh highway in Tongi, started to peak.
The narrowed-down road in front of the Hazrat Shahjalal International Airport due to the construction work for the Bus Rapid Transit added to the problem.
Poor traffic management planning ahead of the second largest congregation of the Muslims has been blamed.
The queue of vehicles was 17km long on the south end, up to Mohakhali. Nearby roads came to a standstill due to the cascading effect.
Many commuters spent several hours on the highway as vehicles were only inching forward during the morning rush. Standstill traffic was seen on the Kuril and Mohakhali flyovers at least until 2:00pm.
Finding no other way, many started to walk.
"My daughter and grandchildren started from our Gulshan-2 home at 7:00am to catch a flight for London that was scheduled to depart at 11:00am. The flight was delayed by an hour, yet they missed the flight as they could not reach the airport by then," said a frustrated father.
He said the airlines told them that around 30 people missed the flight.
Pankaj Talukder, who was to fly with Qatar Airways to New York, said, "My flight was scheduled for 11:15am. I started in a microbus from Farmgate at 8:00am. After getting stuck for an hour in Banani, we took a turn towards Mirpur DOHS and reached the airport via Diabari-Uttara road.
"We arrived at the airport at 11:10am. There were 30 others who arrived late due to the traffic. The authorities, however, allowed us to board the plane which took off at noon, around 45 minutes behind schedule."
Mohammed Kawsar, of Keraniganj, said he left Kadamtali of Keraniganj at 8:00am to go to HSIA to receive his friend who was scheduled to arrive from Oman around 8:30am.
He could not reach the airport before noon.
"I was stuck for almost two hours on the Airport Road. I started feeling sick," he added.
Mahbubur Rahman, executive director (in-charge) at HSIA, told The Daily Star, "We asked pilots and crew members to use alternative streets so that they can come to the airport without delay."
Mohammad Saiful Malik, assistant commissioner of Traffic Police Uttara Division, said, "The Biswa Ijtema was not held in the last two years due to the pandemic. The number of devotees is much higher this year.
"We could not do anything due to the huge rush of devotees and vehicles. This is why the air passengers suffered delays."
Babul Hossain, of Nawabganj, said, "Four of my family members fell sick inside the microbus as they were stuck in the jam for three hours."
Babul Hossain, a bus passenger, said he was in hurry to go to Uttara from Kalshi in Mirpur but could not reach the area even after four hours.
"I don't know when I'll be able to reach. I am frustrated. If I don't reach by 1:00pm, my business will also be harmed," he told The Daily Star around noon.
Mohsin Hossain, a bus staffer, said his vehicle left Mugda at 7:00am and reached the airport at 1:00pm via Farmgate.
"Usually, it takes 20 minutes to reach the airport from Farmgate but today [yesterday], it took five hours," he added.
"Many passengers got off the bus and started walking. The situation was also bad on Wednesday night," he said.
Meanwhile, Gazipur police has decided to limit the vehicular movement on three roads, through which no goods-carrying vehicle would be allowed to enter Dhaka.
Only passenger buses will be allowed to move during a limited period.
The restrictions came into effect last night and would continue till Friday afternoon.
However, there will be no such restriction on the movement of emergency vehicles or private cars.
The three roads are from Bhogra bypass of Dhaka-Mymensingh highway to Capital's Abdullahpur, from Mirer Bazar to Tongi station road on Tongi-Ghorashal regional road, and from Kamarpara to Tongi station road.
Gazipur Metropolitan Police's deputy commissioner (traffic) Alamgir Hossain confirmed the information.