MODI FLIES IN TODAY
Hopes so high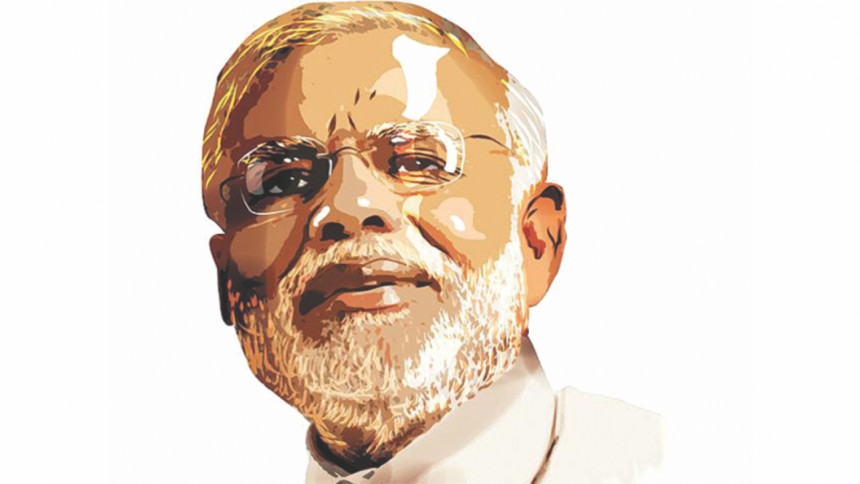 Bangladesh is ready to welcome Indian Prime Minister Narendra Modi with open arms, as his special aircraft touches down at Hazrat Shahjalal International Airport at 10:15am today.
It will be Modi's first visit to Bangladesh. Both countries are agog with unprecedented expectations that his 34-hour trip would take bilateral relations to a new level and exploit the economic and trade potentials keeping borders open for each other.
Capital Dhaka has already worn a festive look with streets adorned with life-size cutouts of Modi, West Bengal Chief Minister Mamata Banerjee and Bangladesh Prime Minister Sheikh Hasina.
Unlike the trips to other countries -- Bhutan, Nepal, Sri Lanka and Myanmar -- that Modi made in the last one year, his Bangladesh visit is going to be special since with it the two closest neighbours are expected to get the sensitive connectivity (in rail, road and waterways) ball rolling for mutual growth. 
Diplomatic sources even put the issue of regional connectivity ahead of the historic Land Boundary Agreement deal, which is to be exchanged during the visit.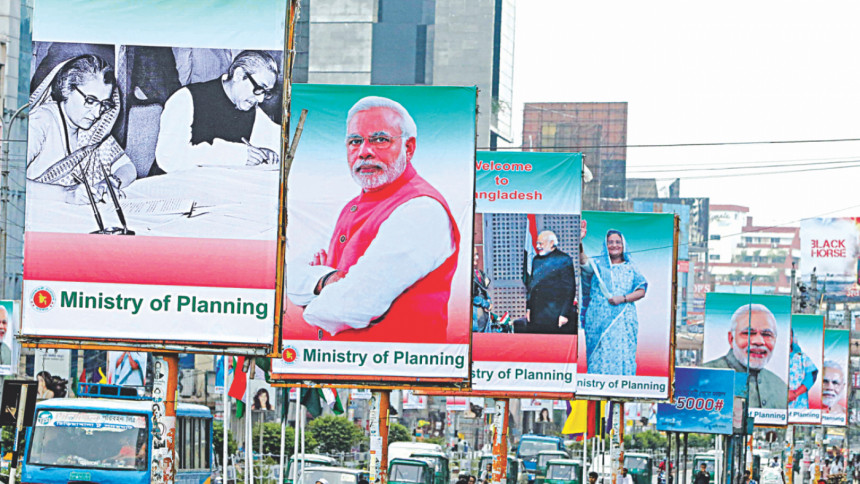 "Connectivity is the cake, and the land deal would be the icing on it," said a senior Bangladeshi diplomat, rating both the premiers highly for breaking away from traditional politics of suspicion to pursue economic development. 
The clearance of a dozen deals by the cabinets of the two countries is a clear indication that the two sides want to integrate economic activities through rail, road and waterways connectivity.
The word "transit" has been removed from the India-Bangladesh discourse because of the sensitivity of the issue.
On top of the agenda will be rail, road and waterways connectivity for trade between the two neighbours and also with a third country by using each other's territory.
The two countries move to establish a much stronger partnership in various sectors with Modi seeking to improve ties with India's neighbours as part of his vision for regional development.
Diplomatic circles in Dhaka and New Delhi said the major credit goes to Hasina's bold leadership, as she steered Bangladesh to stand by India in addressing its security concern in its north-eastern region.
The Indian establishment believes it owes Hasina a considerable debt. Noted Indian columnist Dr Subhash Kapila recently wrote, "It is India's pay-back time to Bangladesh and its present Prime Minister for standing by India despite many odds. This needs to be borne in mind as Prime Minister Modi starts to unveil a new chapter in Bangladesh-India relations."
Officials of Bangladesh foreign ministry said Dhaka is likely to ask Modi for greater Indian participation in Bangladesh's growth story through investment in economic, power and infrastructure sectors.
Following the settlement of the long-pending LBA issue, the next target for the two neighbours is to sign the Teesta water sharing agreement. But it is likely to take more time for the modification of the 2011 deal and a lengthy bureaucratic and technical process.
Diplomatic sources in Dhaka and New Delhi said Modi's Bangladesh visit would have the potential to be the most substantive visit he has undertaken till now to any of the Saarc countries.
During the visit, a major issue will be the launch of direct bus service between Kolkata and Agartala via Dhaka. The move is being seen as Bangladesh allowing road transit to India, a long standing Indian demand.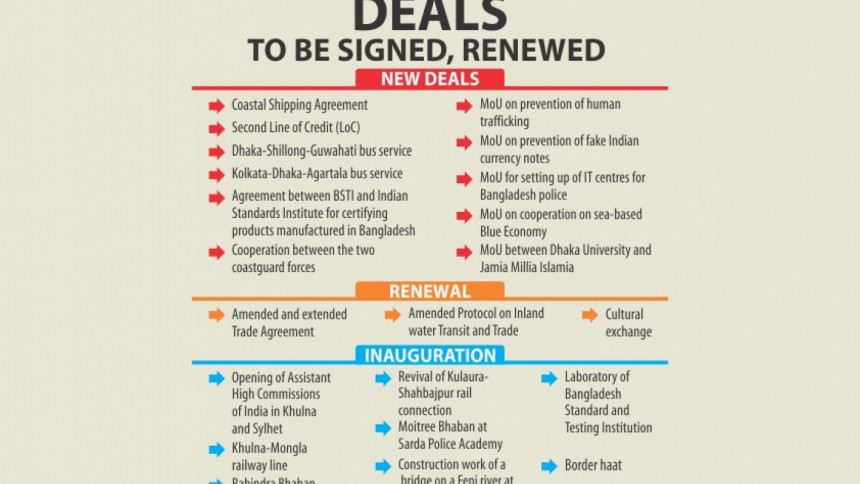 It will be the first direct bus service connecting Kolkata and the northeast through Bangladesh. Dhaka is set to sweeten the deal further for India by agreeing to start Dhaka-Shillong-Guwahati bus service.
The two countries are considering opening bus services on the Kolkata-Chittagong, Shillong-Chittagong, Khulna-Kolkata and Jessore-Kolkata routes.
Both sides are keen also to strengthen the railway connectivity, particularly to revive the railway links that existed prior to the 1965 India-Pakistan war.
The launch of new bus routes will help accomplish intra-sub-regional road connectivity under the Bangladesh-Bhutan-India-Nepal framework. The four countries are expected to sign a Motor Vehicle Agreement on June 15 in Thimphu, Bhutan.
On the trade front, the amended 1972 bilateral trade agreement will allow Bangladesh to transport goods to and from any third country such as Nepal and Bhutan using India's highway, waterway and railway.
India can enjoy the same facilities for trade with a third country through Bangladesh. There is also a provision of transit fees for using each other's territory.
The current volume of two-way bilateral trade is around $6.5 billion, of which India's share is around $6 billion. To reduce the trade imbalance, Dhaka will offer lands for setting up an exclusive economic zone to get Indian investment.
MODI'S SCHEDULE
Hasina will greet Modi when he along with an 81-member delegation arrives at the VVIP terminal of Shahjalal International Airport.
The Indian leader will be presented a 19-gun salute and a guard of honour by a contingent of Bangladesh Army, Navy and Air Force personnel.
Modi will first pay homage to the martyrs of 1971 Liberation War at the national memorial at Savar. He will then go to Bangabandhu Memorial Museum at Dhanmondi-32 and lay wreaths at the portrait of Bangladesh's Founding Father Bangabandhu Sheikh Mujibur Rahman.
He will also tour the memorial where Bangabandhu along with most of his family members were brutally killed by some disgruntled army men on August 15, 1975.
Modi will call on President Abdul Hamid at the Bangabhaban tomorrow.
On behalf of former Indian PM Atal Bihari Vajpayee, Modi will receive Bangladesh Liberation War Honour from Hamid.
Leader of the Opposition in Parliament Roushan Ershad and BNP Chairperson Khaleda Zia are expected to meet Modi at Sonargaon Hotel tomorrow afternoon.