Hills lost to housing
150 acres of hilly land flattened, a dozen structures built illegally for a housing scheme for 1,100 people including some influential persons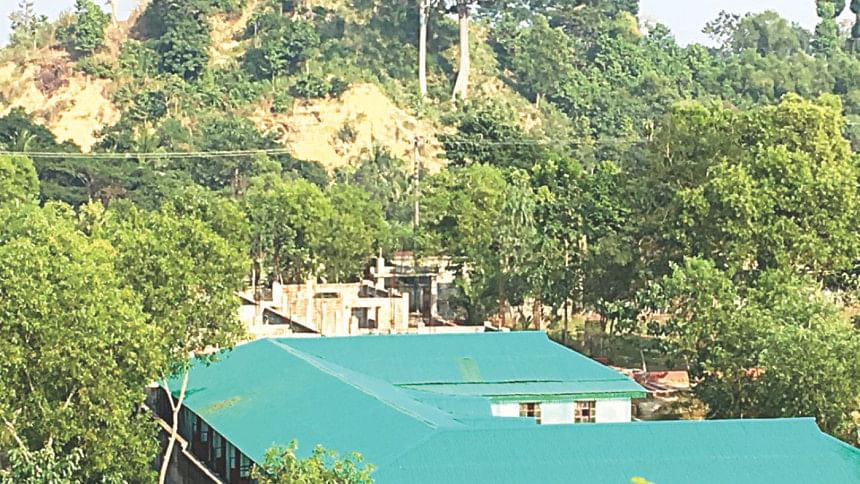 Uttaran cooperative housing society, with powerful people as its members, has flattened around 150 acres of hilly land and cut down thousands of trees in Kolatoli of Cox's Bazar town for its housing estate.
Of the 1,100 members of "Uttaran Greehayan Samabay Samity", some of whom are civil servants, politicians, judges, lawyers and journalists, 700 already got allocation for plots.
The housing estate has no Department of Environment or deputy commissioner's approval and has built around a dozen buildings without construction permits on both sides of the Kolatoli Bypass Road.
According to the Department of Environment (DoE), Uttaran flattened 96 acres of hills by January 2011 for which the department slapped a fine of Tk 2.88 crore on Uttaran and filed a case with Chittagong environmental court.
But, the authorities' reluctance in fighting the legal battle resulted in the case not making any headway and the fine not realised.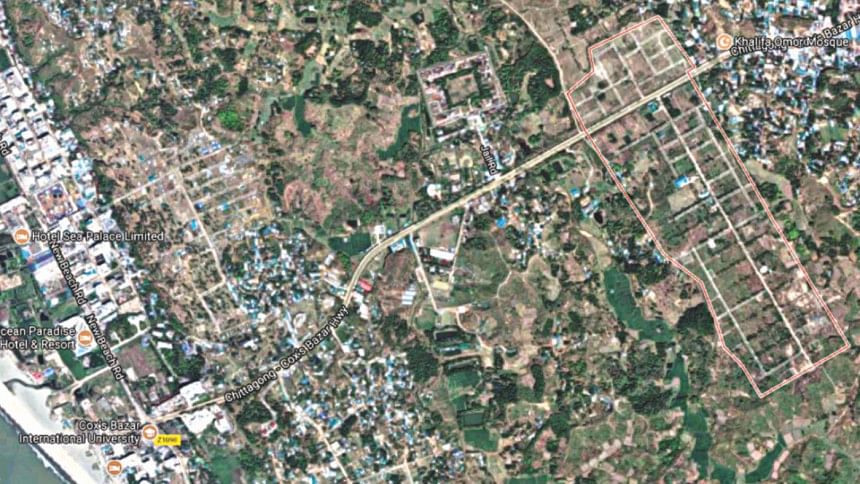 The large-scale hill cutting destroyed ecology, biodiversity, trees, top soil, crops, and geological formation of the area, according to the DoE.  
"Uttaran has a powerful group at its helm that has so far razed nearly 150 acres of hills causing environmental devastation … ," said Nurul Alam, an inhabitant of adjoining Pashchim Larpara village.
Rashedul Islam, a local ruling Awami League leader, said with powerful people from all levels as beneficiaries, everybody turned a blind eye to the destruction done by Uttaran.
An Anti-Corruption Commission probe would reveal the graft, he said.
The land ministry in 1989 leased out 35 acres of khas land to Uttaran but cancelled the lease within a year for violation of lease terms. The cancellation of the lease was later stayed by the High Court.
According to the lease term, Uttaran was required to obtain permission of the deputy commissioner for felling trees or razing hills and doing any excavation on the land.
An assistant commissioner on behalf of the deputy commissioner in December 1990 found that Uttaran illegally razed the hills on the leased land in violation of a deputy commissioner's order.
According to the 1990 amendment of the Building Construction Act, hill cutting required a mandatory permission from an authorised officer or relevant deputy commissioner, who would permit it only in "greater public interest".
A High Court bench in 1991 first stayed the land ministry's lease cancellation order and in August 1999 upheld the lease order. The court also stalled environment department's realisation of the fine and the case filed with the environment court.
An Appellate Division bench of the Supreme Court later forbade hill cutting but barred further legal action in this regard against Uttaran authorities.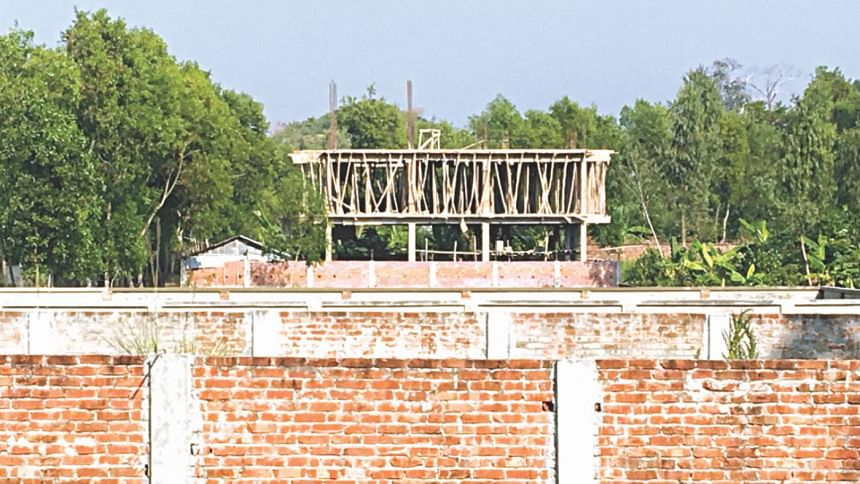 Taking advantage of the stay orders and inaction of the land ministry for 12 years and that of the environment department for six years, Uttaran flattened the tree-covered hills and ravaged the environment to make room for plots, said the officials concerned.   
In 1995, the government formed a committee led by the deputy commissioner to check hill cutting in light of the amended Building Construction Act of 1990.
In a July 2007 circular, the environment ministry banned cutting hills and said that the DC could only permit hill cutting in "unavoidable national interest".
But now the land ministry is preparing to lease out another 35 acres of hilly land to Uttaran, said the top coordinator of Uttaran.
AUTHORITIES' SAY
Md Ali Hossain, deputy commissioner of Cox's Bazar, said the entire area, where the housing project was being implemented, was full of hills and hillocks and the project work goes on behind boundary fences as if it was a "forbidden zone".     
"It is unfathomable how the then deputy commissioners recommended leasing out hilly khas land for housing," he said, adding, "Some people resort to dishonest means to make gains but later others have to be answerable." 
Mohammad Anwarul Naser, additional deputy commissioner, said they took an initiative to challenge the HC verdict that made the land lease valid after a land ministry instruction in 2010.
But law ministry solicitors in 2010 preferred not to go for appeal saying that it would not yield anything as the land ministry had not made any move in the previous 12 years. 
Asked what they had done, Nur Mohammad Mazumder, joint secretary for Khas land at the land ministry, said they formed a committee led by deputy commissioner in 2015 to "look after the issue".
Naser said the committee was tasked to determine required land for Uttaran housing and coordinate Uttaran's activities, settle individuals' land disputes in the scheme and help land registration for Uttaran.
Khurshid Alam, director for legal affairs at the DoE, said, "It is very difficult to obtain a legal relief from the court for a government organisation like us." They did not pursue the case in six years, as the district office did not remind them, he said.
UTTARAN'S SAY
Sirajul Islam, Uttaran executive member and lead coordinator of the scheme, said, "We have not razed hills that much; we have just levelled some hillocks and ditches. There had never been any hills at the project site. Hills are only around our project. What we have done is development work."
He said Uttaran was proud to have quite a number of high-profile members including ministers, lawmakers, politicians, around two dozen former and serving judges and their wards, and high-ranking civil and military officials. 
Pointed out that the land lease requires Uttaran to obtain deputy commissioner's permission for tree felling and developing the housing estate needs environmental clearance, Sirajul said, "We are getting ready for the process for approvals."
As to construction of buildings without permits, he said, "We have halted unauthorised building construction for the time being."
In addition to 35 acres of khas land, they have also taken possession of 54 acres of private hill land, either through purchase or mutual agreement or in exchange for plots, he said.
Apart from this, leasing of an additional 35 acres of khas land in favour of Uttaran in the same mouja was under process at the land ministry since 2015, said Sirajul. 
"There are some inhabitants who do not want to give their land for the scheme," he said, "So we have made deals with private owners for 30 more acres."