Hasina warns AL men against mudslinging
Assures EU envoy of fair election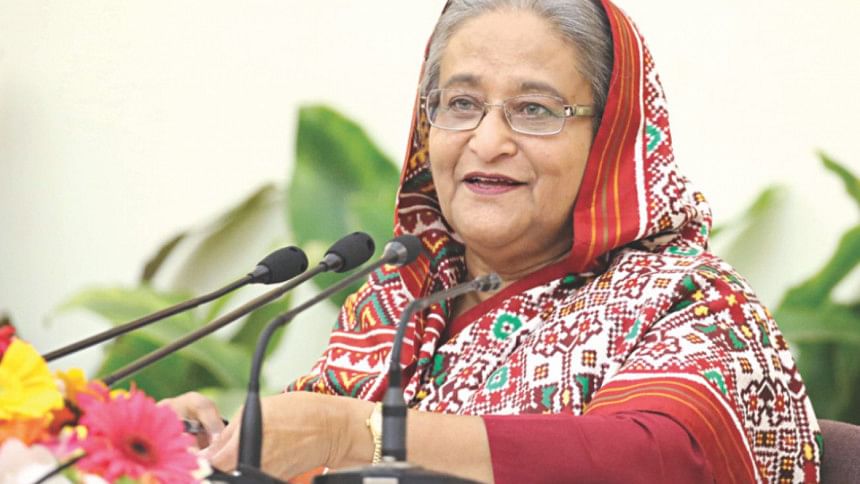 Awami League President Sheikh Hasina has cautioned lawmakers and AL ticket seekers about intra-party mudslinging.
She asked them to visit their constituencies and start campaigning for the national polls assuming that all political parties, including the BNP, would be in the race, sources told The Daily Star.
Hasina told them to solve every dispute within the party before the polls, slated for December.
The prime minister made the call at the AL Parliamentary Party meeting in the Jatiya Sangsad Bhaban last night.
She said AL nominations would be given considering popularity and dedication for the party. "It's not certain that existing MPs will get nominations … many might be dropped. I have information about who is doing what," an AL MP quoted Hasina as saying.
She also warned female MPs of reserve seats. She said she has information that many female MPs were trying to establish their authority bypassing incumbent MPs, said meeting insiders.
The AL chief mentioned two ministers who had sacrificed their candidature in the national polls of January 5, 2014, and called upon party leaders to get ready to make sacrifices in the next elections.
TEERINK CALLS ON HASINA
Hasina yesterday assured the new ambassador of European Union of a free, fair and credible general election, reports BSS.
"The Awami League had to struggle for protection of the democratic rights of the people when the state power was confined to the cantonment," she said when EU envoy Rensje Teerink called on her at her office.
Briefing reporters after the meeting, PM's Press Secretary Ihsanul Karim said the PM's comment came in response to the EU envoy's hope for a transparent and credible election.
Hasina and the envoy expressed their satisfaction over the existing cordial relations, he said.
The PM thanked the EU for helping the Election Commission and introducing transparent ballot boxes and voters' list with photographs.
About the Rohingya situation, she said Rohingyas were creating immense burden on Bangladesh's economy. Everybody, including the administration, police, army, BGB and other agencies were sincerely working to ensure their safe shelter, food and healthcare.
Rohingya refugees are occupying the cultivable land of the local people, causing economic problems for them.
The PM highly appreciated the role of the EU on the refugee issue.
The envoy assured stepping up the EU support and pointed out the 30 million Euro additional support for the Rohingyas. She also talked about imposing sections on seven Myanmar generals for their links with the atrocities on Rohingyas.
Rensje Teerinks hoped that the visit of UN Secretary General would help making the international support to Rohingyas stronger.