The UAE president, vice president and Crown Prince of Abu Dhabi yesterday congratulated Bangladesh Prime Minister and Awami League President Sheikh Hasina on securing landslide victory in the 11th national election.
The UAE President Khalifa Bin Zayed Al Nahyan, Vice President, also Prime Minister and Ruler of Dubai Muhammad Bin Rashid Al Maktoum and Crown Prince of Abu Dhabi Sheikh Mohammad Bin Zayed Al Nahyan greeted Hasina in separate messages.
"It pleases me very much to take this opportunity to send to your Excellency [Sheikh Hasina] my warmest congratulations and best wishes on securing absolute majority in the 11th parliamentary election," they said in three separate identical messages.
The UAE top leaders wished continuous success of Hasina during her new tenure, welfare and prosperity for her friendly people.
They also expressed hope for further progress of bilateral relations between Bangladesh and the UAE for the benefit of both the friendly countries and their people.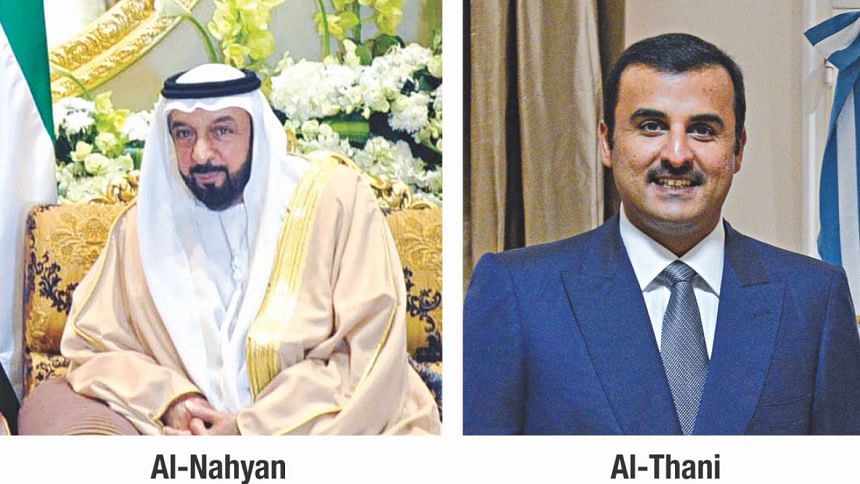 Meanwhile, the Emir of Qatar, Deputy Emir and prime minister have also congratulated Hasina.
Qatar Emir Tamim Bin Hamad Al-Thani, Deputy Emir Abdullah Bin Hamad Al-Thani and Prime Minister Abdullah Bin Nasser Bin Khalifa Al-Thani greeted Hasina in separate messages yesterday, reported BSS.
"It gives me pleasure, on the occasion of your landslide victory in Bangladesh's general election, to extend to you, on behalf of the people of the state of Qatar and my own behalf, our heartfelt greetings and felicitations," Qatar Emir said in his statement.
He also wished Hasina's wellbeing and continued success as well as further progress and development of Bangladesh.
The Emir also expressed his hope that the bilateral relations between Bangladesh and Qatar would be further enhanced in the days to come.
In separate messages, the Deputy Emir and the prime minister also wished for wellbeing and continued success of Hasina during her new tenure.
Also, Bhutanese Prime Minister Lotay Tshering and Fijian Prime Minister Josaia Voreqe Bainimarama yesterday congratulated Hasina.
Former Bhutanese Prime Minister Tshering Tobgay greeted Hasina, saying her victory in the general election is good not only for Bangladesh but also for the region and the international community.
In a message, Bhutanese Prime Minister Lotay Tshering said, "It gives me immense pleasure to extend warmest felicitations on her victory in the 11th parliamentary elections of Bangladesh."
He said, "The landslide mandate secured by Sheikh Hasina is a clear demonstration of the deep confidence and trust the people of Bangladesh have in your leadership as you guide Bangladesh in fulfillment of the vision of Sonar Bangla."
Lotay Tshering wished every success in discharging her duties during the coming tenure.
He expressed his firm conviction that the warm and cordial relations between Bhutan and Bangladesh would continue to strengthen and achieve new height in the true spirit of friendship and understanding.
The Bhutanese prime minister said he was looking forward to working closely with Bangladesh to further strengthen the ties and have the opportunity to receive Sheikh Hasina in Bhutan at a time of her convenience.
He also highly commended the PM's son and ICT Adviser Sajeeb Wazed Joy for his tremendous contribution to her success.
"Sajeeb's tireless efforts and leadership is an immense inspiration to the people of Bangladesh and beyond," he said.
Lotay Tshering wished good health of Hasina and peace, prosperity and happiness of the people of Bangladesh, reported UNB.
Fijian prime minister, in his congratulatory message, said, "The impressive victory of the Awami League with 288 seats of 300-member parliament is testament of the confidence of the people of Bangladesh in your [Hasina's] leadership and ability in progressing your country's economy."
He said Fiji and Bangladesh share formal diplomatic ties since 2003, building up cooperation in the areas of trade and economic activities.
Josaia Voreqe Bainimarama, commonly known as Frank Bainimarama, said he was looking forward to strengthening the friendship and advancing bilateral cooperation between the two counties.
He wished all the success of the Bangladesh government in its next tenure.
In a separate message, former Bhutanese prime minister Tshering Tobgay said, "The victory of Sheikh Hasina and Bangladesh Awami League is good for Bangladesh, good for the region and good for the international community."
Extending his heartiest congratulations to Hasina, he said internationally Hasina was seen as a role model of leadership who was playing a pivotal role in poverty alleviation, environmental conservation, women development and addressing the problems of physically challenged persons.
"I see your Excellency as an elder sister and am personally happy that you and Bangladesh Awami League have secured a landslide victory," Tobgay said.
Pakistan has also welcomed the newly elected government in Bangladesh.
"We want Pakistan-Bangladesh relations to move forward in line with the 1974 tripartite agreement. We welcome the newly elected government in Bangladesh and hope and expect that it would help take the bilateral relationship away from the irritants that it has faced in the recent times," Mohammad Faisal, spokesperson for the Pakistan foreign ministry, told the weekly briefing in Islamabad yesterday.
Muhammad Aurangzeb Haral, counsellor (press) of Pakistan High Commission in Dhaka, sent the statement made in the briefing to the press in Bangladesh.
Bangladesh-India-Pakistan on April 9, 1974, signed the tripartite agreement on the repatriation of prisoners of war and civilian internees and for normalisation of relations in the sub-continent.