Grab business opportunities in Bangladesh
PM to local, foreign investors at Investment Summit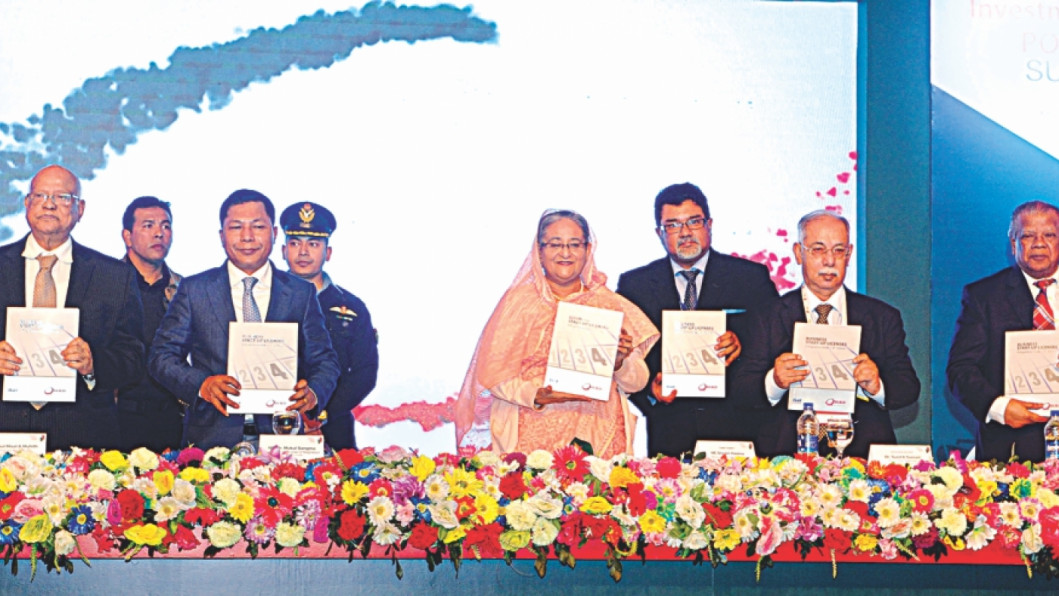 Prime Minister Sheikh Hasina yesterday reassured local and foreign investors of her government's commitment to facilitating the implementation of their pragmatic proposals and simplification of investment procedure for the best use of their money.
She also said her government was going to establish Bangladesh Development Authority to help their businesses flourish. 
The PM made the comments after inaugurating two-day Bangladesh Investment and Policy Summit 2016 at a city hotel.
 Mentioning that security and profitability of investment are guaranteed in Bangladesh, she repeated the poets' verse, "You will never find another country like this anywhere else ...".
Board of Investment (BoI), Business Initiative Leading Development
(BUILD) and Prime Minister's Office (PMO) are jointly organising the summit.
Hasina said this is the most opportune moment to show the dynamic role of investors and urged them to be part of Bangladesh's "historic" growth and development.
"This summit will give you the most appropriate platform to know Bangladesh's investment trend, policies and potential more concretely and systematically -- for seeing is believing," she told the investors."
She said Public Private Partnership in infrastructure investment offers a new window of opportunity for investors while the Existing Export Processing Zones and Special Economic Zones are being expanded and developed for competitive manufacturing in local and global markets.
Hasina said her government is going to establish Bangladesh Development Authority for the simplification of investment procedure.
"We're planning to establish 100 economic zones across the country. More than 30 sites have already been selected for them while foundation stones of 10 zones will be laid next month."
"We achieved a 6.51 percent GDP growth in the last financial year. During the previous five years, our average GDP growth was 6.2 percent. We've been working to achieve 7 percent GDP this year" she added.
The PM noted that the ability to attract private investment, both foreign and local, has increased now.
"We've attained the ability to execute big projects. The initiative to implement the Padma bridge project with our own fund is a testimony of our ability."
She said to identify private sector policy issues and resolve them in a systematic, research-backed and fact-based manner, the PMO has set up the Private Sector Development Policy Coordination Committee (PSDPCC).
The major opportunities for foreign investors in Bangladesh exist in the physical infrastructure sector, including gas and electricity generation, roads, highways and bridges, tertiary health care and pharmaceuticals, ports development, she pointed out.
Finance Minister AMA Muhith, Industries Minister Amir Hossain Amu,
Commerce Minister Tofail Ahmed, Chief Minister of India's Meghalaya Dr Mukul Sangma, South Asia Region CEO of Axiata Limited Dr Hans Wijayasuriya, Chairman of Adani Group Gautam Adani, Director of the International Finance Corporation of the World Bank Group Sujoy Bose and FBCCI President Abdul Matlub Ahmed spoke at the inaugural session of the summit.
At the programme, India's Adani Group said it would invest $5 billion and Reliance Group, also an Indian conglomerate, $3 billion in Bangladesh, adds our staff correspondent.
Muhammed Aziz Khan, chairman of Summit Group, the largest private sector power producer in Bangladesh, also promised an investment of $3 billion in the energy sector.
Wendy Jo Werner, country manager of the International Finance Corporation for Bangladesh, Bhutan, and Nepal, said the World Bank's private sector lending arm's annual investment in the country would reach $2 billion a year within a couple of years, from $650 million a year now.
More than 100 investors from home and abroad are taking part in the summit.
The programme has been organised to showcase private sector investment opportunities in Bangladesh and facilitate enabling policies to foster a coordinated, consistent and cohesive private sector development policy regime, said Asif Ibrahim, chairman of BUILD, one of the organisers.
The Bangladesh Economic Zones Authority, the IFC, the Federation of Bangladesh Chambers of Commerce and Industry (FBCCI), the Dhaka Chamber of Commerce and Industry, the Metropolitan Chamber of Commerce and Industry, the Chittagong Chamber of Commerce and Industry and the University of Dhaka are also supporting the event.