Govt now preparing to seek SC review
Law minister on 16th amendment judgment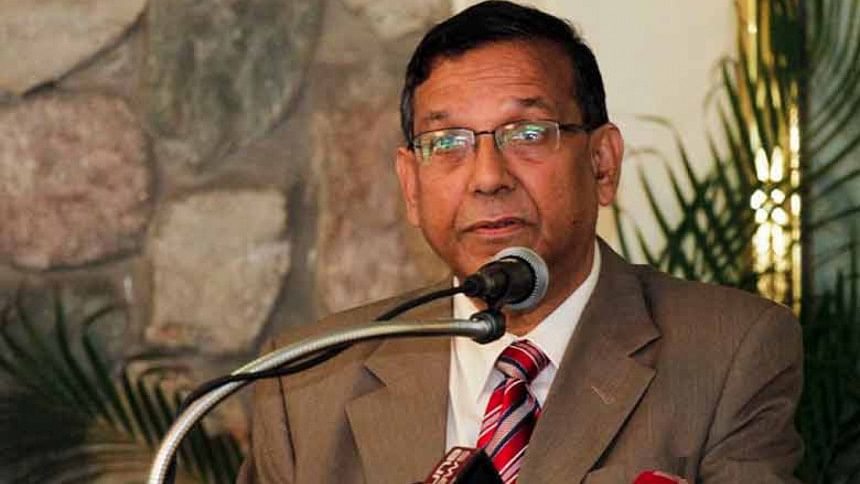 Law Minister Anisul Huq yesterday said the government was preparing for seeking review of the Supreme Court judgment that upheld the High Court verdict scrapping the 16th amendment to the constitution.
Passed in 2014, the 16th amendment had restored parliament's power to remove SC judges for misconduct or incapacity. Last year, the HC declared the amendment illegal.
The amendment brought to the constitution in 2014 abolished the chief justice-led Supreme Judicial Council system which was introduced in 1978.
"The government has applied to the Supreme Court for the certified copy of its judgment on the 16th amendment. The apex court judgment is being examined and read," Anisul told journalists after a food distribution programme marking the National Mourning Day.
The law, justice and parliamentary affairs ministry distributed food among 180 children at Tejgaon Shorkari Shishu Poribar, a state-run orphanage, in the capital.
Law Secretary ASSM Zahirul Haque, Additional Secretary Mostafizur Rahman and Joint Secretary Bikash Kumar Saha and Inspector General of Registration Khan Mohammad Abdul Mannan, among others, were present on the occasion.
"We respect the SC judgment, although we don't agree with some of its observations," the law minister said.
Earlier this month, the attorney general's office applied to the SC for the certified copy of its verdict on the 16th amendment.
On Wednesday, Attorney General Mahbubey Alam told The Daily Star that after receiving the certified copy, the government would be able to file a petition with the apex court seeking review of its verdict.
The law minister on August 13 told journalists that the government would seek review of the SC judgement so that some of the comments made in the verdict by the chief justice could be expunged.
According to the SC rules, a review petition is to be filed within 30 days after receiving the certified copy from the apex court.  
The ruling Awami League lawmakers are criticising the verdict and the chief justice who delivered it. On the contrary, the BNP is praising the verdict, saying it exposed the government's misdeeds.
The AL-led coalition has also voiced its dissatisfaction with some observations made by the SC in the verdict and said it would deal with the judgment legally and politically.