Good news for mango lovers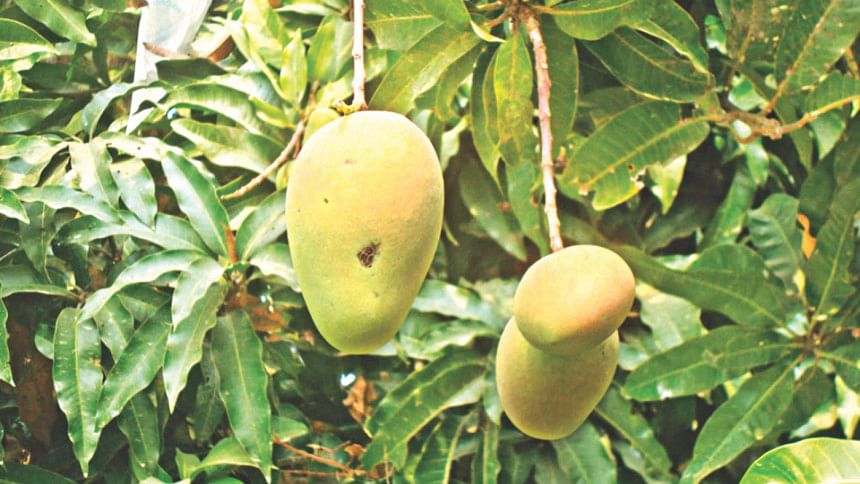 Wouldn't it be great if you could have a mango in deep winter? Why not any time of the year? What if it was just as yellow and luscious and fragrant as one from peak season?
Well, your waiting days are almost over. In about a couple of years you could have your favourite fruit even in winter, in fact, you could have it almost all year round as scientists at the Regional Horticulture Research Station in Chapainawabganj claim to have invented a new variety of it.
 The new fruit has soft and juicy flesh and it can be picked four times a year. This unique variety of mango tree bears green and ripe mangoes along with flowers at the same time, said scientists.
They have not decided on a name yet for the variety.
While visiting an orchard of the research station recently, this correspondent saw two trees with both green and reddish mangoes in plenty, although the regular fruit season is yet a few months off.
The inventors had been working on the variety since 2006.
Sorof Uddin, senior scientific officer at the research centre, said the skin and the pit of the mango was thinner. "It would be known for its sweetness."
These mangoes would ripen on the trees in May, August, November and February.  Two more years of research is needed before this variety is released for commercial cultivation, he said.
The scientists have released eight new mango varieties over the past few years. They are Bari Aam-- 1, 2, 3, 4, 6, 7, 8 and 9.
Three other varieties -- Bari 5, 10 and 11 -- were released in Jessore, Khagrachhari and Chittagong.
Over 19 lakh mango trees grow on 24,360 hectares of land in Chapainawabganj where mango is an important commercial product.
The region has a long tradition of producing over 350 varieties of mangoes, including Fazli, Langra, Gopalbhog and Khirsapat (Himsagor), said scientists and agricultural officials.