GM cotton on trial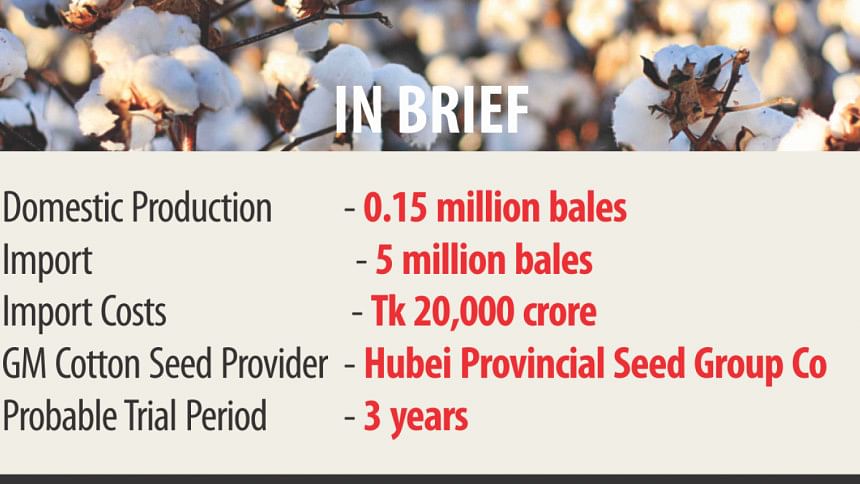 Bangladesh yesterday began greenhouse trial of a genetically modified (GM) cotton variety imported from China.
The GM cotton seeds imported from Hubei Provincial Seed Group Company are infused with genetic traits taken from a soil-dwelling bacterium - Bacillus thuringiensis (Bt) - that effectively fights bollworm, a harmful caterpillar responsible for damaging cotton yields.
Confirming launch of the Bt cotton trial yesterday at the greenhouse facility of Bangladesh Agricultural Research Institute (Bari) in Gazipur,  Cotton Development Board (CDB) Executive Director Dr Md Farid Uddin told The Daily Star that once they take the GM variety to the farmers it would revolutionise the country's cotton industry. 
Each year Bangladesh grows a paltry 0.15 million bales of cotton and spends up to Tk 20,000 crore for importing over 5 million bales more to meet the demand, said Dr Farid.
Industry sources said typical synthetic pesticides have become increasingly ineffective in fighting cotton bollworm, thereby causing crop losses of up to 20 percent. Cotton growers' expenditure on pesticides accounts for 40 percent of the total production costs.  
Bari Biotechnology Division Head Dr Dil Afroza Khanom told this correspondent that once the greenhouse trial completes successfully by December this year, the Bt cotton will see a field trial within the Bari compound in the next season and then trials for its adaptability will begin at a regional level in the following season.
Dr Farid expects that the GM variety should be available in the hands of cotton growers once all the trials are done in three years' time. "Bt cotton has the potential to increase the yields up to 20 percent and enhance fibre quality of cottons as those are not attacked by the bollworms," said Dr Farid.  
In January last year, Bangladesh joined the GM-crop cultivating nations by introducing Bt brinjal, the first GM food crop in South Asia. Currently, GM varieties of rice and potato are in the pipeline as well. But if cotton trials go well, it will be the second GM plant in the country.
The Bt cotton trial came nearly seven months after the National Committee on Bio-safety (NCB) gave approval for this GM variety. 
CDB set a target to increase annual cotton production to one million bales in the next five years. Officials said introduction of Bt cotton would help reach that target easily as well as helping save the money spent for costly imports.
CDB is likely to advance biotechnologically with the successful trial of GM cotton but is there adequate land to expand its cultivation?
Response came from the CDB executive director.
"Modern cotton varieties are to some extent resistant to certain stress conditions like drought and salinity. We can look for lands in the South as well as the drought-prone Barendra region for the expansion of cotton cultivation," said Dr Farid.   
Bari Director General Dr Rafiqul Islam Mondal said introduction of Bt brinjal paved the way for an array of other biotechnologically derived better crop varieties to come to the market. "We provided our greenhouse facilities to CDB for the GM cotton trial." Besides, he said, trials on Golden Rice - a Vitamin A-enriched GM rice, and GM potatoes are also on.
Pro-green activist Farida Akhter of non-government development organisation, Ubinig, however, cautioned against introduction of "one after another genetically modified crops in the country."
"We don't know for sure what would be the environmental fallout and yet why are we entering this unsafe territory," questioned Farida, who champions the cause of homegrown traditional technologies in farming. 
Despite wide criticism from anti-GM lobbies, the use of Bt cotton in neighbouring India has grown exponentially since it was introduced there over a decade back and India has become the number one global exporter of cotton and the second largest cotton producer after China in the world.