Global concern high, aid low
WFP receives only 18pc of fund required to feed Rohingyas till December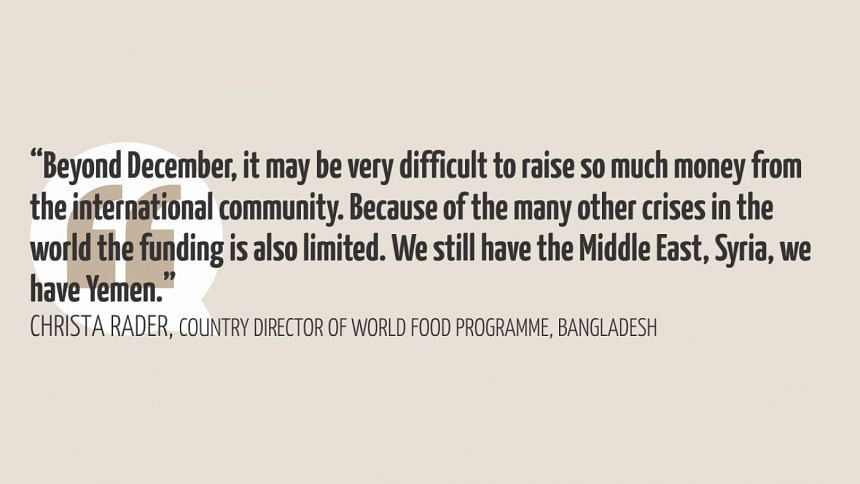 The World Food Programme has so far received donations of $45 million, only 18 percent of $243 million required mainly for providing food to one million Rohingyas and 200,000 locals in Cox's Bazar until December.
This was part of the total UN appeal of $951 million, second phase of a joint response plan, launched in March in Geneva.
Mia Seppo, UN resident coordinator in Bangladesh, said her office was gathering information from aid agencies on the fund received so far.
"At the moment, we can say we are underfunded," she told The Daily Star at her office yesterday ahead of the first ever visit by the 15-member delegation of the UN Security Council (UNSC).
Christa Rader, WFP country director in Bangladesh, yesterday said, "There is a big gap [between required fund and funding received]…it is a risky situation."
She expects that donors, who look at different needs and discuss among themselves before deciding on providing aid, will come up with assistance under the current phase.
"But I have no guarantee that this will actually happen," said Christa, reflecting a bleak prospect of funding from the international community for the refugees' humanitarian needs.
"Beyond December, it may be very difficult to raise so much money from the international community. Because of the many other crises in the world the funding is also limited. We still have the Middle East, Syria; we have Yemen."
The slow funding response is not only seen during the current phase. For the first phase from September last year to February this year, the appeal was $434 million, but the donor countries contributed around $400 million.
For the WFP, the required fund in the first six months was $88.55 million, but it received $77.23 million, prompting it to borrow grains initially from the Bangladesh government.
Such a funding scenario poses serious risks for Bangladesh that is bearing huge brunt since the influx of around 700,000 Rohingya refugees who fled atrocities in Myanmar's Rakhine state and joined nearly 400,000 others, who had fled earlier waves of persecution.
The forest in large areas of Ukhia and Teknaf in Cox's Bazar have already been cleared, the hills are being levelled for building refugee shelters, while the underground water level is depleting continuously, exacerbating health and environmental risks, said local officials.
Locals in Cox's Bazar are also facing the challenges of rising prices of essentials because of the huge Rohingya population.
With the monsoon season coming soon, authorities in Cox's Bazar are working to strengthen the refugee shelters to protect them from any major disasters, including heavy rain, landslides and cyclones.
While there is a constantly increasing need for money, the UN says the situation in Rakhine is not conducive yet for the safe and sustainable return of the Rohingya.
Rohingyas themselves, whose houses were burnt and looted, relatives killed and women relatives raped, too say they are fearful of return unless they are guaranteed citizenship and other basic rights that they are deprived of in Myanmar.
Christa Rader said repatriation of the Rohingya would happen, but would take time. In the mean time, the community has to sustain -- they need food, healthcare, education and housing.
"Under this period of 10 months, we need mid-term options because it is unrealistic for us to assume that over a million people would go back within the 10 months. May be some will go back," she told The Daily Star.
As medium term options, Christa suggested that the Rohingya people should be engaged in income-generating activities, and Bangladesh's private sector or even the government could come forward for that.
While expecting the donor countries to lend their hand, she also raised their issues.
"For example, many donors ask how much are you providing in terms of cash for work. Don't only give us bill how you feed them. Give us what kind of employment are you generating for the people so that they can earn at least partially," Christa said.
Shah Kamal, secretary of the disaster management and relief ministry, said there has not been any discussion on creating jobs for the Rohingya.
"Our main target is repatriation of Rohingyas. However, if there is any proposal of creating jobs for them, we will study its feasibility and act accordingly," he said.