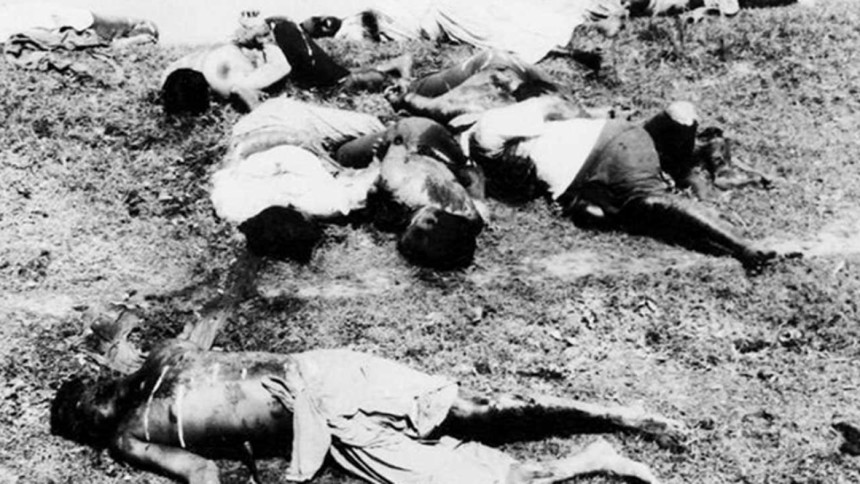 Lt Col Aziz Ahmed Khan, a Pakistan army officer, who fought the 1971 war in Bangladesh, what was then East Pakistan until 26 March, 1971, went to the Hamoodur Rahman Commission and testified how the commander of the Pakistan army Lt Gen Niazi had ordered genocide.
"General Niazi visited my unit at Thakurgaon and Bogra," Aziz said in his deposition. "He asked us how many Hindus we had killed. In May, there was an order in writing to kill Hindus. This order was from Brigadier Abdullah Malik of 23 Brigade."
Those, who were in key roles then in the military and civil administration, gave their depositions before the commission. They included Lt Gen Niazi, Maj Gen Rao Farman Ali, who was responsible for Operation Searchlight in Dhaka city on the night of 25 March, Maj Gen Mohammad Jamshed, who was GOC of 36 (A) division of East Pakistan, Rear Admiral M Sharif, the flag officer commanding the Pakistan Navy in East Pakistan, Muzaffar Hussain, who was the chief secretary, and Mahmood Ali Chaudhury, who was IGP.
To the trigger-happy Pakistan army officers, Bangalees were no more than just clay pigeons to be shot as mentioned by one Brigadier Iqbalur Rehman Shariff. In his deposition, the brigadier said during his visit to formations in East Pakistan General Gul Hassan used to ask the soldiers -- "How many Bengalis have you shot?"
While describing the use of excessive force on the night of 25 March, 1971, one Brigadier Shah Abdul Qasim told the commission that "no pitched battle was fought on the 25th of March in Dacca. Excessive force was used on that night. Army personnel acted under the influence of revenge and anger during the military operation."
The Hamoodur Rahman Commission maintained that mortars were used to blast two residential dormitories of the Dhaka University, thus causing excessive casualties.
The statements appearing in the evidence of Lt. Col. Aziz Ahmed Khan who was Commanding Officer 8 Baluch and then CO 86 Mujahid Battalion are also directly relevant. He said, "Brigadier Arbab also told me to destroy all houses in Joydebpur. To a great extent I executed this order."
The commission observed that "indiscriminate killing and looting could only serve the cause of the enemies of Pakistan. In the harshness, we lost the support of the silent majority of the people of East Pakistan.... The Comilla Cantonment massacre (on 27th/28th of March, 1971) under the orders of CO 53 Field Regiment, Lt. Gen. Yakub Malik, in which 17 Bengali Officers and 915 men were just slain by a flick of one Officer's fingers should suffice as an example."
Looting also became the order of the day for the morally bankrupt Pakistan army.
Lt. Gen Niazi, as Maj Gen Farman Ali told the commission, on the very first day he took over command from Gen Tikka Khan said: "What have I been hearing about shortage of rations? Are not there any cows and goats in this country? This is enemy territory. Get what you want. This is what we used to do in Burma."
Niazi took over command of the eastern zone on April 10 after Tikka had already started the genocide.
Another significant statement came from Brigadier Mian Taskeenuddin. He said: "Many junior and other officers took the law into their own hands to deal with the so-called miscreants. There have been cases of interrogation of miscreants which were far more severe in character than normal and in some cases blatantly in front of the public. The discipline of the Pakistani army as was generally understood had broken down. In a command area (Dhoom Ghat) between September and October, miscreants were killed by firing squads."
Niazi, apparently in an effort to put the blame on his predecessor Lt Gen Tikka Khan, stated before the commission that "military action was based on use of force primarily, and at many places indiscriminate use of force was resorted to which alienated the public against the Army. Damage done during those early days of the military action could never be repaired, and earned for the military leaders names such as 'Changez Khan' and 'Butcher of East Pakistan."
But Niazi was held in disdain by his own soldiers. He was corrupt and an infamous womaniser.  Officials knew he was involved in the smuggling of pan (beetle leaf) in which his son also had a stake.
A witness told the commission: "The troops used to say that when the Commander (Lt Gen Niazi) was himself a raper (sic), how could they be stopped?"
Maj Gen Rao Farman Ali said: "Harrowing tales of rape, loot, arson, harassment, and of insulting and degrading behaviour were narrated in general terms."
The Hamoodur Rahman Commission felt the necessity for the Government of Pakistan to take effective action to punish those who were responsible for the atrocities. However, Pakistan never did it and thus justified its own dastardly acts in 1971 in Bangladesh.