Five killed by army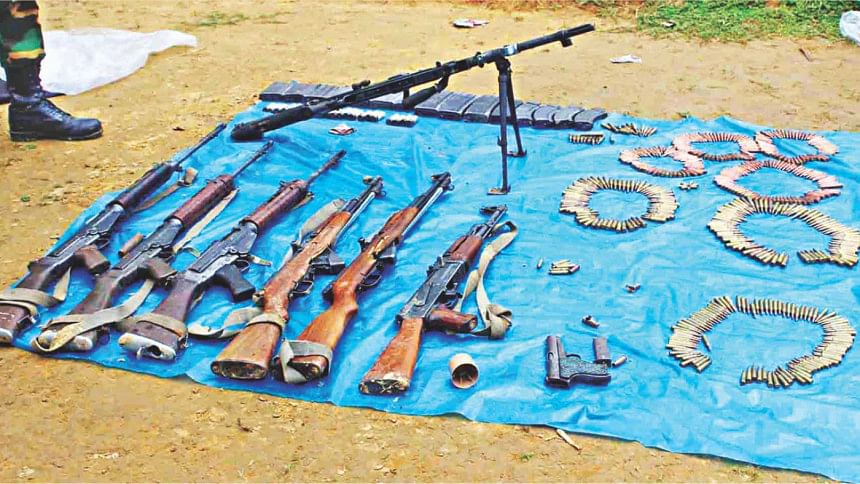 Five indigenous youths were killed in a gunfight with army at Baghaichhari of Rangamati early yesterday.
One army corporal, Liaquat, was injured during the gun battle and was brought to the Combined Military Hospital in Dhaka by helicopter, said Lt Col Ali Haider Siddiqui, captain of Bangladesh Army's Baghaihat zone.
The dead are Tatumoni Tripura, 28, Jackson Chakma, 25, Rupayan Chakma, 24, Kanti Marma, 28, and Babul Chakma, 20. The bodies were taken to Khagrachhari Sadar Hospital for autopsies.
A group of army led by Major Ashik bin Jalil cordoned off Barada village on Friday night on information that an armed gang took position there, Siddiqui told reporters yesterday.
"Around 5:00am, the criminals started shooting at the troops. In response, the army fired shots. The gunfight lasted for about an hour during which the two sides exchanged at least 450 rounds of bullets," he said.
Several members of the gang were also injured in the fighting, he said, adding that they found bloodstains on the way through which the criminals fled.
The army searched the spot and its surrounding areas, but could not arrest anyone. However, they recovered two Chinese rifles, three SLR (M-16), a light machinegun, an SMC, a pistol and 539 live bullets. They also found six pairs of military trousers, 10 shirts, 10 caps and some belts at the scene.
Zakir Hossain, officer-in-charge of Baghaichhari, said an arms case was filed against unnamed people in this connection.
The army claimed the victims were armed members of two regional political groups -- United Peoples' Democratic Front (UPDF) and Jana Sanghati Samiti (JSS-MN Larma).
The UPDF and the JSS, however, denied any link with those killed in the fighting.
"Certain quarters are trying to tarnish our image by involving our name with the victims," said a statement signed by Niron Chakma, head of UPDF's information division.
JSS-MN Larma's Information and Publicity Secretary Proshanta Chakma said they were a democratic political group and that they had no armed group. 
This is the second time in the last five months that the army had gunfight with alleged criminals.
On April 23, a man named Ramesh Chakma was killed in a fight with patrolling army at Eguzzechhari area of Sajek union in Rangamati.