Stable but not out of danger
Says GM Quader on Ershad's condition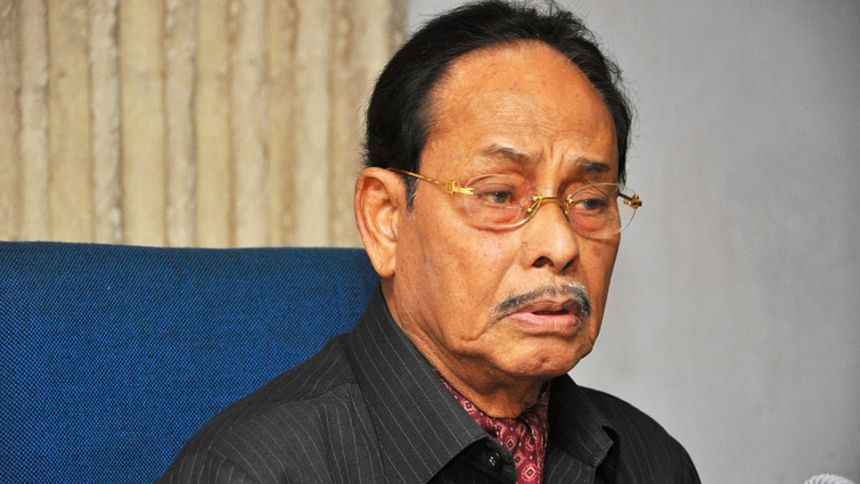 Jatiya Party Chairman HM Ershad's health condition has remained stable and unchanged since yesterday, which is a good sign, GM Quader, the JP chief's younger brother, said yesterday.
Briefing the media on Ershad's latest physical condition, GM Quader, also acting chairman of JP, however, said considering Ershad's age and physical complications, he was yet to be out of danger.  
"According to doctors, it's a good sign that his [Ershad's] health condition remained stable and unchanged since yesterday as they [doctors] were concerned that his condition might worsen," Quader said at the JP chairperson's office in the city's Banani area.  
He added, "Infections in his lungs have eased compared to yesterday, but the infection in his kidneys has spread... Overall, his condition remains unchanged."
Also Leader of the Opposition in Parliament, Ershad, 89, had been suffering multiple health conditions for about nine months now. He was admitted to the Dhaka Combined Military Hospital (CMH) on June 27.
About Ershad's breathing problem, Quader said Ershad was given "oxygen under pressure" for most of the time. But now he is being given oxygen under pressure every two hours.
"If the situation remains the same, he will be given normal oxygen," he said quoting doctors.
About Ershad's major health complications, Quader said most of the major complications were decreasing now.
"Treatment is going on for the rest of the few complications. Doctors said he will begin to improve every day from now on," he said, adding, "We are hopeful that he will get well soon."
In reply to a query, Quader said according to doctors, it was not possible at present to take Ershad abroad for treatment.   
On Saturday, Quader said his brother's condition improved by 50 percent in the last three days.
The former military ruler has been suffering from various old age complications, including low haemoglobin, liver problems, high bilirubin and knee pain.
The five-time MP flew to Singapore's National University Hospital for medical treatment on January 20 and returned on February 4. Since then, he had been visiting CMH regularly for health check-ups.
Road Transport and Bridges Minister Obaidul Quader and Health Minister Zahid Maleque visited Ershad yesterday.
After the visit, Maleque told reporters that the JP chief's condition was critical and he was on life support.
However, Ershad's personal assistant Maj (retd) Khaled Akhtar, when asked, told The Daily Star that the health minister said that by mistake.