Ershad tightens grip on JP
GM Quader, Hawlader take office as co-chair, secy gen; Raushan group watches on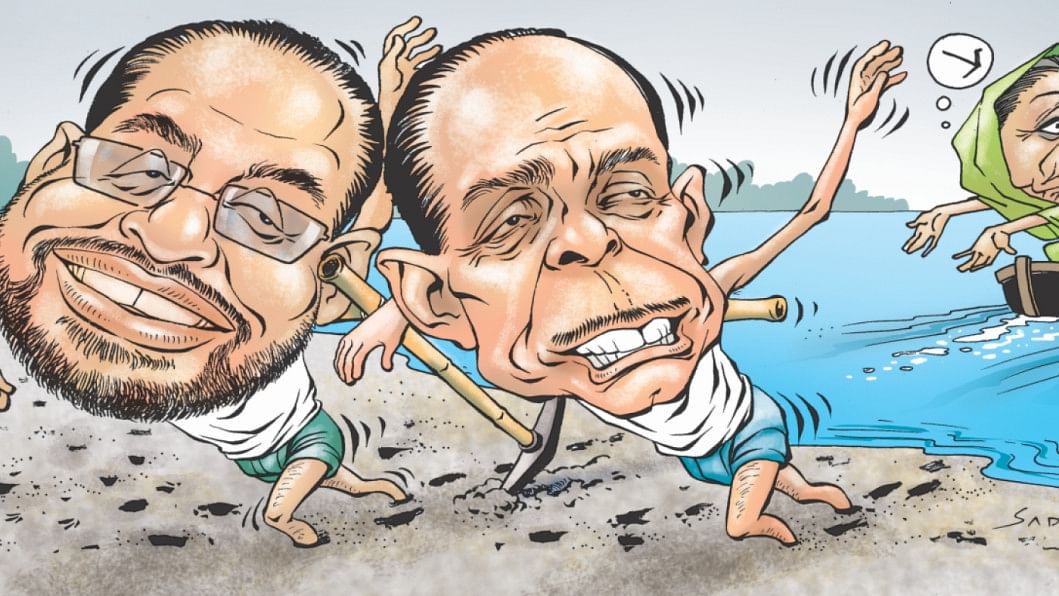 Jatiya Party Chairman HM Ershad yesterday tightened his control on the party with GM Quader and Ruhul Amin Howlader taking charge of co-chairman and secretary general.
The JP chief made the move a day after many of the MPs in the JP parliamentary party opposed his decisions to replace secretary general Ziauddin Ahmed Bablu with Howlader and appoint Quader as co-chairman.
Aggrieved by Ershad's "unilateral decisions", a group of JP leaders led by Presidium Member Bablu revolted against the party chief.  To put pressure on Ershad, they declared his wife Raushan Ershad party's acting chairman on Sunday, said JP insiders.
The JP dissidents, however, didn't make any move yesterday, as Quader and Hawlader took office through a programme at the JP chief's Banani office.
Talking to The Daily Star, Bablu said they were observing the situation and would soon decide on their next course of action.
According to party sources, Ershad may appoint Raushan as JP senior co-chairman to address the grievances of the Raushan-led group.
Speaking at the programme in the morning, Ershad said he made the changes in the party's top leadership to restore confidence among its leaders and activists.
Flanked by party leaders and activists, Ershad along with Hawlader and Quader went to the JP central office in the capital's Kakrail in the evening and stayed there for several hours.
Talking to party men at the office, he said, "It is better to cease to exist than to continue like this -- almost dead, with no heartbeat. We were sinking into oblivion, vanishing into thin air.
"Many of the party men, who remained inactive for long, have become active following the changes in leadership." 
The JP chief said he made Quader co-chairman to give the party an "able successor" in the future, as he and Raushan turned too old.
Earlier on several occasions, Ershad had said he would remain JP chairman till his last breath.
But yesterday, Ershad said he is ready to quit chairmanship if party men want it.
On Tuesday, the JP chairman announced replacing secretary general Bablu with Howlader, who had held the post for 12 years since 2002.
Earlier on Sunday, Ershad appointed his younger brother Quader as co-chairman.
Quader told The Daily Star yesterday that his first mission would be to restore party's image.
"Jatiya Party's image is getting low due to its dual role. We are acting as the opposition, and at the same time we have three ministers in the cabinet. We will have to decide whether to act as a real opposition or stay in the cabinet."
"We will set the party's next course of action in the light of people's aspirations as well as expectations of party leaders and activists," said Quader, a former commerce minister in the previous Awami League-led government.
"Our activities will not remain limited to mere words. We want to regain people's trust through our work," he said.
Talking to this correspondent, Hawlader said he would work with other party leaders to bridge the divide that appeared in the party after the January 5 national election of 2014.