Nightmare for homegoers
Disorders at train, ferry and bus terminals; long tailbacks on either end of Bangabandhu bridge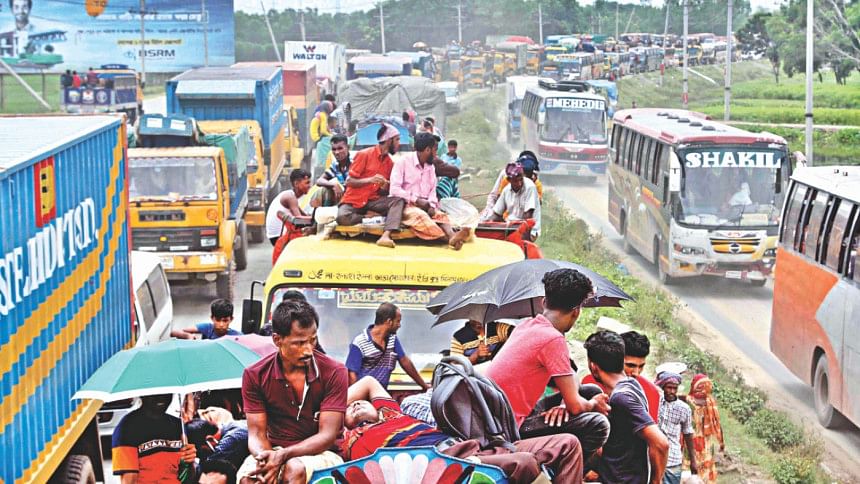 Khaledun Nabi reached Kamalapur Railway Station around 7:00am yesterday. His train to Bogura was supposed to leave the station two hours later, but it did not even arrive at 2:15pm.
Sitting on a platform, the man was struggling to feed his three-year-old son, who looked restless.
"I work at an NGO in Cumilla. We had to come to Dhaka as we didn't get any bus tickets to go to Bagura. We thought the journey would be smooth, but we were wrong," he said.
Like Nabi and his family, Asma Akhter and her family members had been waiting since 7:00am to board the Rangpur Express train to travel to Saidpur.
"We chose train journey to avoid possible tailback on highways. But see what's happening here," Asma said.
Neither of the two trains arrived at the station till 3:10pm when The Daily Star left the station.

This was the case for thousands of people who travelled by train as the schedule on north-western and southern train routes collapsed.
Homegoers, travelling on road towards the destinations, also suffered badly. They remained stuck for hours in jam while waiting to board ferries and on some major highways, including Dhaka-Tangail highway.
Earlier in the morning, tens of thousands of people thronged different railway stations as well as launch and bus terminals in the capital.
All the intercity trains running on the routes were behind schedule, from one-and-a-half to more than six hours.
Passengers' suffering worsened after Khulna-bound Sundarban Express derailed on Bangabandhu Bridge around 1:20pm, suspending rail communication between Dhaka and several other districts, including Khulna, Rajshahi and Rangpur, for around three hours.
A coach of the train derailed near the East corner of the bridge, Mizanur Rahman, divisional railway manager (Pakshey) of Bangladesh Railway.
A rescue team salvaged the coach and railway communication resumed on the route around 4:30pm, he said.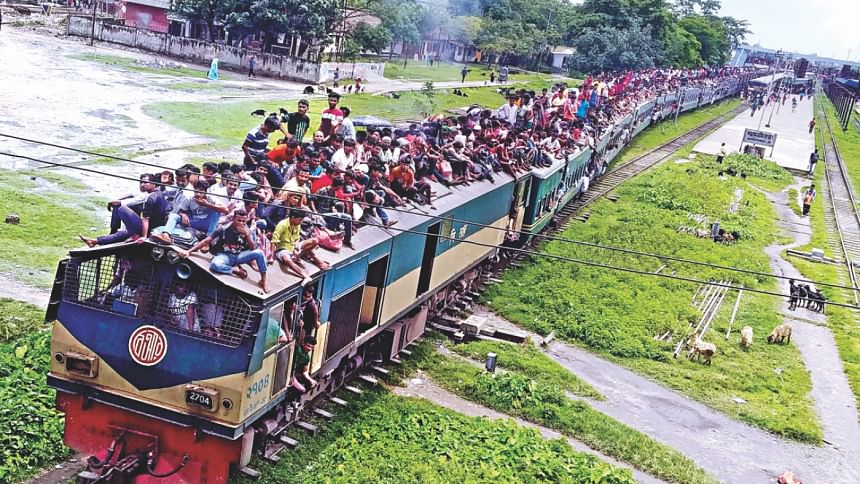 Many passengers at the Kamalapur station said they already knew about further delay following the derailment.
Even before the derailment, Chilahati-bound Nilsagar Express, Panchagarh-bound Ekata Express, Rajshahi-bound Dhumketu Express, Rajshahi-bound Banalata Express and Khulna-bound Sundarbans Express left the Kamalapur station one-and-a-half to five hours behind the schedule, according to the Train Tracking Monitoring System.
Besides, Rajshahi-bound trains Silk City Express and Padma Express and Khulna-bound Chitra Express were running late by one to three- and-half hours.
The derailment caused further delays.
Railways Minister Nurul Islam Sujan visited the railway station yesterday when many passengers asked him why the trains did not maintain schedule.
In reply, he said he hoped that the situation would improve once another bridge on the Jamuna would be built by 2023.
About risky journey on train roof, the minister said that they could not often prevent passengers from travelling that way.
A total of 57 trains, including three Eid special trains, were scheduled to leave Kamalapur Railway Station yesterday, said sources said.
Train operations in railway's East zone was better.
CONGESTIONS ON HIGHWAYS
Holidaymakers faced immense sufferings due to traffic congestion on Dhaka-Tangail highway in Tangail and on the highway from the western end of Bangabandhu Bridge to Hatikumrul in Sirajganj.
Vehicles remained stuck in a 64km-tailback from Chandra intersection in Gazipur to the approach road of the Bangabandhu bridge since 3:00am, due to huge pressure of vehicles and bad shape of road at some places.
Hundreds of vehicles also got stuck between the west end of the bridge and Hatikumrul. Due to the huge pressure, the bridge authorities were forced to suspend toll collection thrice, police and transport workers said.
Sohel Rana, a private job holder, said their bus of Nabil Paribahan bus started from the capital's Gabtoli for Dinajpur at 12:30am yesterday. It was already two hours late.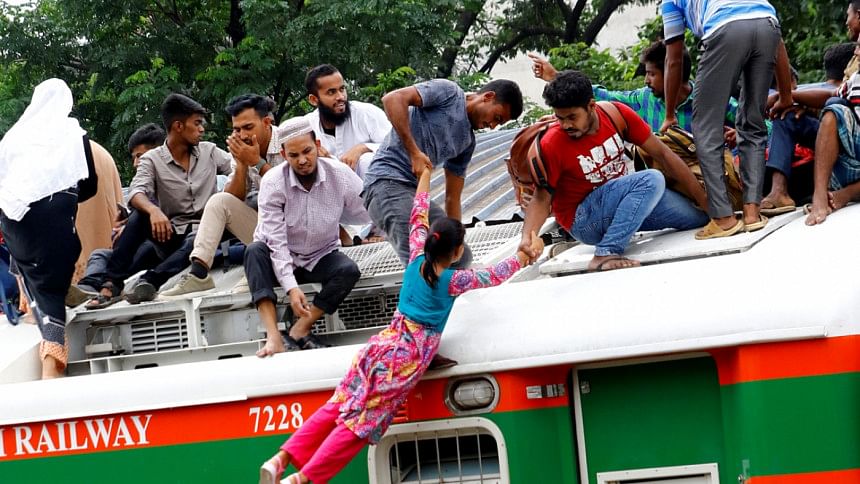 "We faced huge traffic congestion on both sides of Bangabandhu Bridge. It took 12 hours to reach Bogura, which normally takes five hours," he told this newspaper over phone.
He reached Dinajpur around 5:45pm yesterday, meaning the journey took around 18 hours.
Ahaduzzaman Miah, additional superintendent of police in Tangail, said potholes and mud appeared on roads following rain. Incomplete underpasses, some accidents and vehicles breaking down after hitting potholes worsened the situation, he said.
The 25-kilometer section from Bangabandhu bridge to Hatikumrul point witnessed huge traffic jam due to the pressure of vehicles and the sorry state of Nolka bridge, said police source.
Faruk Hossain, a bus driver, said the distance between Dhaka and Pabna was merely five hours, but it took between 12 and 15 hours yesterday, because of nightmarish jam at Nolka and Hatikumrul points.
Many Eid holidaymakers alleged they paid extra for tickets amid a huge demand.
WOES AT FERRY TERMINALS
Rajib Rudra and his family members started from their Mohammadpur home around 5:30am to go to Magura. But they could not even reach Paturia ferry terminal in 11 hours.
Usually, it takes to two to three hours to reach the terminal, from where passenger cross the Padma and head towards different destinations.
They finally crossed the Padma river at 6:00pm, Rajib said later.
Huge pressure of vehicles led a 20-km long queue on Dhaka-Aricha highway ahead of Paturia-Daulatdia ferry terminal, said police.
The situation turned that bad due to huge presence of vehicles. Besides, some local buses dropped off passengers and changed directions at will, said Superintendent of Police in Manikganj Rifat Rahman Shahim.
Zillur Rahman, assistant general manager of BIWTC at Aricha Ghat, said they were trying to handle the situation with 20 ferries, but strong currents of the Padma were causing trouble.
The situation at Shimulia and Kathalbari ferry terminals were comparatively better, said sources there.
Meanwhile, a huge number of passengers thronged the Sadarghat Launch Terminal since the morning and the number increased in the evening.
By 9:00pm, more than 100 launches left the terminal, said Badiuzzaman Badal, senior vice-chairman of Bangladesh Inland Waterways (passenger carriers') Association.
He said the number of launches was sufficient for passengers heading home.
[Our correspondents from Tangail, Pabna, Manikganj, and Munshiganj contributed to this report]